(Continued)
Transforming Irony and Sincerity
Acknowledging undergirding worldviews is one of discernment's key components. The Christian writer will want to ponder the worldviews these rhetorical modes represent, innovatively challenging the view that the cosmos is chaos and the view that earthly life is all there is. Above all, the writer with a Christian worldview commits to truth – to the world that is and the world humanity hungers for.
The fact that Christian authors, like Flannery O'Connor, have enlightened audiences through irony hints that irony still has a shot at enriching culture.  However, today's irony tends to view anything that is dead serious and say, "Get a load of this!" To the Christian, some things really are dead serious. To the Christian, underlying everything is not chaos, but Christ, who is "before all things and in [whom] all things hold together" (Col 1:17, ESV). Still, irony can decimate hypocrisy to reveal solid truths that stand once hypocrisy clears.
Irony would be transformed because the gospel changes the way Christian writers think of audience and characters. Gospel-born virtues like love, hospitality, and truth shape the way Christian writers view those who will read their work. Christian irony would exist – refreshingly – without the author's swagger or fragile ego. Joy, justice, and hope inform the way they understand the characters they invent, even when they bring trouble on these characters.
Sincerity will be different, too. Romans 12:9 says, "Love must be sincere." The link between love and sincerity sheds light on what sincerity means. Nothing is harder or more complicated than loving well. Literature that risks dealing with genuine, complex concerns will be anything but treacle.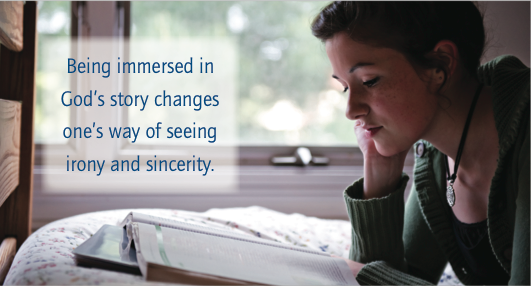 Being immersed in God's story changes one's way of seeing irony and sincerity; of course, that's just a small part of how the gospel revamps one's entire vision. Flannery O'Connor discusses this in her essay collection Mystery and Manners: "In the greatest fiction, the writer's moral sense coincides with his dramatic sense, and I see no way for it to do this unless his moral judgment is part of the very act of seeing" (O'Connor). Believing that God fills His world frees the writer to observe the world.
Observing the world yields individuality among those who see God's narrative. In the Pulitzer-prize winning novel Gilead, Marilyn Robinson simply presented a preacher who is an authentic human. It was radical because media rarely presents preachers as sentient, humble people. As further evidence of individuality, the poems of Jane Kenyon, Wendell Berry, Denise Levertov, Gerard Manley Hopkins, and T.S. Eliot praise the Creator, contemplate His mercy, reveal humanity and doubt, and long for God. An array of personalities comes across in Christian writers who live drenched in God's narrative.
If you are a Christian reader and you identify the worldviews undergirding contemporary literature's irony and sincerity, what conversations might this prompt? How could this understanding shape the way you pray for those in the arts? If you are a Christian writer, what is your story to tell? Express what God has made alive in you. Whether you meet the literary marketplace with ironic craftsmanship or starkly inscribe genuine concerns, show the world that is and the world all humanity hungers for.
For a full list of Mrs. Talbot's sources, a bibliography on this topic, and an audio recording of her Worldview Conference session, visit www.pbu.edu/worldview.
[framed_box]Becky Talbot, M.F.A., is an adjunct professor in the School of Arts and Sciences. She is also a staff writer for the International Arts Movement's Curator magazine.
[/framed_box]