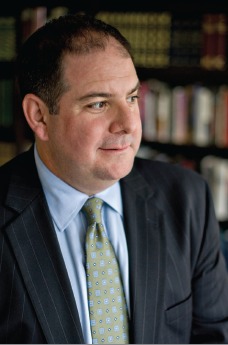 [dropcap3]A[/dropcap3]s we begin a new academic year at PBU, I have been contemplating God's sustaining and blessing of this work for nearly a century and the importance of what it means for PBU to be a university centered on Jesus Christ and the Word of God. I have always believed that the work here is important. Educating students to serve Christ is a worthwhile and critical mission. But this work is made even more compelling when considering where we stand in higher education, in the culture, nation, and the global community. The world around us is adrift on a sea of doubt and cynicism. It is awash in ambiguity and indifference. These are dangerous characteristics in such historic times. The church, society, and the world are in need of university educated men and women who understand God, themselves, and the world in which they live, who think biblically, and who possess the strength of character to stand up and make a difference in their homes, communities, and workplaces. To meet this need we must have universities that are willing and able to do this. This has been on my mind as I look over the landscape of higher education and consider the path we are cutting through it as a biblical university.
In 2008, America lost a sharp-witted, tenacious, and prolific figure when William F. Buckley, Jr. died on February 27. For more than fifty years Buckley proffered political commentary and provided philosophical impetus and intellectual guidance to the conservative movement of the latter twentieth century. He founded a political magazine, wrote fiction, hosted a public television show and lectured around the world. But one of my most profound encounters with
Buckley's thinking was a little book he wrote in 1951 called God and Man at Yale. It was a little book in size but it sparked a national debate in the 1950's about religion's, particularly Christianity's, place in higher education. The book was written as a critical commentary outlining the drifting of Yale from its Christian roots. Buckley, a Catholic who graduated from Yale, believed that relativism, pragmatism, and utilitarianism had won the day at Yale. Buckley wrote, "There is surely not a department at Yale that is uncontaminated with the absolute that there are no absolutes, no intrinsic rights, and no ultimate truths." What Buckley knew then, what many Americans knew, was that something was fundamentally amiss in our colleges and universities.
Today, we are farther down that path and many more colleges and universities have drifted from any semblance of a commitment to truth let alone a serious biblical faith and perspective on the world. The Barna Group's research shows that less than one percent of men and women between the ages of eighteen and twenty-three would admit to having a biblical worldview. This should be alarming to all of us because it means college age men and women are believing something else as a standard against which to measure their lives and thinking. And while there is plenty of blame to go around, education is certainly responsible to a large degree. We have long known in the western tradition that universities as institutions wield great influence, but that influence does not stop at political or economic, or even philosophical matters. Colleges and universities, via their faculty and staff members and their courses of study, shape the thinking of the day and the values and convictions of a people in very profound ways. This is precisely why the American founders wanted strong universities, because they knew the degree of influence that could be brought to bear upon the minds and hearts of the people. Yet too few Christians today choose a higher education option that maintains an approach to life and learning that is submitted to the authority of Christ and the inspired, inerrant Holy Scriptures. This is troubling because so much of higher education is in the business of tearing down the idea of truth rather than building it up. And despite all the research advancements made and technological innovations from which we benefit daily, it seems we have not exercised the kind of intellectual and spiritual humility that ought to mark our achievements.
We believe that educating students well does not require a denial of the truths found in the Bible but rather requires them to be central to the curriculum.
At PBU, we believe it is possible to deliver a true university education and experience that is profoundly different and yet profoundly influential. We believe that educating students well does not require a denial of the truths found in the Bible but rather requires them to be central to the curriculum and known by the faculty who will teach and lead the students. Good education demands this. Woodrow Wilson, while President of Princeton College, once said that education gives students nothing if it does not give them a proper vision of God. Doubtless, his perspective was shaped by the timeless teaching of the Bible that the fear of the Lord is the beginning of all wisdom. An education that begins with the knowledge of God and the Bible facilitates the transformational renewing of the mind. A true university education that upholds truth, faith, and wisdom will be used by God to change lives and the world in a positive and meaningful way. Personally, I am convinced that the question is not, "Why choose a biblical university education?" The question is, "Why choose less?" I trust you will sense we are cutting a different path as a biblical university.
[framed_box]Todd J. Williams, Ph.D., has been the president of Philadelphia Biblical University since January 2008.  He served as faculty and as an administrator from 1996 to 2001, then returned as Provost in 2005.  Interact with Dr. Williams on his PBU blog.
[/framed_box]