Mae Stewart '52
Every once in a while a person comes along who makes an indelible mark on an institution. PBU has been blessed over nearly 100 years to have had a number of individuals who have left such marks upon it. Every generation of students can, and do, name men and women whose service here has been long, distinguished, and meaningful. The roll is a remarkable one. We celebrate it when we can, and remember it often. We strive to remind our students of the great legacy from which they benefi t and hold up for them examples of faithful men and women who have graced the ranks of our faculty, staff, volunteer corps, and Board of Trustees.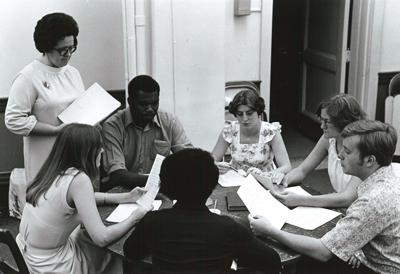 Miss Stewart has assumed a new volunteer status at PBU this year. She has passed the baton of her duties in research and planning to the next generation. With that transfer comes the ending of an era. Miss Stewart's position may be filled by others (and it will take more than one), but she can never be replaced. There are no others like her and we thank God for her and for her unparalleled service to PBU. Her tenure has spanned several presidents; quite a feat, considering my predecessor, Chancellor Babb, served for 28 years.
Dr. Babb and I have, over the years, talked often about how significant a role Miss Stewart has played in the accomplishments of the past. We have testified to one another that God used her greatly in both his transition to the presidency, as well as mine. We have also spoken of her role in helping so many other schools and ministries get organized and plan for the future. She has served the Lord at PBU in multiple capacities, but always with the same vigor and excellence. She has played key roles in seeing the University through major transitions and challenges. She is a force to be reckoned with, by virtue of her abilities and passion, but always serves the greater mission with humility and faithfulness. She has been a chief historian, guardian, and champion of the PBU story. She has played a significant role in the lives of many graduates.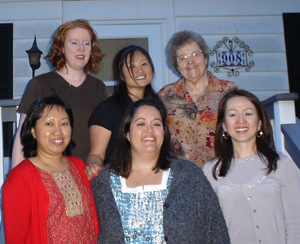 She is my former philosophy teacher and had a profound impact upon my life and service at PBU. She has been a source of encouragement and exhortation to me personally at times when it was needed most. When I travel to meet with alumni I am astounded by how many of us can claim to have survived our baptism by fire in her classes, and recall with fondness and appropriate pride that we studied with her, whether Greek, Philosophy, Aesthetics, or Ethics. And she is an alumna, one of the choicest. We are honored to profile her here in this column and publicly thank the Lord for her and the gift she has been to all of us and this work. We thank her for her friendship and for her faithful, humble service over so many years.
Thank you, Miss Stewart. We love you very much.
-Dr. Todd J. Williams