[one_third]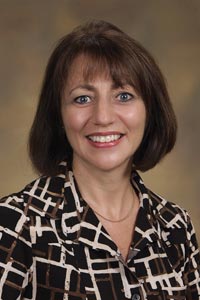 Debbie Wolf
Dr. Sheryl Vasso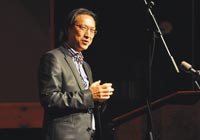 Makoto Fujimura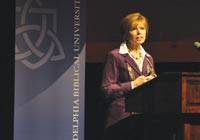 Leslie Vernick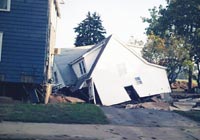 Bloomsburg, NJ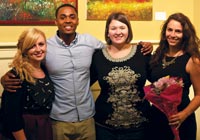 Student Art Gallery Opening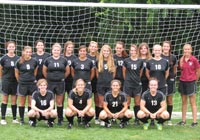 2011 Women's Soccer Team
[/one_third]
[two_third_last]
Academically Speaking
In November, Debbie Wolf, Chair, Music Education Program, presented workshops on teaching music to students with special needs at the PA Music Educators Association District 11 In-service Conference and the New Jersey Educators Association (NJEA) State Convention.  The NJEA Convention is recognized as the largest educational gathering of its kind anywhere in the world. Tens of thousands of NJEA members from across the state are expected to attend the conference which offers over 300 seminars, workshops, and programs.
Ann Rivera, Director of Student Teaching and Placement, presented several workshops at the ACSI Metro NY Educators Convention in October, including, "Mentoring New Teachers in the Urban School Setting: Helping Beginning Teachers Succeed in Challenging Situations;" "Culturally Responsive Teaching;" "Teaching Kids, Not Lessons;" and "Schools Without Walls: Urban Education and Community Partnerships."
Scott Watson, Adjunct Faculty in the School of Music and Performing Arts, had three new concert band compositions named JW Pepper Editor's Choices: Night Journey (Wingert-Jones, Grade 4), Jamaica Me Crazy (Alfred, Grade 2), and Up On the Haunted Housetop (Alfred, Grade 1.5). Other newly published works of his include Lion of Ireland (Alfred, Grade 2.5 concert band) and a new string orchestra piece, The Days and Knights of Arundel (Wingert-Jones, Grade 2). Lion of Ireland was selected by Bandworld magazine for their 2011 "Top 100" pieces for band list.  In addition, Dr. Watson has presented music education technology sessions and seminars in the region this fall.
Jack O'Brien, Adjunct Faculty, taught a two-week intensive course in Hermeneutics at the Seminario los Pinos Nuevos in Placetas, Cuba, this fall.
In October, Baron King, Director of Counseling Services, spoke at a Men's Breakfast at Grace Point in Newtown, PA on the topic of "A Biblical Worldview of Manhood."
Dr. Sheryl Vasso, Chair, Master of Science in Education, published Four Letter Words are Not Just for Crossword Puzzles with Cammy Tidwell. The book is a six-week Bible study on some of the words that are difficult to hear God say, but are for our good.
Rebecca Devine, Academic Assistant in the School of Bible and Ministry, presented a paper at the first St. Andrew Graduate Conference during the Summer 2011. The paper was entitled, "No Gods Made with Hands: Pauline Idol Polemics."
The Center for University Studies lecture series hosted a broad variety of guests in the fall semester. In September, together with the John Jay Institute, the Center hosted Dr. Richard Turnbull, Principal of Wycliffe Hall, Oxford University, who addressed issues of conservatism and compassion through an examination of Lord Shaftesbury, a 19th Century British earl. In October, artist Makoto Fujimura again visited campus, speaking in chapel and an evening lecture on The Tears of Christ, from his Four Holy Gospels project. In November, Dr. Wilfred McClay, SunTrust Bank Chair of Excellence in Humanities at the University of Tennesseeat Chattanooga where he is a professor of History, spoke on "The Tocquevillean Moment and America's Challenge."
In October, PBU held Agora: 2011, the fourth annual conference of its kind. This year's conference theme was Heart, Soul, and Mind. Keynote speakers were Dr. Todd J. Williams, Mrs. Leslie Vernick, and Dr. Karl Benzio. PBU faculty presented parallel sessions that covered a variety of topics. Audio recordings of the sessions are available on the PBU website.
Service
The Student Chaplains organized a crew of student volunteers to go to Bloomsburg, NJ, and help clean up damage and debris caused by Hurricane Irene and the subsequent flooding.
Other News
The Culture and Arts Association and Arts@PBU opened a Student Art Gallery in the Eagle's Nest Café. The Grand Opening and reception in October featured musical guest Ben Rothermel. The Gallery will give students the opportunity to showcase their God-given talents in various mediums of art, such as photography, painting, film, poetry, and more.
PBU's new Steinway Model D 58883 Concert Grand Piano was formally dedicated at the Symphony Orchestra Concert in October. The concert featured faculty soloists Dr. Samuel Hsu and Mr. Kenneth Borrmann. Dr. Hsu performed Beethoven's Piano Concerto No. 5, and Mr. Borrmann performed Prokofiev's Piano Concerto No. 1.
The Bucks County Commissioners held their bi-monthly meeting on PBU's campus in October. Dr. Todd J. Williams welcomed all in attendance. During the meeting there was time for brief public comment, approval of old business, and new business to be discussed.
Two soccer players were honored at the conference level during September. Kathleen Meacham was tabbed as a Colonial States Athletic Conference Player of the Week for Women's Soccer. Gary Bruce was named a National Christian College Athletic Association Men's Soccer Division II student athlete of the week.
Philadelphia Biblical University received the 2011 Colonial States Athletic Conference Institutional Academic Excellence Award. Student-athletes at PBU achieved the highest overall grade-point average (3.28) among the 12 CSAC member institutions.
The Women's Soccer team was selected from among all the college women's soccer teams in the Philadelphia area as the winner of the 2011 Fair Play-Sportsmanship Award, handed out on behalf of the Eastern PA and District Intercollegiate Soccer Officials Association.
[/two_third_last]