Furman Dining Commons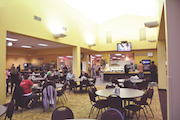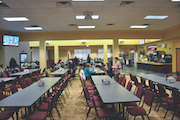 Over the semester break, PBU's Furman Dining Commons in the Mason Activity Center were remodeled. A hub of activity for resident students and visitors alike, the Dining Commons has served as the primary food services facility for over 15 years. A new floor and new paint job complement brand new seating arrangements including booths and a variety of tables and chairs for expanded options throughout the space.


Chatlos Chapel
Following improvements and updates to the Chapel over the past two years, the next phase of improvement will be the installation of new house lighting over Spring Break 2012. Future improvements are planned, including replacement of the windows and an upgrade of the heating, ventilation, and air conditioning system. The University is still raising funds for these improvements. To give toward this project, visit cairn.edu/give, and designate your gift for the Chatlos Chapel project.