[dropcap3]P[/dropcap3]BU is preparing to celebrate its centennial anniversary in 2013. As we do, I am reminded that the first one hundred years were marked by change and the practice of breaking new ground. It is, I think, a distinguishing characteristic of our school. And as we look back over our history, it is also clear to me that many changes were received with varying degrees of enthusiasm and apprehension. That is the way it goes with change. But smart change, strategic change, change that occurs without compromising the core things that matter most is essential to building on institutional history. There have been many such changes in the history of PBU. The most recent came at the October 2011 Board meetings. The Trustees and I had a very good discussion about the vision for the future and the course that needs to be charted to realize that vision as we look to our second century. On Friday, October 20, 2011 the PBU Board of Trustees passed a motion of historic significance. It made a decision regarding the B.S. in Bible degree requirement for all PBU students which has potential benefit to the students and potential strategic benefit to the institution.
[info]After thoughtful and prayerful consideration the Board of Trustees voted that
All PBU undergraduate students should have a minimum of 30 credits in Bible and Theology as a core requirement and that
Those students who are in professional degree programs earning other bachelor's degrees at PBU would no longer be required to earn the B.S. in Bible degree.[/info]
In the days following those meetings in October, I met with the faculty and staff and then with student leaders. I also spoke to the full student body in Chapel, followed by a town meeting to answer their questions. I wrote to the alumni in November to communicate this decision and that letter is the basis for this article because we want to outline the details for the entire PBU community. There is no doubt that this is the kind of decision that can generate various responses. We have heard from students, faculty and staff, and alumni, some of whom are enthusiastic and others who are concerned. The Board and I discussed the fact that this is the kind of decision and change that can be easily misunderstood or misperceived. We recognized that it had the potential to raise questions and concerns as well because people may not have enough context to know what the decision actually means. The following details outline what the decision does and does not mean.[info]
This decision is not eliminating either the B.S. in Bible degree or the Bible requirement from the curriculum. PBU will continue to confer the Bible degree and will still have a substantial core requirement in Bible and Theology.
This decision is the result of a discussion, over a long period of time, regarding the vision and direction of the University and the intention to solidify and strengthen PBU's position as a biblical university.
This decision only changes the requirement that those students who are earning degrees in Business, Education, Music, and Social Work also earn the B.S. in Bible Degree as a dual-degree. Students in those programs may elect to earn the Bible degree but will only be required to earn one degree.
The decision makes it clear that a requirement in Bible courses for all PBU undergraduate students of at least 30 credits will be maintained by Board directive. The current core requirement is 36 credits which include 30 credits of Bible and Theology, 3 credits of Church History, and 3 credits of Apologetics.
Removal of the dual-degree requirement will reduce the overall time and costs to complete undergraduate studies for many students at PBU. Presently, the state requires a minimum total of 120 credits to earn a single B.S. degree and 150 credits to earn two B.S. degrees.
Students will continue to have the option to earn the dual-degree, a B.S. in Bible degree and a bachelor's degree in one of the other professional degree programs, and may be required to exceed the 30 credit hour minimum in Bible to do so.
The ministry programs at PBU will still require the B.S. in Bible degree requirement and students in those programs will continue to exceed the 30 credit hour minimum in Bible.[/info]
This change is positioning PBU to do something special. It will allow us to focus our efforts on clarifying the things that make PBU distinct. For many, that distinction has been requiring every student, no matter what other degrees they are earning, to also earn the B.S. in Bible degree. It is the degree I earned as a Pastoral Studies major, and the degree I have handed to students as the Dean, Provost, and now as President. It is one that we are very proud to confer upon students. But what makes PBU distinct is much bigger than the B.S. in Bible degree requirement. That Christ and His Word are central here, philosophically and practically, to the curriculum, the campus life, and the lives and faith of our faculty and staff is our distinctive.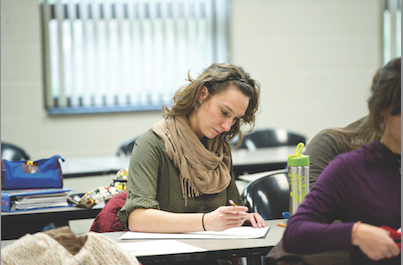 This decision is a very wise, realistic, and helpful one. Many of our students who are enrolled in dual-degree programs (Business, Music, Education, and Social Work majors) are here for five years or more in order to complete their undergraduate studies. The economic challenges of our day are putting an inordinate amount of financial strain on families and our students. The Board has recognized this and has shown leadership by acting decisively. PBU has found a way to shorten the stay of dual-degree students while keeping our core commitment to teaching the Word of God as the central and integrating element of every student's curriculum. These are new days in American higher education and we need to be looking for ways to make necessary changes that expand opportunities for our students without compromising our convictions. PBU should not be losing opportunities to provide a biblical university education to students who choose to go elsewhere simply because they cannot afford the time and money to study with us. Changing the degree requirement will allow PBU to ease the burden on its current students and attract prospective students who want a serious study of Scripture without necessarily earning the degree. This decision simply gives students more options. This is the thinking behind it.
I shared in my letter to the alumni that I understand some will see this as a "slippery slope." I understand that some may feel this decision dilutes our commitment to biblical education, or is another step on a slide toward becoming a Christian liberal arts university, but I disagree. We did not declare ourselves as such in 2000 when we became a university, and we are not doing so now. We are a biblical university; and from my observation, the only school claiming that distinction. This is what we do. We change while holding to what matters most. PBU, almost from its founding nearly a hundred years ago, has been perpetually changing, and leading. The mergers, name changes, and moves are just the tip of the iceberg. We have seen the launching of additional degrees as early as the 1950s, the attainment of State approvals to confer degrees, and regional and programmatic accreditation to ensure our credibility regarding professional preparation. In recent years, campus development, graduate education, and the achievement of university status were significant changes and mile markers on a century-long journey. Yet, in the midst of all this, we have held to the commitment that all learning begins with and is held together by biblical learning. And that has not, and will not change.
I remember the discussions in the late 1990s when we were working toward university status. There were quite a few about how far from a Bible college this would take us and whether we were simply delaying declaring ourselves a Christian liberal arts university. We said then, and I am telling you now, we have no desire to do that. We are a biblical university, not a Bible college and not a Christian liberal arts university. There is a real need in the landscape of higher education for this kind of institution. The Board in its meetings affirmed this point as an essential element of the vision for PBU. This is a university centered on Christ and His Word, where students get a genuine university education that is intentionally and distinctly biblical. Every student will have at the core of their studies a serious study of the Bible and theology – every student. As we educate them to serve Christ in the church, society, and the world, we want them to be biblically minded, whether they work in vocational ministry, business, education, social work, the arts, or any other sector of society. On this we are not wavering.
[framed_box]
Todd J. Williams, Ph.D., has been the President of Cairn University since January 2008. He served as faculty and an administrator from 1996 to 2001, and then returned as Provost in 2005. He can be reached by emailing president@cairn.edu. Also, interact with Dr. Williams at Cairn's blogsite: blogs.cairn.edu.
[/framed_box]