[dropcap3]M[/dropcap3]y thirty-three years are difficult to describe. Many Hollywood plots are less intriguing than the story of my life, yet God had reasons for each season that I have experienced. I grew up in a Christian home, and today I am the head of a Christian home. However, these experiences bookend a life of homelessness, alcoholism, and drug addiction. My road to redemption started with rebellion, ended in repentance and forgiveness, and resulted in increased wisdom and spiritual maturity.
When I graduated from high school my short term plans included playing college basketball and pursuing a degree in journalism while my long term aspirations included a career in professional basketball. On my way to college on the first day of basketball practice during my freshman year, I passed out while driving and crashed into a tree crushing the cartilage and slicing several tendons in my right knee which immediately ended my basketball career. I faced the first key test of my life – to seek Christ's strength or my own.
My rebellious heart won the debate, and I became very bitter with God. I just could not understand how God could take something that I loved so much away from me, so I took myself away from Him. I worked hard for the next year and a half strengthening my damaged knee until I decided to join the Army in April of 1999. I was stationed in Germany the following year where I spent most of my free time drinking and partying with my fellow soldiers. In the fall of 2002, my unit received orders to deploy to Kuwait in support of Operation Enduring Freedom. In the early morning hours of March 20, 2003, I led my team across the Iraq border. During my combat experience I was involved in a standoff with an Iraqi truck driver, survived a sniper attack, was lost for twenty four hours in a dust storm, and participated in the invasion of Baghdad International Airport.
I returned to New York in September 2003 damaged mentally and emotionally, so I self-medicated myself with alcohol and street drugs. In early 2004, I left New York and moved to Florida where I lived with a woman I had met at a bar. I worked as a car salesman and quickly became addicted to several street drugs, hiding my pain and the stress of an unhealthy relationship. In 2007 while working as a restaurant manager, I was fired for purchasing drugs at work. I broke up with my girlfriend, lost my job, and lost my home within a month of each other. While staying in a roach motel, I woke up one morning surrounded by empty liquor bottles and drug paraphernalia, fell on my face, and wept in desperation. I wanted out of this life of misery and returned to my parents' home as the prodigal son.
[blockquote align="left"]Joy that I had not felt in years returned to my heart. Life was about to change drastically.[/blockquote]I returned to New York where I was embraced by my family. I struggled with the desire to continue with my drug usage and drinking but tried to use my free time to listen for God. I began sitting by the local creek for hours reading my Bible and listening for God's guidance. While on a weekend fishing trip in May of 2008, I spent about twelve hours alone fishing a mountain stream. I felt God's presence that whole day and during that trip asked Him to forgive me for my rebellion. His embrace encompassed me that day, and joy that I had not felt in years returned to my heart. Life was about to change drastically.
The following morning as I sat in church praying for a word of guidance, God placed the name Philadelphia College of Bible on my mind. This was humorous to me because a PCB recruiter had pursued me in high school, but I had no desire to attend school in Philadelphia. When I looked up the school, I discovered that the name had been changed to Philadelphia Biblical University and applied that afternoon for the fall semester. Despite the uncertainty of my parents and friends, I believed that this was God's plan and that He would provide. One day a letter arrived disclosing my financial aid package which covered my full financial need. My faith was strengthened, but I felt unworthy of such love and devotion. I humbly prayed a prayer of repentance for my rebellious life immediately. It was at that moment that God taught me a very important lesson – the difference between forgiveness and repentance.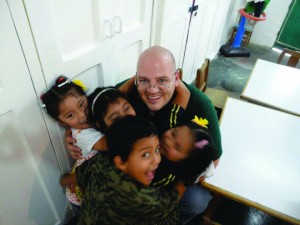 We are forgiven for our sins as long as we have been washed in the blood of the Lamb and ask Him for forgiveness, but God wants more. Repentance is the next phase of redemption. Due to His great love for us, He forgives us as long as we ask for His forgiveness, but His desire is that we turn from our wicked ways and seek to love like He does. When we repent, we turn away from our sins and toward God's plan for us. This turning places us back on the road of redemption. When we continuously follow this road, He blesses us tremendously but tests us continuously that we might become mature in our faith. This is a summary of the Christian life – a series of tests, successes, failures, forgiveness, and repentance along the road of redemption toward His plan for our lives.
At PBU I have continuously been tested and blessed and have matured in the Lord tremendously. I met my wife shortly after arriving at PBU, got married, and bought a house. I have coached men's basketball for PBU, been a mentor to several young PBU men, and gone on a mission trip to La Limonada, the largest slum in Central America. Today, I am the Program Director for The Way Home, a faith-based community organization seeking to provide permanent supportive housing to the chronic homeless population of Lower Bucks County. I am a missionary to homeless drug addicts and alcoholics, a group of which I was a member just four years ago. God's perfect plan has redeemed my life of rebellion and used my experiences to prepare me for the position He has given me today. I serve Him humbly as a sinner forgiven, saved by grace, and redeemed for His purposes. To God be the glory. Great things He has done!
[framed_box]James Richardson is a senior General Studies major. He has been actively involved at The Well, a local church, and was a part of planting their daughter church, Redemption Church, during his time at PBU. In addition he was the Coordinator of the Fresh Start Donation Center for Interfaith Housing where he had many opportunities to speak at local churches and Bucks County Direct Services Coalition Meetings. James serves as the Assistant Coach of PBU's men's basketball team.
[/framed_box]