[dropcap3]F[/dropcap3]or Steve and Dana Melniczak, it's impossible to talk about their PBU experience without talking about sports. "It was fun to express creative energy on the court," Steve says. "That's a part of God's good creation. It's a fun thing, a good thing, a competitive thing. I want to give God credit for that. It's something He's given us: good times, good memories, good competition. Our games were a time for our families and friends to come and share those things with us." Dana, an Elementary Education major, played soccer, basketball, and softball. Steve, a Business Administration major, played basketball. Both of them rank among PBU basketball's 1000-point scorers. "I was a commuter," Steve says, "so it was sometimes difficult to get plugged in. Playing sports gave me connections; if I didn't play sports I wouldn't have met Dana."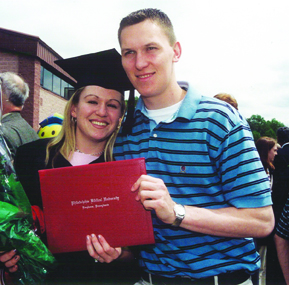 "PBU was the place where I was able to begin the process of thinking critically about the Scriptures and the world we live in," says Steve of his experience as a student. Dana picks up the theme: "I learned a lot in my Bible courses and education courses, but the focus was also on growing me as a person. The professors weren't just teachers; they cared about you as a person – that goes for my coaches, too. They cared about my spiritual walk and encouraged me."
"You develop those relationships," says Steve. "We are still connecting with those we met in college – our teammates, our friends, our professors – and you can continue to talk regularly with them and benefit from working through life and Scripture together."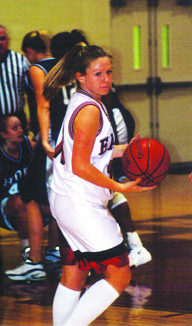 Today, they look back on their experiences at PBU and see the ways that God was preparing them for their current roles. "Since I played three sports, I was constantly in season," Dana says. "It forced me to be disciplined. People would ask me how I got my studies done with everything else, but for me, being busy helped. Our coaches were behind us 100%; they wanted us to excel on the field and off."
"PBU is one of the main reasons that we are where we are today," says Dana. "PBU makes faith and spiritual growth a priority in students' lives. Throughout my time I heard that constantly. It shaped how I think."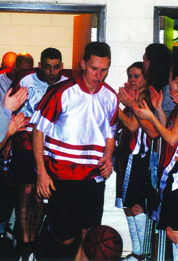 "For me, God began working on my character through basketball," Steve says. "I began my basketball career as a prideful, selfish person, but I began to grow during that time. I was surrounded by people who were able to point it out to me – I was on a team, being coached, being observed – it was a really public setting to have that happen."
Steve came to PBU not sure what to expect out of the University's relatively new business program. "You got close attention from good teachers. Being under Ron Ferner and getting personal feedback from someone like him was invaluable. Because of the small environment of the program I was able to do lots of presentations and work in groups. I'm in a business now that's personal and communicative, and the experiences I had at PBU really prepared me for it."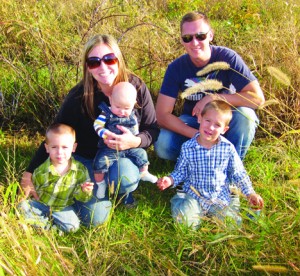 About a year after they got married, Steve and Dana began attending Bible Fellowship Church in Yardley, PA. "As soon as we got there we got plugged into helping with the youth ministry," Dana says. "I've taught Sunday School and we lead a small group. Steve was just named an elder there." After teaching for a few years following college, Dana's main responsibilities now are caring for their sons, Luke, Ryan, and Trey. "I may not have known it then, but God definitely provided the right major for me in elementary education," she said. "We're considering homeschooling, and I would be able to put my training to use in that, too."
"I see Dana now, as a mom juggling life with three young boys, and I think that having so much going on at PBU really prepared her for that," Steve says.
Steve spent a couple of years in the financial services industry before getting connected to State Farm Insurance and Mel Nace, one of PBU's Board Members. "Mel asked Dr. Babb for a reference and I was introduced to him through that connection. I was able to spend two years learning under Mel and now I own and operate my own agency in Villanova."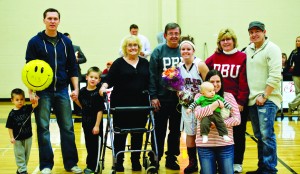 Steve and Dana have continued to remain connected with PBU since they graduated. They carry on their philosophy of sports as a good gift from God by attending games today. "My sister now goes here and plays sports," Dana says. "So we bring the family back to watch her play."
"I like seeing the facility upgrades that have taken place in athletics. I think that's something that's key to attracting students. I'm looking forward to seeing more growth in the athletic programs," says Steve. "I've been encouraged by the direction that PBU is going; students are really encouraged to think critically about worldview and biblical integration. I wish I could come here now."
[framed_box]Carrie Givens has been a Communications Specialist at PBU since 2009 and an adjunct faculty member in the School of Arts and Sciences since 2008. She can be reached by emailing cgivens@cairn.edu.
[/framed_box]