[one_third]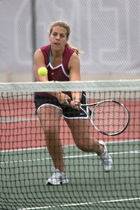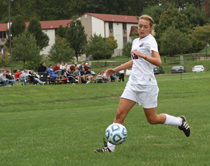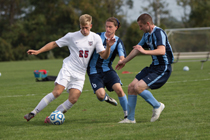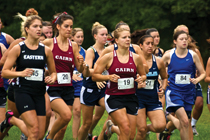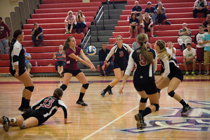 [/one_third]
[two_third_last]
Women's Tennis (2-12, 1-8 CSAC)
Senior Meghan Whittington proved to be Cairn's most effective singles player, finishing with 5 wins to her name playing in the 3, 4, and 5 spots; including a perfect 2-0 record at the three spot. Tara Munro closed out her career with a 3-9 singles record in her final campaign and 22 career singles wins (2nd most all-time). On the doubles side of things, Whittington caps off her career as part of the most successful doubles tandem in Cairn history. Whittington and Dana Hartman have each won 20 career doubles matches, with 19 of those playing together.
Women's Soccer (4-14, 3-8 CSAC)
The 2012 women's soccer season can be deemed an improvement, if not a success. The team eclipsed last season's win total and won two more conference games than they did in 2011. Junior forwards Amara Mills and Kathleen Meacham tied for the team-lead in goals, with 4 apiece. Meacham also had 4 assists to her name to lead the Highlanders in points with 12. Senior Sara Poole, having played goalkeeper last year, found her niche in the field as an outside defender and proved an excellent option against some of the best strikers in the league. Freshman Morgan Swan stepped in as goalie and showed that Highlander supporters can be assured of that position for the next three seasons. Swan, although not earning Rookie of the Year for the CSAC, finished a close second. A key moment in the season for the ladies was when they defeated Baptist Bible 3-2 on Sept. 29, 2012. It was the first time Cairn had defeated BBC in women's soccer in 7 years.
Men's Soccer (6-11-3, 3-8 CSAC)
The men's soccer team suffered several injuries to key players throughout the season but were able to rely on a deep bench and new faces to carry the torch. Senior forward Seth Mangum and junior Gary Bruce led the team in points with 13. Bruce had a team-leading 6 goals, while Mangum notched 4 goals for his team-leading 5 assists. Senior tandem Jon Minnema and Sam Hunter were solid all season on the backline. Against competitors such as Arcadia, Eastern Mennonite, North Carolina Wesleyan, Wesley, and nationally-ranked Rutgers-Camden, the Highlanders held their own. Rutgers-Camden was the #6 ranked team in the country when Cairn held them scoreless for 55 minutes. That was after the Highlanders were the better team against South Region powerhouse North Carolina Wesleyan for 45 minutes in the second half, only to lose 3-0 to Rutgers and 2-1 to NC Wesleyan. Unfortunately, things didn't come together down the back stretch of the season for Cairn, who once again missed out on the CSAC playoffs by half a game.
Cross Country
Cairn's cross country team, under the guidance of Eric Bofinger with help from his assistant and wife Katy Bofinger, has continued to make strides in the NCAA and Colonial States Athletic Conference. Senior record-setter Ellen Squier had a terrific final season for the Highlanders, winning Cairn's very own Highlander Invitational and placing 4th in two other races. Along the way, Squier and several of her teammates set personal best records, earning their way into Cairn's record books. Squier topped her previous best of 24:01 in the 6K, which was the previous fastest women's time, with a 23:59 race. Brittany Zimmerman is now #2 all-time behind Squier after turning in a 25:31 time while on the same day Sarah Skowronek ran a 26:52, moving into 4th place all-time. On the men's side, Miller Del Castillo and Nate Seidle have moved into 5th and 8th all-time, respectively, with times of 29:58 and 31:47in the 8K. The women placed 3rd in the CSAC Championships while the men finished 4th. The teams competed in the NCAA Mid-East Regionals.
Women's Volleyball (20-14, 8-3 CSAC)
Women's Volleyball continued their streak of making the CSAC playoffs, having earned a spot every year since joining the conference in 2008. This year, the Highlanders entered the postseason as the #4 seed, having finished 8-3. Cairn defeated Marywood in the opening round 3-1 before losing to #1 seed and eventual champions, Neumann University. The team headed to Kissimmee, FL to compete in the NCCAA National Championship after repeating as East Region champions. Sophomore Brigid Shehan avoided the dreaded "sophomore slump" and junior Emily Mayer had a breakout year as both players were named 2nd Team All-Conference. Junior setter Erin Greenwood is well on her way to the record books with her assist numbers. With only one senior on the team this year, Katie Toewe, the ladies are primed for the future.
[/two_third_last]