[dropcap3]O[/dropcap3]n February 14, 2013, Wisconsin Wilderness Campus alumni from across the nation and all over the globe gathered to celebrate an experience in community that – for many – changed the course of their lives. WWC Alumni Weekend has become a mainstay for some alumni as they annually travel hundreds of miles to the remote Lake Owen Campus in Cable, Wisconsin. This year was different. This year represented the final goodbye to WWC and the Lake Owen site.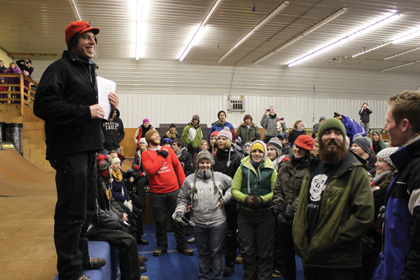 Amidst frigid temperatures and brilliant Wisconsin sunshine, over 200 guests gathered to relive a moment in time. For some this included ingesting a few more meals in the camp's dining hall or the opportunity to strap on cross-country skis or snowshoes to travel the snow-packed trails that surround the idyllic facility. But one reason stood universal for all who returned to the campus: to reconnect with a year that inspired them to deep change and growth.
The weekend itself has been a tradition for the past decade and includes an annual chili supper on Friday, a broomball tournament that same evening, and a hearty brunch on Saturday morning before the group heads off to Ashland, WI, to participate in the annual Book Across the Bay ski race. But last month's alumni weekend had more…so much more. The campus, filled with 25 years of alumni (nearly every year was represented), was alive with memories and reunions. For many, an opportunity to visit with Mark and Dana Jalovick along with other classmates was reason enough to participate in the event. For others, there was potential for winning a second broomball title (and the opportunity to be the "forever champion"). Still for others, as we continue our journey of faith, just being present at the location that was so influential in our lives and development was a perfect reason to come.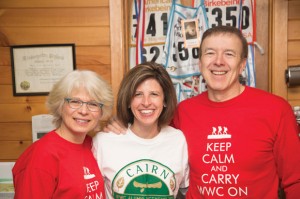 No matter what the rationale for coming, the memories and moments shared were indeed priceless. Alumni had a wonderful opportunity to worship together and to offer public testimony to what God had done in their lives through WWC. As a group, the alumni were given time during a service at Hayward Wesleyan Church to return thanks to the Jalovick family for their dedication to discipleship and their demonstrated perseverance in the oft-difficult role of mentoring college freshmen.
WWC Alumni Weekend 2013 was incredible as we shared together memories and stories of days gone by and as we heard Mark's excitement as he and Dana look forward to the First Year Programs that he is currently developing and will be overseeing next year on the main campus in Langhorne. Most of all the weekend was filled with rich moments of worship as we saw God in creation, in relationship, and as we testified to His constant provision that has faithfully endured throughout the years since WWC's inception. Soli Deo Gloria.