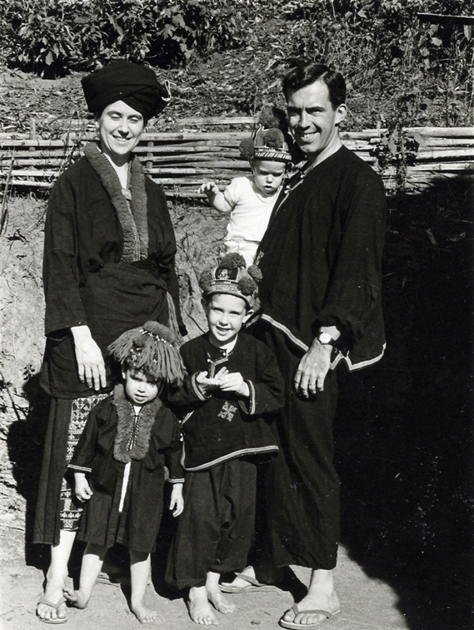 In 1963, Herb Purnell and his family moved to a Mien village in the mountains of Northern Thailand. There were no roads, and no vehicles that could handle the terrain; they carried everything up. They had two small children and were expecting their third. Their goal was to learn the Mien language and culture and minister the Word to the believers in the village as they did so. Their time in the village was relatively short – only 14 months – but it was a key part of the work Herb has been doing for nearly sixty years.
Herb graduated from Philadelphia Bible Institute's three-year Bible certificate program in 1954. "A number of us then went to Wheaton to complete our undergraduate degrees since Wheaton granted PBI graduates two years credit for what we had studied. Thus in five years I was able to complete a major in Bible (PBI) and a major in anthropology (Wheaton). My fiancée graduated from Moody in 1956, and we were married the following week." The two moved to Hartford, Connecticut where Herb began an M.A. in Linguistics.
The following summer they attended the OMF International Missionary Candidate Course in Philadelphia. "At the end, we were turned down," says Herb. "That was very painful because our call to missions, to Thailand, and to each other was all through OMF." After several months of wondering what to do and trying several avenues of ministry, their pastor helped them find a small church in the desert of Arizona to pastor. "The small town had never had a resident pastor, and our church, First Baptist Church of Quartzsite, had twelve people on the membership roll." After about 15 months of challenging ministry, the Purnells were invited to return to OMF. They were accepted and left for the mission's international headquarters in Singapore in 1959.
"When we were accepted by OMF and left for Asia, we were not able to say where we felt God was calling us. That country designation was the prerogative of the directors in Singapore. We were designated to the North Thailand field. We obviously had to learn Thai first. Then the field administration designated us to the Mien. But before beginning with Mien, we requested, and were granted, about two years to learn Northern Thai." Learning Northern Thai was an important step in the process: one needed to pass through Northern Thai villages to get to the Mien areas, the Mien used Northern Thai as one of their trade languages, and the Purnells could use Northern Thai as a bridge language to begin learning Mien.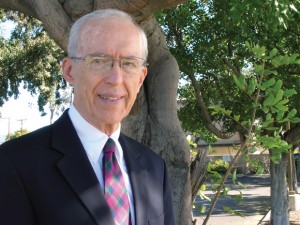 In 1964, following the 14 months the Purnells spent living in the Mien village, they returned to the United States for an extended furlough. Herb completed his M.A. and a Ph.D. in linguistics, both times using the Mien language as his research area. In 1968, he edited the first Mien-English dictionary, based on material collected by a recently retired OMF missionary and his own files. They returned to Thailand in 1970, but were unable to live in a village. Instead, Herb made frequent short trips and had Mien come and stay in their home so that he could continue to work on the language.
"Because of my field experience in three languages, my academic training in linguistics with a focus on Mien, and my applied linguistic training in helping people learn languages, I became the OMF language consultant for North Thailand. I also traveled to other OMF fields in Asia to evaluate language-learning programs and occasionally put on workshops and to train language supervisors."
In the early 1980s, the Purnells returned to the United States permanently. Herb was invited to be the chair of the Applied Linguistics and TESOL Department at William Carey International University in Pasadena, California, the academic side of the US Center for World Mission. A few months after arriving, he was asked to minister to a group of Mien who had recently settled in Long Beach. "About that time, the Mien who had settled along the West Coast became interested in writing in the language but realized that the orthographies some of them had used back in Asia were unsuitable here in America. They wanted an orthography that looked more like English and that could help them learn English. Because of my training and experience, I was invited to guide them through the process of developing a new alphabet and way to write their language."
In 1987, a new dictionary project started. The original goal was to provide a resource for the Bible translation team and for new missionaries learning Mien. "But the dictionary was always done 'as there was time' from my regular teaching or research responsibilities. And there were unavoidable gaps: at one point, our house burned and only two copies of the manuscript survived (only because people were late in sending them to me). A friend took the hard copy and reconstituted the database over a seven-month period. There were many starts and stops and hiccups along the way."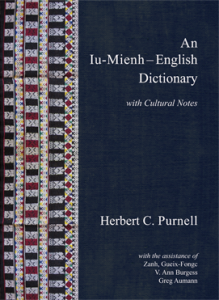 Herb continues, "Some of the work was done by my emailing a draft of a few dozen entries to a retired missionary associate in Ottawa, Canada. The next morning she would telephone another associate, a Mien man in a small village in northern Thailand, often catching him after he had spent a hard day doing farm work or tending his orchard. They would discuss the entries for an hour or so, she would type up their discussion, plus the additions and clarifications they would suggest, and send me an email. Then I would try to formulate new, revised, or enlarged entries based on their information. Another friend, first from China, then from Australia, would Skype me to discuss computer matters that I wanted changed or would email me long lists of entries that I needed to recheck for consistency. Finally, a friend in Bangkok kindly took my 'Plain-Jane' manuscript, changed the font and layout, redid my charts and tables, designed a terrific cover, and made the book very attractive. So although I did all the analysis and writing, this was a team project with input from one or the other according to their area of expertise."
Herb's passion for the Mien people to know Christ is the heart of his life work. In North America, the Mien community is about 15% Christian and 85% Taoist. Herb hopes that this work may help the community come closer together and open avenues of meaningful communication.During the years of work, the goals for the dictionary changed: the audience expanded from just missionaries to academic researchers who might want to study the Mien language and culture. "But the needs within the Mien community in the US and Canada became the main focus," says Herb. "The community needed a reference work that would raise the status of their language in school districts and among Americans in general. They also needed a dictionary with a significant amount of traditional culture in it to help their young people improve their knowledge of Mien and their heritage culture. The dictionary is already having a beneficial effect in these areas." In addition to this, the database can be adapted to be the basis for Mien dictionaries for other languages.
Herb Purnell is the Professor Emeritus of Applied Linguistics and TESOL at Biola University. His book, An Iu Mienh – English Dictionary with Cultural Notes was co-published in November 2012 by the Center for Lao Studies (San Francisco) and Silkworm Books (Chiangmai). Herb continues to be active in linguistic and ministry work with the Mien and Thai people. In 2004, he received Cairn's Lifetime Achievement Award.