[blockquote]
Can art change the world? Can art change the trajectory of even one life?
[/blockquote]
[dropcap3]M[/dropcap3]y studies at Cairn began with intentions of utilizing my business degree to expand my photography business. Since then, my vision has expanded to combining these disciplines with my artistic abilities (primarily photography and film) in order to provide aid to those in need. This idea was conceived primarily through my involvement with Enactus, a student group committed to using business to provide positive change. Since my freshman year I have assisted in their marketing efforts: creating promotional films, documenting projects, and creating a year-end presentation which resulted in our traveling to Kansas City where we ranked in the Top 16 out of more than 500 teams throughout the USA.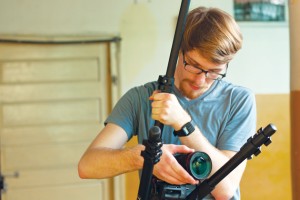 The largest opportunity which has arisen from the relationships I've formed at Cairn is my partnership with Bombay Teen Challenge (BTC), a nonprofit organization that works in Asia's second largest red light district to "rescue and lead women and children out of the darkest parts of society, into the freedom of hope."
This January I made my second trip to Mumbai, India, to work with BTC by continuing to develop their communications department through hands-on training and discussion. We touched on everything from the basics of filming to the thought-processes required to craft a meaningful story. I have been blessed to see how even my seemingly insignificant efforts with BTC of creating photographs and videos have had a real impact upon shifting people's paradigms of modern day slavery.
Through the redemption brought forth by the work of BTC, I am again reminded that true art is larger than paintings or photographs – for we are all artists in our own regard. One person uses pixels or paintbrushes, while another may mix spices and meats, and yet another speaks words of encouragement. The true aim of excellent art is to engage another person in some compelling way so that two stories collide, resulting in some radical change – much like our calling as Christians to intentionally live in such a way that our actions reflect the gospel.
Through my experiences at Cairn and Bombay Teen Challenge, I have learned firsthand that the 'storytellers' of tomorrow will be ordinary people with ambitious dreams and caring hearts; ethical businessmen, interested teachers, and empathetic counselors – those with the drive and desire to make life – even, perhaps, just one life – better by sharing their art.
[framed_box]Michael Rothermel is earning a double-degree in Business Administration and Bible. He has been actively involved in promoting the arts at Cairn through his participation in student groups like Enactus (formerly SIFE) and the Culture and Arts Association. Learn more about Bombay Teen Challenge and their ministry at www.bombayteenchallege.org.
[/framed_box]