[blockquote cite="Dr. David Wilcox"]
Useful either in a group context or individually, all educators will benefit from this well researched study of education that promotes educational practice that is internally consistent, coherent, and redemptive. MacCullough moves the reader interactively from thoughtful reflection to practical curriculum development.
[/blockquote]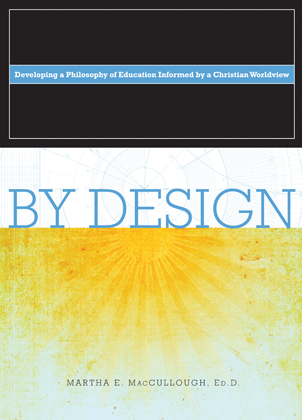 [dropcap3]T[/dropcap3]his winter, the University published By Design: Developing a Philosophy of Education Informed by a Christian Worldview, a book by Distinguished Professor Emeritus, Dr. Marti MacCullough. Dr. MacCullough's book serves as a guide for pre-service teachers and Christian teachers who have not considered their own practices and beliefs from a Christian worldview.
Dr. D. Bruce Lockerbie, the Chairmain of PAIDEIA, Inc., and the former Dean of Faculty for The Stony Brook School, sets the context for By Design, writing in his review of the text, "Sixty years ago, in The Pattern of God's Truth, Frank E. Gaebelein revived among evangelical Christians the biblical precept of wholeness or integration, recalling the maxims of the Church Fathers Justin Martyr and Augustine of Hippo and restating their argument in five simple words: 'All truth is God's truth.'
"But while Gaebelein's book created a fresh call for 'the integration of faith and learning,' it did not deal with nor advance the metaphor of seeing reality from a particular vantage, which we now know as possessing a specific worldview. For that case to be made, we waited until 1976, when James W. Sire published The Universe Next Door. Since then, a steady wave of books has attempted to define, explain, and give significance to the variety of worldviews competing against a biblically Christian world-and-life view.
"Now Martha E. MacCullough…provides a rare service from a scholar's desk: She offers essentially her notes, lectures, and exercises given to students who are preparing to follow her vocation as teachers…Her course is an introduction to various philosophies of education, and her premise holds that anyone seeking to develop a philosophy of education must first determine one's own perspective on life that results in a distinctive worldview."
In his Foreword to the text, Dr. Todd Williams highlighted Dr. MacCullough's impact on the University: "Marti's thumbprints can be found all over the University and upon countless numbers of teachers in both Christian and public education settings. She set the bar high for biblical integration, championed the cause of worldview-based pedagogy, and shaped the educational philosophy of multiple generations of teachers, including many of us who teach now at Cairn. Dr. Marti MacCullough has served with distinction. She taught us all that to teach well and in a manner that is coherent and wholly integrated takes work. It does not happen by accident."
By Design addresses the felt need Dr. Williams mentions: teaching educators how to teach in a manner that is coherent and wholly integrated. Written for use in the university classroom or by teachers working in the field of education, the book walks the reader through the development of their own philosophy of education, grounded and centered in a Christian worldview.
Dr. David Wilcox, Assistant Vice President for Asia and Latin America with the Association of Christian Schools International, noted the book's versatility: "Useful either in a group context or individually, all educators will benefit from this well researched study of education that promotes educational practice that is internally consistent, coherent, and redemptive. MacCullough moves the reader interactively from thoughtful reflection to practical curriculum development."
[framed_box]By Design is available for sale online now at cairn.edu/bydesign. For more information, email resources@cairn.edu
[/framed_box]