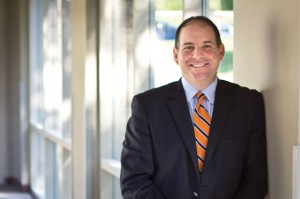 [dropcap3]O[/dropcap3]ver the course of the last several months I have been asked many times, "How is it going?" Given the changes of the past year, particularly the name, I assume most people are asking about that. My answer is always the same. We are doing well. There is good energy on campus. People are expressing support and the rollout of the new name is being executed effectively. I also know others are following the challenges of the economy and its impact on the higher education community as well as the families we serve. So I usually include in my responses to queries the fact that we are encouraged by the interest in Cairn. We are working to expand our academic offerings and opportunities for students in ways that are both strategic and sustainable while adding value to a Cairn education. I am also sure that some are asking the question because they are curious about the outlook for the future and what other changes may be on the horizon. My responses genuinely reflect my enthusiasm for the future, my commitment to our vision as a biblical university, and my hope that our graduates will find themselves making a difference by serving Christ well in every sector of society and in every corner of the world, just as they have for a hundred years.
I remember hearing someone say in a change seminar that people do not handle change well. That simply is not true as a universal fact. The truth is some people do not handle some change in some situations well. But as human beings in an ever-changing world we do deal with change. We are resilient and forward-looking. We have to be. We lose jobs, loved ones, and favorite places. We also welcome children into our lives, in-laws, and new opportunities. The weather changes. The markets change. The culture changes. We adapt. We find our way to new ways of doing things. We learn to enjoy memories without dwelling on the loss, explore new dreams, and make the most of new opportunities. We also find ways to keep core commitments and hold fast to our convictions. We remain the same in essential ways while changing in less essential ways. These basic principles and dynamics are true of individuals and institutions. Cairn is no exception. As we begin our celebration of our Centennial Anniversary, I am mindful that our institution has undergone numerous changes while keeping central its commitment to Jesus Christ and the authority of Scripture.
Over the course of the next year and a half we will be highlighting our history, new opportunities, and our vision for the next century. From the very modest beginning in 1913, we have been changing, adapting, exploring, and reaching farther without compromising what matters most or apologizing for who we are and what we do.
At the December Commencement Ceremony, I delivered the charge to the graduates. It was an honor to do so at our first commencement under the new name. While more than 2,200 diplomas have been exchanged by alumni since the fall, these December graduates received the first Cairn diplomas as part of a formal ceremony. We have decided to share a portion of that charge with you in this issue. In previous issues you have been given a glimpse of what Cairn looks like, how the new name is being represented, and how the new name embodies our mission, vision, and history. Our prayer is that you will be encouraged now by seeing and reading more of what matters most to this institution and what we envision for our students and the future.
[framed_box]Todd J. Williams, Ph.D., has been the President of Cairn University since January 2008. He served as faculty and an administrator from 1996 to 2001, and then returned as Provost in 2005. He can be reached by emailing president@cairn.edu.
[/framed_box]