[one_third]

[/one_third]
[two_third_last]
Academically Speaking
In April, Dr. Debbie Wolf, Professor in the School of Music , presented a workshop for pre-service teachers on preparing for the ETS PRAXIS music certification tests at the National Association for Music Education Eastern Division Conference in Hartford, CT.
Marissa Rumpf, Presidential Intern and Adjunct Faculty in the Degree Completion program, presented a poster and roundtable discussion at the Mid-Atlantic Writing Center Association (MAWCA) conference in California, PA, in April. Both presentations were titled: "Moving Closer to Change: Identifying and Harnessing Strategic Relationships."
In April, Kile Smith, Adjunct Faculty in the School of Music, had six anthems performed in concert by the Ursinus College Choir and the Meistersingers, conducted by John French, including Unto the Hills, a piece he composed as a student at Cairn in 1979. In May, other words were performed by the Temple University Music Preparatory Division Festival of Young Musicians, Youth Chamber Orchestra, and the Philadelphia Sinfonia.
Dr. Victor Jacobs, Associate Professor in the School of Divinity, traveled to Lynchburg, VA, in March to present a paper at the regional Evangelical Theological Society meeting. The paper was entitled, "A Conjectural Emendation of Luke 4:44 Based on the Synoptic Tradition? A Consideration."
Dr. Scott Watson, Adjunct Faculty in the School of Music, served as keynote speaker for the 2013 Music Technology in Education Conference in Melbourne, Australia. His presentation, which opened the conference, focused on the theme of his recently published book, Using Technology to Unlock Musical Creativity (2011, Oxford University Press). In addition, Watson was commissioned by the Salisbury High School (Allentown, PA) Concert Band, Rachael Reinecke, Director, to compose a new work, Aquatica, in memory of their school district's former superintendent, Robert Gross.
Charlotte Gleason, Part-time Faculty in the School of Liberal Arts and Sciences, presented a paper at the Northeast Modern Language Association conference in Boston. The title was: "Entering Academia: Pairing Adolescent Contemporary Realism and Canonical Literature to Increase College Readiness."
Steven Condy, Adjunct Faculty in the School of Music and Opera Workshop Director, performed in Giuseppe Verdi's "Falstaff" with the University Lyric Opera Ensemble and Utah Philharmonia at the University of Utah in April.
David "Coz" Crosscombe, Director, Urban Ministry First Year Program, defended his dissertation in April, earning a D.Min with a major in Ministry in Complex Urban Settings from Gordon-Conwell Theological Seminary.
Benjamin Harding, Associate Professor in the School of Music, successfully defended his dissertation in May, earning a D.M.A. from the University of Maryland with a major in Piano Performance.[/two_third_last]
SERVICE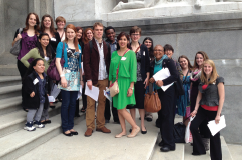 Sharon Weber, Part-Time Faculty in the School of Liberal Arts and Sciences, and her Biology II students continue to serve the community by checking the health of the local watershed. In March, the class, partnering with volunteers from the Silver Lake Nature Center in Bristol, PA, performed a chemical analysis and macroinvertebrate survey of Mill Creek. Water from Mill Creek is just one part of the watershed that eventually supplies drinking water for the Delaware Valley area.
Dr. Juliet Campbell-Farrell, Associate Professor in the Department of Social Work, and her Social Policy class participated in NASW-PA Legislative Advocacy Day in April. The students advocated for the rights, privileges, and protection of the social work profession. They met with State Senator Tomlinson and State Representative Frank Ferry about passing two bills that would affect future social workers.
OTHER NEWS
Cairn Student Senate elections were held in late March for the 2013-2014 Senate cabinet, who assumed their new positions on April 8, 2013. The students elected were Dave Dager (President), Katie Jones (Vice President), Adam Martin (Treasurer), and Nicole Mantell (Secretary).
Sharna Patterson, Financial Aid Counselor, worked on a short film this past summer in tribute to the family of Trayvon Martin. The team who created the film, "I Am Trayvon Martin," also included Cairn Master of Divinity student June Patterson and alumnus Keith Pretlow '12. The film can be viewed on YouTube.
[one_third]
MORE AT CAIRN.EDU
Throughout the year, up-to-date news is posted on Cairn's website. Here are some highlights of what's been happening. Head to cairn.edu/news to learn more.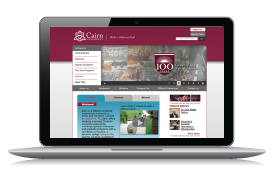 [/one_third][two_third_last][framed_box]
MISSION TRIPS:
SPECIAL GUESTS:
EVENTS:
[/framed_box][/two_third_last]