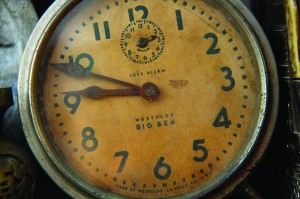 [dropcap3]A[/dropcap3]s Christians, we have been awakened to new life. In Ephesians 2, Paul reminds us that "you were dead in your trespasses and sins… But God, being rich in mercy, because of the great love with which He loved us, even when we were dead in our trespasses, made us alive with Christ." This new life carries with it a new way of living. As Paul writes in Ephesians 4:1, "I… urge you to walk in a manner worthy of the calling to which you have been called."
This new way of life or "worthy walk" is referred to again in Ephesians 5:15: "Look carefully then how you walk, not as unwise, but as wise." But what does it mean to look carefully at our walk? What does wise walking look like? In verse 16, Paul explains: we are to "make the best use of the time" or—as the older translations put it—we are to "redeem the time."[blockquote align="right"] 15Look carefully then how you walk, not as unwise but as wise, 16 making the best use of the time, because the days are evil. 17 Therefore do not be foolish, but understand what the will of the Lord is. 18 And do not get drunk with wine, for that is debauchery, but be filled with the Spirit, 19 addressing one another in psalms and hymns and spiritual songs, singing and making melody to the Lord with your heart, 20 giving thanks always and for everything to God the Father in the name of our Lord Jesus Christ, 21 submitting to one another out of reverence for Christ (Eph 5:12-21, ESV).[/blockquote]
One key word to note in this command is the word Paul uses for "time." The particular word he chooses refers not simply to time in general, but to a specific time, the opportune moment, the appointed hour. In Paul's thinking, this opportune moment is not yesterday and not tomorrow. Paul is telling us to seize these moments, right now. This is not a command to store up for another day or a later time. Right now is the moment the Lord has given. We are to redeem it—to make best use of it—while it is still here.
Quite often, we are prone to look backwards in life. We remember days when, by God's grace, we served the Lord heartily and well. We look at institutions of the past, victories won, and problems solved. We rest on the spiritual experiences of yesterday, on the fading capital of a bygone hour. It is true that we are supposed to learn from the past and to be thankful for its blessings, but nostalgia (usually at best half-true) isn't the way to do this. It can actually make us forgetful or conceited, and it leads us away from the time that is at hand.
We are also prone to look forward, promising ourselves that our priorities will change when our circumstances alter. Of course, it is right and proper to plan, and the Proverbs have much to say about wisely stewarding all of our resources. But when we begin to tell ourselves that our failure to be generous, kind, service-oriented today will change tomorrow, we are merely making excuses about the present. The Lord does not want us to pretend we will be different tomorrow. He commands us to seize today. And we ought not to forget that this attitude about the future, in addition to being an excuse, is based on nothing more than presumption. The scriptures remind us quite plainly, "You do not know what tomorrow will bring" (Jam 4:14). That is quite true, but we do know how we're called to live today.
If we read further in Ephesians, we are told why and how we should make the most of this moment right now. The reason why is found at the end of verse 16: "because the days are evil." This is at least as true today as it was when the letter was penned. The days are indeed evil. And just as the circumstances are perennial, we are called to respond in a similar way today. How we are to make the most of this time is clarified in verses 17-21: through wise and Spirit-filled living; through addressing one another in psalms, hymns, and spiritual songs; by giving thanks for everything; by submitting to one another in love.
All of these commands are grounded on the gospel of our salvation. There can be no command to live in newness without being given new life, no command to walk worthy if we have not been called by God. Here we might say that the command to redeem these days–this time–is because of Christ's work of redemption for us. Or, as Paul puts it at the beginning of this chapter as he prepares us for this command: "And walk in love, as Christ loved us and gave himself up for us, a fragrant offering and sacrifice to God" (Eph 5:2).
[info]Dr. Jonathan L. Master serves as Professor of Theology, Dean of the School of Divinity, and Director of Cairn's Center for University Studies. He can be reached by emailing jmaster@cairn.edu.[/info]