This fall, Cairn University has received $48,000 from the W.W. Smith Charitable Trust to be used for student scholarships for the 2013–2014 academic year. The awards—ranging from $2000 to $5000—have been distributed to 13 undergraduate students demonstrating both academic excellence and financial need.
For students like Thomas Waite, being named a W.W. Smith Scholar is more than an honor—it's a chance to make the most of the opportunities presented at Cairn University. "Because of this support," Thomas relates, "I've had the privilege to not only complete my regular coursework in Greek, Bible, and philosophy, but to also participate in the Honors program." Working closely with a faculty advisor in the field of philosophy, Thomas' capstone honors project is a thesis exploring the relative influence of Aristotle and the apostle Paul on the ethical theory of Thomas Aquinas.
For other 2013–14 W.W. Smith Scholars, the funds have empowered them to serve as RAs, work in the University Writing Lab, coach soccer and basketball in inner-city Philadelphia, lead high school Bible studies and youth groups, and pursue full-time missions after graduation.
The W.W. Smith Charitable Trust has partnered with Cairn University since 1989—granting a total of $1,031,000 in student scholarships. Based in West Conshohocken, PA, the trust provides funding for higher education scholarships, medical research, and programs providing basic needs for food, shelter, and clothing in the Philadelphia region.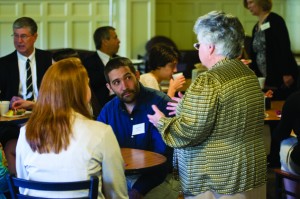 W.W. Smith grant administrator Michelle Montgomery greets Thomas Waite and other W.W. Smith scholars.