Serving in various professions and ministries all over the world, Cairn University alumni are passionate and diverse. They are pastors, teachers, social workers, counselors, entrepreneurs, and much more. Despite the challenges that they face, they are all dedicated to serving Christ in their specific fields. This is evident in the lives of three Cairn alumni: David Rossi '89, John Njoroge '97, and Dr. Julie Lee Wu '74.
---

David Rossi
('89, B.S. in Bible and Secondary Education)
In the Hunting Park neighborhood of Philadelphia, Esperanza Academy has been making waves in the Philadelphia school districts on account of its unusual success. Esperanza, a public charter middle and high school, serves 100% minority students, 81% of whom come from low-income families. Yet, in a city where people struggle with poverty, addiction, and homelessness, and 50% of Hispanic and African American students drop out of high school, Esperanza boasts an attendance rate of 90%, a graduation rate of 95%, and a college acceptance rate of 93%. How is this possible?
Established in 2000, Esperanza is dedicated to providing a high quality education that empowers students for success in postsecondary education and long term careers. David Rossi, Senior Vice President of Esperanza and CEO of Esperanza Charter Schools, shares how the mission of Esperanza Academy is shaped by faith and a will to carry out God's mission.
Growing up in a Christian home with two siblings who had already graduated from Cairn (Lori [Rossi] Miller '83, Albert Rossi '88; other family members who are also graduates: Catherine Rossi '97/'08,
Jackie [Rossi] Cawood '07), David knew that he wanted to spend at least a year at a biblical university. It was at Cairn that God sharpened his desire to pursue Christian education. "I developed a love for teaching and for the art of teaching," he explains. "It was the realization that teachers had the ability to influence others that really struck me."
[framed_box width="250px" borderColor="8b2346″ align="left"]
Esperanza Academy
Ranked in the top 9% of all schools at both the state and national level by U.S. News and World Report
Earned a silver medal in2013 and a bronze medal in 2014 by U.S. News and World Report
Recognized by the White House as a best-practice model in 2010 produced by the President's Advisory Council on Faith-Based and Neighborhood Partnerships
Notable visitors: Sen. John McCain, Hillary Clinton, Michael Vick, and Wayne Pacelle
[/framed_box]
After graduating from Cairn, he went on to earn a Master's degree in Biblical Studies at Dallas Theological Seminary, and worked as a teacher, school director, principal, athletic director, and coach for various schools and academies. His experiences prepared him to take on the role of CEO of Esperanza Charter Schools in 2003. During the past 11 years, he has witnessed tremendous growth among students. He oversees all aspects of Esperanza Academy and Esperanza Cyber Charter School, which together serve over 1300 students in grades 6-12. "Many students at Esperanza go on to become first generation college students" he shares. "We teach our students to believe that they can go to college, that there is a bright future ahead of them. Whether it's college or vocation, students here become people who lead positive lives and fulfill the goals they've set. Although we are a public charter school, we have the ability to communicate the truth that there is a plan and purpose for each and every student here."
In spite of the challenges that young adults, especially minority students, face in Northeast Philadelphia, Esperanza faculty and staff continually encourage their students to strive for success. "One of the biggest challenges we face is dispelling the misconceptions students have that they can't learn or that they are limited in their English proficiency. But Esperanza is dedicated to acting in unison with students with similar goals in mind to achieve great outcomes." For example, 19% of the students at Esperanza speak English as a second language, and while this may be viewed as a weakness to many, David sees it as a strength. "Bilingualism is a gift from God in that students have exposure to two languages," David reveals. He believes that every student and teacher must use their gifts and skills and make an active contribution to the overall learning that occurs at the school.
At Esperanza, all of the faculty, staff, and students work together to contribute to an educational experience that is conducive to the students and the adults. As Esperanza has its founding in the biblical mandate to serve the "least of these" (Matt. 25:40) and employs several Cairn alumni, there is a culture of faith and service in the hallways. David shares, "It is a unique opportunity to be a part of a larger work founded by a faith-based entity. There are expressions of Christian service and biblical leadership even in a public school." As CEO of a public school, David has the privilege of working with students, parents, teachers, and staff of all backgrounds which is something that he embraces wholeheartedly. "While we are all the same in that God created us in His image, we are also different in terms of cultures, traditions, and personalities, and it is a joy to encounter these differences as we interact with our student body, their parents, and the surrounding community."
---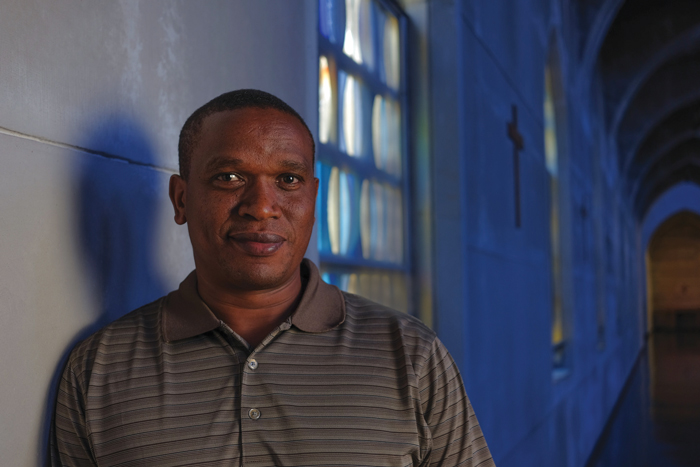 John Njoroge ('97, B.S. in Bible)
John Njoroge, a member of the speaking team at Ravi Zacharias International Ministries (RZIM), never planned on becoming an apologist. He grew up in extreme poverty and deprivation in Kijabe, Kenya, and "in a family that was not Christian in any sense of the term." John's father abandoned his family when he was a young boy, and his mother was forced to take care of him and his seven siblings without a job, an education, or any marketable job skills. "My family was actually homeless for several years. We knew nothing about the saving power of Jesus Christ, so we were truly hopeless in what seemed like a very dark and cruel world." Yet, through the intervention of God's people and the gospel, John came to know Christ. He pursued a biblical education at Cairn University for his undergraduate studies and attended the Talbot School of Theology for his graduate studies. Currently, John is an international apologist with
RZIM, traveling all over the world to engage with society and proclaim the credibility of the gospel of Jesus Christ.
When John finished high school, he received a full-ride scholarship to attend St. Lawrence University in New York, intending to major in pre-medicine, but God had other plans. Although becoming a medical doctor was very appealing to John, he decided to come to Cairn and felt that there was an excellent example of godliness at the University. "I had wonderful teachers, who loved the Word of God and lived
it out in their own lives, and I definitely wanted to learn more," he enthuses. On campus, he was involved in various ministries, served as a Resident Assistant, and worked as a security guard. He also met his wife at Cairn, Leah Mbugua '96, whom he calls "the force of [my] stability in ministry."
I had wonderful teachers, who loved the Word of God and lived it out in their own lives, and I definitely wanted to learn more.
It was working as a security guard one evening that John turned on the radio to hear a preacher named Ravi Zacharias speaking. "This was my introduction to apologetics. He was the first person I ever heard who seriously tried to grapple with the questions that I had." Through the help of a friend, John was able to get an appointment with Mr. Zacharias and traveled to Atlanta to meet with him. "I asked what I needed to do to be able to present the gospel as he does, and especially to be able to answer questions about the Bible and the Christian faith. He told me I needed to study apologetics…I never dreamed I would be working with Ravi just a few years later," he reflects.
As an international apologist, John faces various challenges presenting the gospel all over the world to skeptics and hostile audiences. In John's experiences, the major difference between the U.S. and
Kenya is the amount of skepticism one finds in the U.S. He explains that in Kenya and other parts of Africa, people are very open to the Word. "People are hungry for the gospel all over Africa. On a recent trip, I spoke at a boys' high school and hundreds of young people who had not given their lives to Christ responded to the gospel," he describes. While he qualifies that there are people coming to Christ in North America, the numbers are comparatively smaller. He illustrates that the gospel is like a bird: "Ravi Zacharias quotes an essay from a writer named F. W. Boreham in which Boreham says that the gospel is more like a bird than a candle. When you blow out the light of a candle, the flame is gone forever. But if a bird is singing its song on one bough and you frighten it, it doesn't stop singing. It flies to another bough and continues with its song. The gospel is like that. It may have been 'frightened' here in the West, but it hasn't stopped singing its song in other parts of the world." John's prayer is that the song of the gospel will find its way back in the U.S. soon.
John's passion is to spread the gospel in the U.S. and in Africa, providing a reason for his hope (1 Pet. 3:15). He explains that it isn't always easy to stand before an audience, share the gospel, and then have students and professors line up behind microphones to ask questions. "But it does wonders for your prayer life," he counters. "It is quite rewarding to see people come to Christ once those obstacles are cleared. It's liberating to realize that even a questioning mind in the hands of the living God is not a plague to its owner; it can be a channel to the deeper recesses of His grace."
John currently lives in Atlanta, Georgia, with his wife Leah, and their two boys, Jonathan and Benjamin. They are preparing to move back to Kenya permanently in 2016, after he has completed his Ph.D. studies in Philosophy at the University of Georgia.
---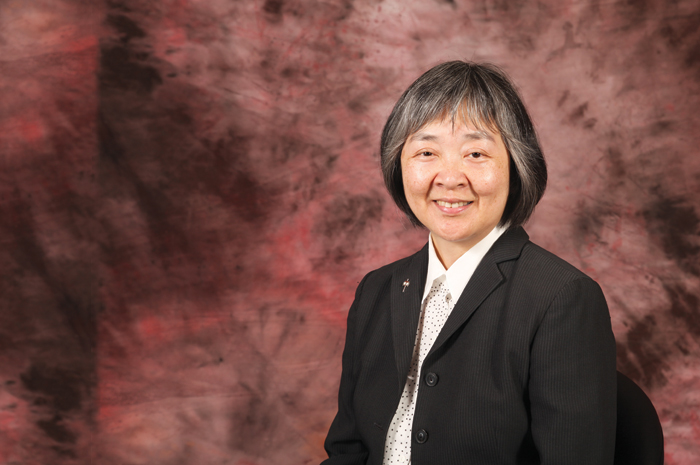 Dr. Julie Lee Wu ('74, B.S. in Bible)
At the age of sixteen, Dr. Julie Lee Wu was appointed to teach a group of young girls in Sunday School, and developed a love for teaching that would shape the trajectory of her life. "It was during that teaching process that I realized I had a gift of teaching and had even wished to be a teacher as my life career," Julie shares. A couple of years later, she sensed a calling for full-time ministry. Julie was able to couple her gift of teaching with her calling to ministry, working as a Christian Education Director at her home church in China, the Swatowese Chinese Christian Church, and eventually, serving as the president of China Bible Seminary (CBS) in Hong Kong.
After Julie graduated from China Bible Seminary in 1971, she was approached by her teachers to pursue further education in the U.S. In the process of searching for the right school, Mr. John Hsu and his wife Dorothy, Deacon and Deaconness of her home church, recommended Cairn. They had already sent their three sons, Dr. Samuel Hsu (former Distinguished Professor in the School of Music), Dr. Timothy K. Hui (Dean of Educational Resources) and Dr. Andrew Hui (Assistant Director of Business Services), to Cairn and highly recommended the school. With the consent of her teachers and the tremendous help of the Hsus, she applied and was admitted into the Christian Education program that Fall.
Julie reflects on her time at Cairn fondly: "Since it was my very first time really far away from home, I was timid, shy, and insecure at the very beginning. But students were friendly and helpful. With the help of my 'big sister' Suzanne (Kepler) Scott, I gradually understood some of the distinctiveness of American culture. Soon I found life at the women's dorm was filled with laughter and fun. Classes were challenging, but very informative, and by the end of the year, I made the Dean's List. It was a happy surprise. I also appreciated Miss Mae E. Stewart for her generous love to students. During semester breaks. She opened up her home for Bible studies and delicious meals. Whenever I think of the University, all I have are fond and unforgettable memories."
Whenever I think of the University, all I have are fond and unforgettable memories.
Since becoming the president of China Bible Seminary in 2002, she has encountered challenges in all shapes and sizes. Although freedom of speech is granted in Hong Kong as the city is identified as a "Special Region" in China, there are many political issues with spiritual implications at hand. Earlier this year, the Seminary had to include a statement about its stand on Christian marriage (as distinct from a homosexual relationship) because some segments of Hong Kong were lobbying for a legal redefinition of marriage. Julie attributes the political upheavals to "winds of postmodernism, blowing our way from other parts of the world." She comments, "As president of a seminary where students are equipped for ministries in local churches in this city, I see myself obligated to be sensitive to the changes that will take place in Hong Kong. The challenge is ongoing."
In spite of the oppositions, Julie is committed to a distinctive, biblical education at China Bible Seminary. The Seminary, originally founded by a group of women missionaries in Shanghai, China in 1930, is dedicated to make "spirituality" a distinctive feature of the school. In 2005, the Seminary added "Missions" to its curriculum. The emphasis of spirituality and missions can be seen in the curriculum, as students must take 12 units in "Spiritual Formation" and 24 units in "Missions." For over 75 years, the Seminary has kept this tradition of a spiritually-rooted biblical education.
Throughout the years, Julie has witnessed God's provision and blessings at the school. After she became the president of the Seminary, she had a strong desire to move the school to a quieter location. "By God's grace and mercy, and with the consent of the Board, we began the new campus search at the end of 2003. Finally in mid-2007, we were introduced to a suitable place, located in the northwest of the New Territories, a very quiet and nice neighborhood. After several years of endeavor, we now have this new campus built, a total cost of 13 million USD with no loans, no mortgage, and no debts—a true testimony of God's faithfulness!" Julie exclaims. She is grateful to see her dream of the new campus come true.
For decades, China Bible Seminary has been a place for people to receive a Christian education and to be equipped for ministry in churches in Hong Kong. CBS will retain its downtown facility as an extension center for lay Christian training.
---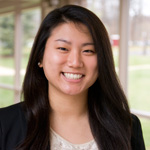 Saya Lee is the interim managing editor of
Cairn
magazine. She recently graduated with a B.A. in English from Cairn University. She can be reached by emailing slee@cairn.edu.