Exciting things are happening at Cairn University through the Forward campaign efforts, and it is only made possible through your generosity. If you have participated in supporting the campaign, we thank you once again, and we ask you to consider supporting these efforts again this year. If you have not yet partnered with Cairn through your support, please consider becoming part of this exciting effort to complete our campaign.
---
Inaugural Day of Giving Has Impressive First Turnout to Support Women Who Choose Life
On Thursday, November 21, the University hosted its inaugural Day of Giving. This year, all of the raised funds were directed to the New Horizons Scholarship Fund at Cairn University. As a demonstration of the University's pro-life values, New Horizons assists young mothers as they work to build
a future for themselves and their children. By providing scholarship funds,
academic counseling, and childcare to young women served by crisis pregnancy centers such as ChoiceOne, Cairn offers an affordable, Christ-centered education to those who did not always believe a college education would be possible.
You can still give to this amazing initiative and learn why President Williams and a couple of our current students support this scholarship at cairn.edu/day-of-giving.
---
One Community. One Week. One $100K Goal.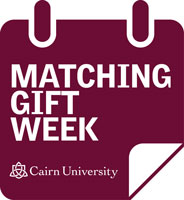 At Cairn University, we are committed to providing an affordable biblical education to students of all backgrounds. Each year, we need your continued support to meet the increasing need of students who desire to study at Cairn.
There is no better time for the Cairn community to support the mission of our institution than during Matching Gift Week, when anonymous donors will match dollar for dollar up to $50,000, resulting in a total of $100,000 toward The Cairn Fund. The Cairn Fund allows 97% of our students to receive financial aid, providing students with the opportunity to receive an education centered on Christ and His Word.
When you give during Matching Gift Week, you are not just doubling your
donation, you are doubling your impact. Together we can help students receive an education that prepares them to join the thousands of Cairn alumni who have been serving Christ in the church, society, and the world for over 100 years.
---
Golf Classic 2019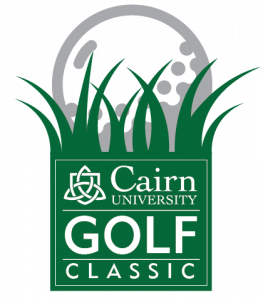 After being rained out in May, 162 participants took to the course in October for a day of golf and skills competitions to support student scholarships at Cairn University. The event generated a record of over $88,000 for The Cairn Fund, far surpassing last year's impressive support of over $60,000.
This year's Golf Classic Legacy Award was presented to Dr. Edgar Brightbill, Cairn Board of Trustees Emeritus.
This award recognizes faithful support of the University, as well as participation in bringing the Golf Classic to fruition. Because of efforts by Dr. Brightbill and many other Cairn faculty, staff, and associates, students at the University benefit from significant financial support because of the outing.
Join us for the 2020 Golf Classic on Monday, May 11 at Philadelphia Cricket Club. Learn more at cairn.edu/golfclassic.