The Core Curriculum is the University's answer to the question: "What do we want every Cairn student to know?" The University's core curriculum is a collection of courses common to all majors that help students critically engage with new ideas and compel them to display virtues that are consistent with biblical teaching.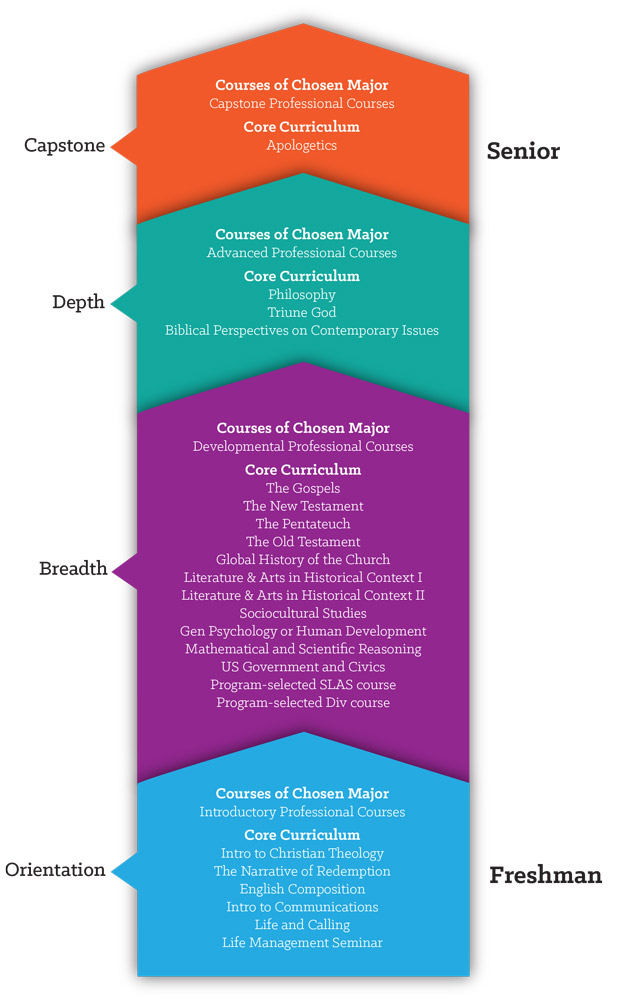 The University recently revised the core curriculum, and the new core (shown right) is now in use. The Core Curriculum Committee reviewed the current core in light of societal and cultural forces and the particular nuances of the present generation of students. As a result, all previous core courses were revisited. Overall, the Liberal Arts and Sciences courses have been repositioned to strengthen their focus on who we are as humans and our responsibilities to others. The Divinity courses have been resequenced and modified to help students engage more deeply with the issues facing them today.
Some changes at the orientation level include Life Management Seminar, which introduces topics relevant to the first year college student including wellness, time management, and personal finance. In Life and Calling students are introduced to what it means to live faithfully as servants of God. Speech has been upgraded to Introduction to Communications, which prepares students to effectively and professionally communicate across many mediums such as public speaking, emails, social media, and more.
Two new courses provide additional breadth to students' understanding of the world. US Government and Civics provides a foundational understanding of the US government and the corresponding political processes and dynamics. Biblical Perspectives on Contemporary Issues is designed to help students address contemporary issues in our world with a biblical worldview. This theology course directly takes on the issues of the day such as sexuality, gender identity, and race.
Read more about the new core at cairn.edu/new-core.