Julia Markey '23 makes time to create professional cakes for families in the community.
Sitting in her dorm room, the sound of her phone buzzing pulls Julia's attention away from her homework. A smile consumes her face as she takes the call—a new order has come in: chocolate cake, blue buttercream frosting, basketball-themed. Still smiling, she packs a bag for her trip from campus to her parents' kitchen, where she'll begin her newest baking project.
Julia is a proud volunteer with Icing Smiles: a nonprofit organization that provides custom celebration cakes and other baked goods to critically ill children and their families. While she only began volunteering a few years ago, Julia has always seen how love and baking go hand-in-hand. She first started baking with her grandmother, spending hours creating little cakes for Easter. Each cake had its own personality, with different arrays of patterns created with frosting and layers, and they all tasted incredible. This annual tradition turned into a year-round interest, and soon, she was being asked by friends and family to create cakes for different events—including her sister's wedding cake! During her sophomore year of high school, Julia showcased one of her cakes at a baby shower. Her talents were widely noticed, and Julia enjoyed expressing her creativity in a way that could be enjoyed by others. A family friend at the party suggested that she volunteer for Icing Smiles. Moved by the organization's mission, Julia sent them her application to become a baker.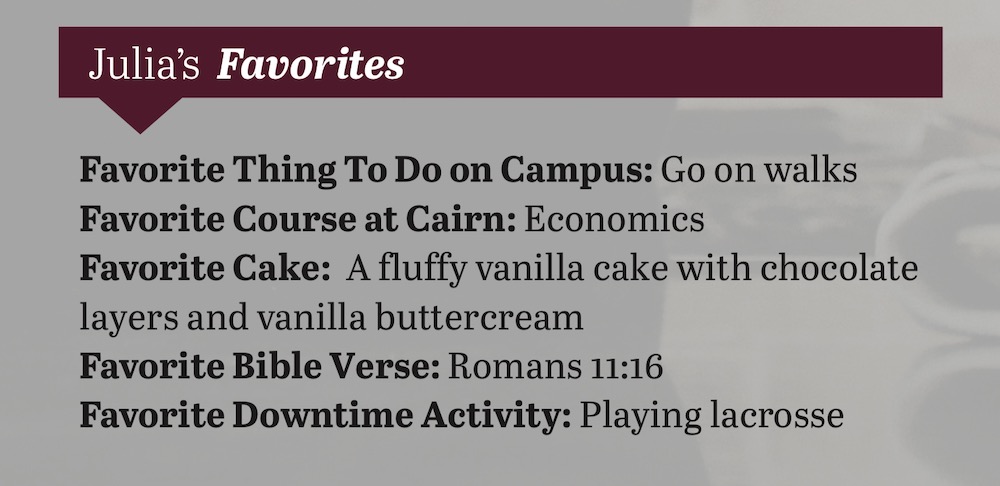 Now amidst her busy college schedule of classes, homework, and practicing with Cairn's women's lacrosse team, Julia still finds time for baking. And it's no easy process. Often the requested themes are complex and call for several attempts; if what she has visualized doesn't work out, she restarts the whole process. She's made several "dream cakes"—cakes themed any way the child wishes. Whether it's themed after basketball, baseball, a water park, or the superhero "The Flash," she'll make it.
Working with Icing Smiles and the children she has served has been a blessing for Julia, and it's taught her to be grateful for all the little things in her own life: "The kids remind me that no matter how small something is, even birthday cake, we shouldn't take what we have for granted." The opportunity to bring smiles to the faces of these families and their children motivates her to keep baking. "Everyone is thankful, and it's their smiles that make it all worth it."
---
Reaven East '21