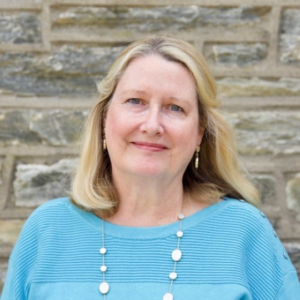 Helen joined the faculty in Fall 2021 to teach English and American literature. She is a PhD Candidate at the University of Heidelberg and has a master's from the University of Tübingen. Her doctoral dissertation, a fellowship with the Jonathan Edward Center of Yale University, and two collaborative publishing projects have all focused on Puritan literature.
I noticed you have a bachelor's in music education, but then you transitioned to English and literature in your graduate work.
I had always wanted to be a music teacher and became one, but I also loved literature and hoped to maybe go back to school and get a master's in English. When my husband was offered a job in Germany, we lived near the University of Tübingen, and I applied to study there. At the time, their program required completion of a bachelor's degree in English in order to get a master's. So I did that, and afterward began teaching at the University, and I was invited to do a PhD. I was also invited to be on the international team for publication of the Biblia Americana.
Can you tell me more about that?
The Biblia is the work of a well-known theologian named Cotton Mather. He wrote a 4,000-page Bible commentary, the first in America, from 1693 until the end of his life. It was never published. I transcribed three books for Volume Five and assisted with editing and annotations. It is available in the Masland Library.
That sounds very similar to your work with Hidden Histories in Boston.
It does. I began working on New England's Hidden Histories in 2013 when my advisor at Yale asked if anyone was interested in working on the project of transcribing early Church records from New England. Currently, I oversee all the transcriptions, edit the work of volunteers, and contact various libraries and historical societies to digitize their records.
Who is your favorite author?
It's impossible to choose a favorite author, but I do love Corrie Ten Boom. When I first read The Hiding Place in my twenties, I was so impacted that I finished the book in one day. Afterward, I bought and read everything she'd ever written. Her faith in suffering had a profound effect on me. I keep this quote by Corrie close by at home, and I have bought a print of it for my office at Cairn: "Every experience God gives us, every person He puts in our life, is the perfect preparation for the future that only He can see."
So how did you end back in the U.S. and, more specifically, at Cairn?
My husband's job brought us to Pennsylvania, and I very much wanted to be teaching again. I particularly wanted to teach at a Christian university, and I love that Cairn is so unashamedly Bible-centered. Here, you can speak openly about faith, pray with students, and refer with clarity to biblical allusions. I always tell my students, "Good literature makes us better humans. When combined with Christianity, the written word has the power to change the world."