With the final furniture put in place, the three-year library renovation came to a conclusion this October. Following a conservative build-to-cost model, the renovations were funded primarily through anonymous donations. This funding allowed the library to hire an architect, dream big, and pursue the maximum potential of the physical space without spending millions of dollars to get there.
The impact of this project is evident. Usage of the library increased 300% from 2018 to 2022, an increase that is surely to the credit of turning the space into the most useful and aesthetic place on campus for study. And although the library's overall footprint has decreased over time, the library staff has found a way to optimize its square footage to increase patron seating without sacrificing its impressive print collection.
Outside of the work on the physical space, the self-designated "small but mighty" staff has worked hard to make a name for the Masland Library in academic circles nationwide. Regularly speaking at conferences and participating in new library software trials, the library staff has continued to pull in accolades and recognition for their academic work despite the conditions of their workspace paling in comparison to other institutions. This just serves to prove that elevating the physical appearance and functionality of the library just matched it with what the library has been all along: extraordinary.
---
Bringing New Attention to the Original Architecture
The Masland Library has had unique architectural features since its original build in 1992. However, its striking features have been underappreciated due to a lack of contrast. Changing the metalwork from pink to black brings drama to the space and draws your eye up to the ceiling.
---
Staff Offices and a Faculty-in-Residence Office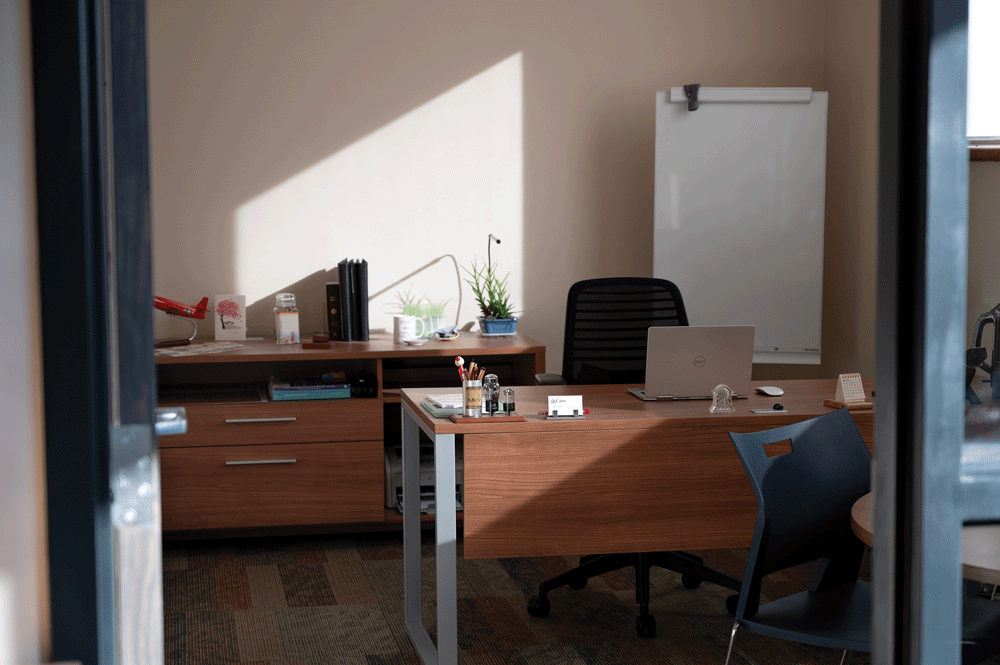 Many of the library staff's offices have moved from the top floor to the main floor to put the staff closer to the students they serve. A faculty-in-residence office has also been added for a rotating faculty member to work in the library and be available to students.
---
Floor Outlets and Power Banks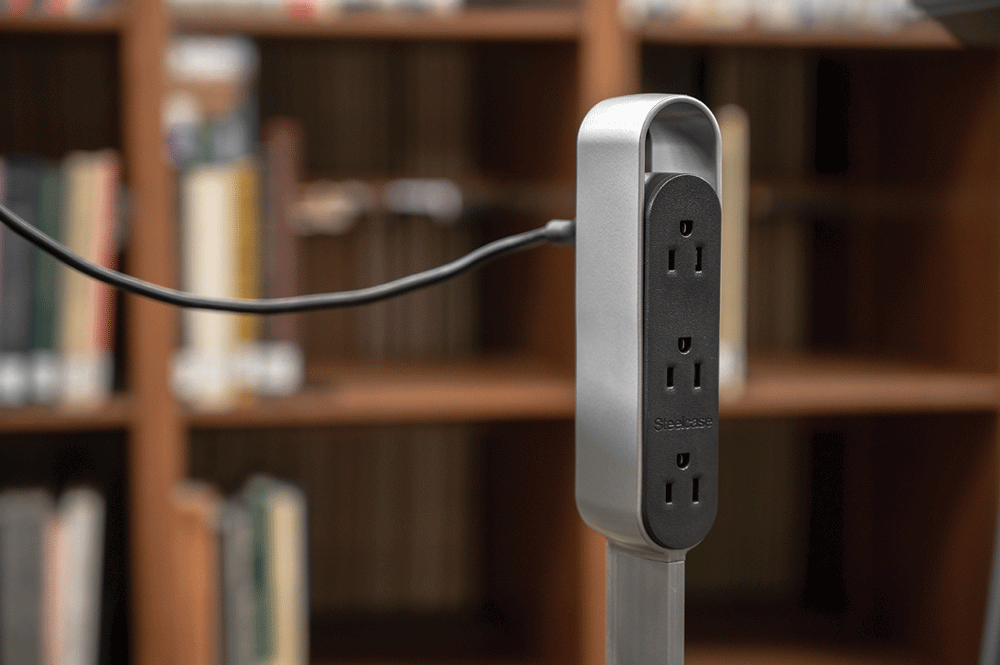 One thing the original library build did not account for in the early 90s was charging points for laptops, phones, and tablets. The renovation included adding over 20 more outlets to the walls and floors in order to give students charging ports in close proximity to their chosen work stations. A collection of portable power banks are also available.
---
An Ongoing Game of Chess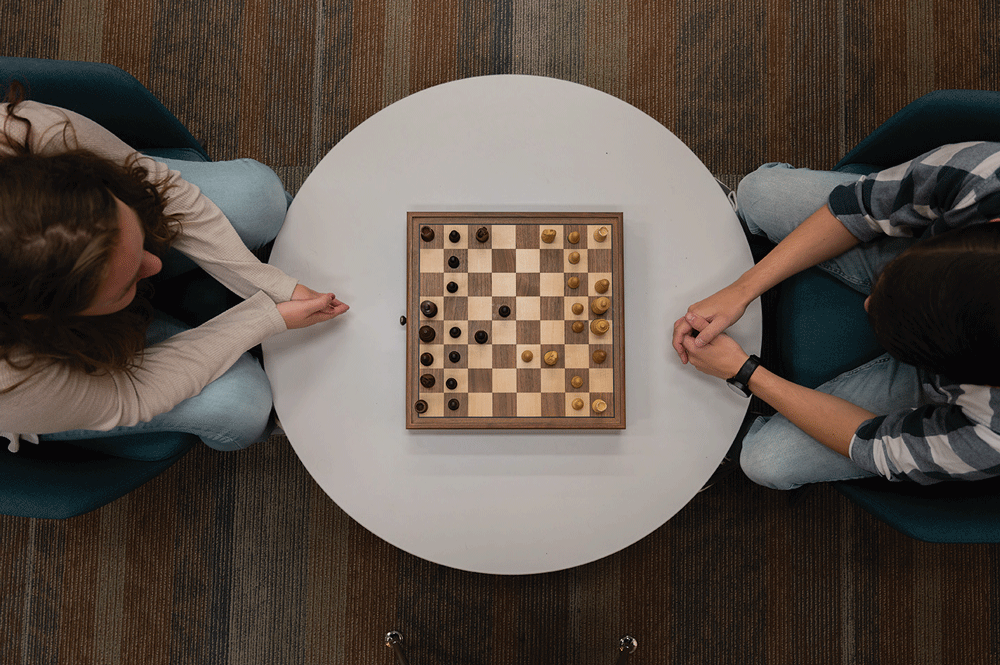 A completely new addition to the library, this permanent chess set-up is a great way to take a break from studying.
---
A Display of Central Importance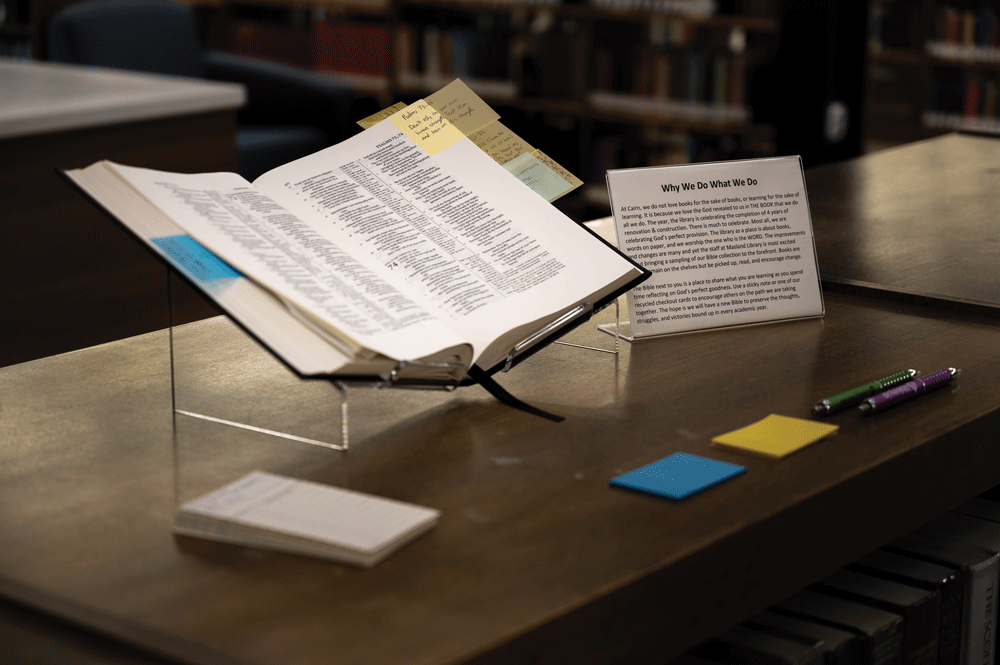 Front and center on the first floor, this interactive Bible display serves as a reminder of the library's purpose: to preserve the written word, and most importantly, THE written word of Holy Scripture. In addition to boasting an impressive collection of Bibles from across the centuries, the display also features an interactive Bible, in which students can highlight verses and share God's faithfulness by adding post-it notes.
---
Hardwood Bookshelves to Refresh the Stacks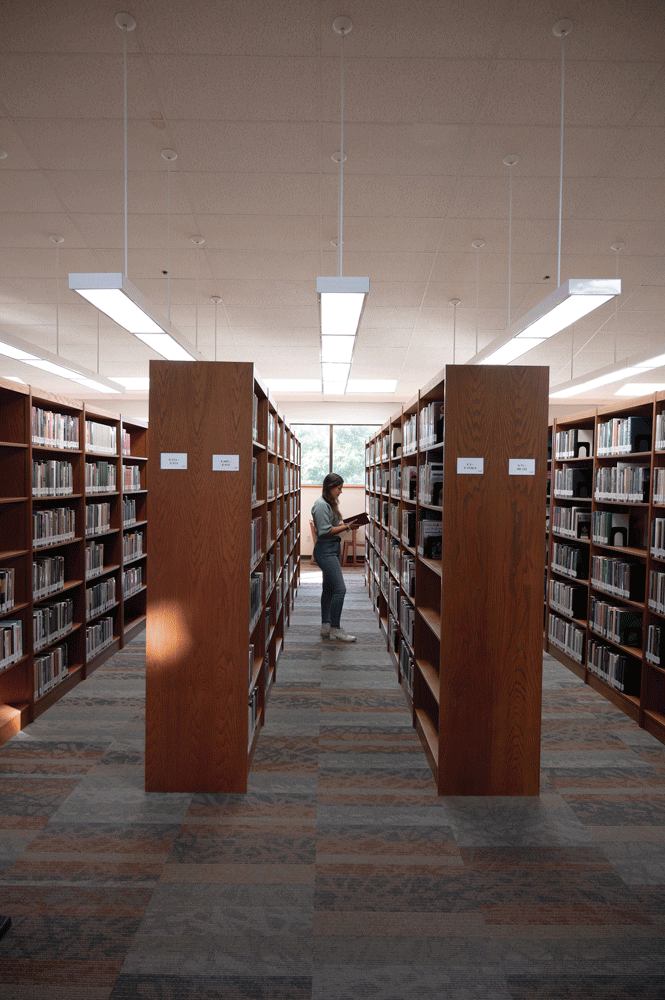 The library now boasts $1.5 million worth of hardwood bookshelves, and we only paid $55,000 to have them disassembled and shipped from Michigan and Wisconsin.
---
Collaboration Rooms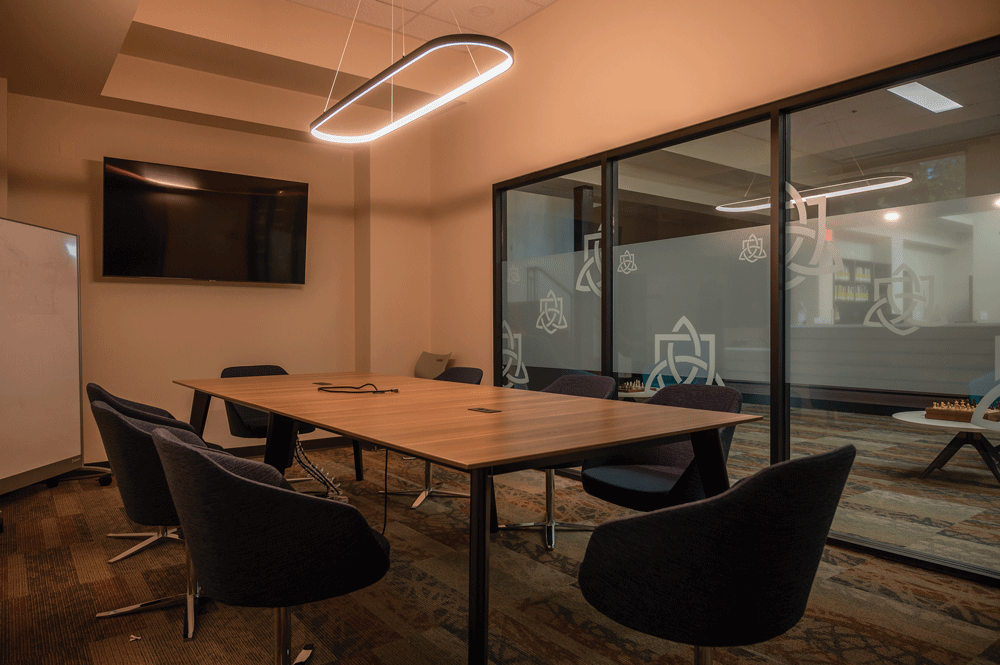 These collaboration rooms have a conference room set-up to imitate a professional work environment. These rooms are reservable by students for group study sessions, presentation practice, or student club or organization meetings.
---
Q&A With Stephanie Kaceli, Dean of Educational Resources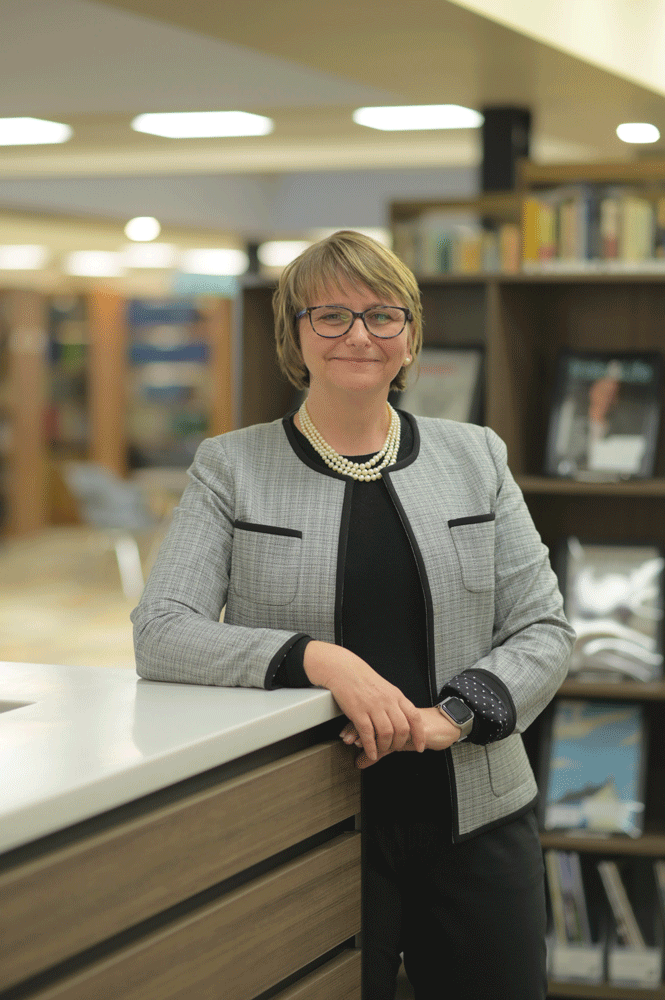 Q: How do you balance print and digital resources in the library?
A: The balance is in knowing what's being taught, how it's being taught, and where the students are located. So for commentaries and some of the seminal works in the different areas of study, we try to have that as our core print collection. And when it comes to digital, you just get more bang for your buck there. One of the benefits of the library overseeing textbook selection is when faculty are selecting their textbooks, we're able to purchase e-book versions of those textbooks ahead of the semester. Not all textbooks offer that option or are affordable in a digital format, but we like to do it whenever possible so students don't have to purchase a physical textbook if they are struggling financially. Catherine, one of our librarians, actually received an award from PALCI, our local consortia, for the textbook finder tool that we update every semester.
Q: Do you want to talk to me about the strategic way the library was designed?
A: We wanted it to be adaptable, so it's not fixed in such a way that changes cannot be made easily in the future. For example, everything in the middle section of the lower floor can be cleared out in less than five minutes to make room for different events and gatherings. This furniture can be used in a lot of different ways, and then you can kind of adapt with how people's use of it changes. Another example is where we put the front desk. The hope is someday to have the library's main entrance coming off the circle with an outdoor seating area. We still need the funds for such a project. But the front desk is in a place of prominence whether you enter the library from the circle or the current entrance from The Highlands.
Q: What would you consider your biggest personal, but professional, accomplishment?
A: Actually, I think it's the renovation. When I am long gone, when the staff who are here (who worked so hard to move books, build shelves, and dream with me) are long gone—and our names forgotten, we accomplished something good and beautiful for those who come after. Because of our intentional design and not forsaking the significance of the printed word within the space, we have shown books, space, history, collaboration, and reflection can co-exist and, really, not just coexist but create a beautiful space that has become a favorite spot for so many. That is special and brings tears to my eyes.
---
Moving The Academic Resource Center Closer to the Academic Resources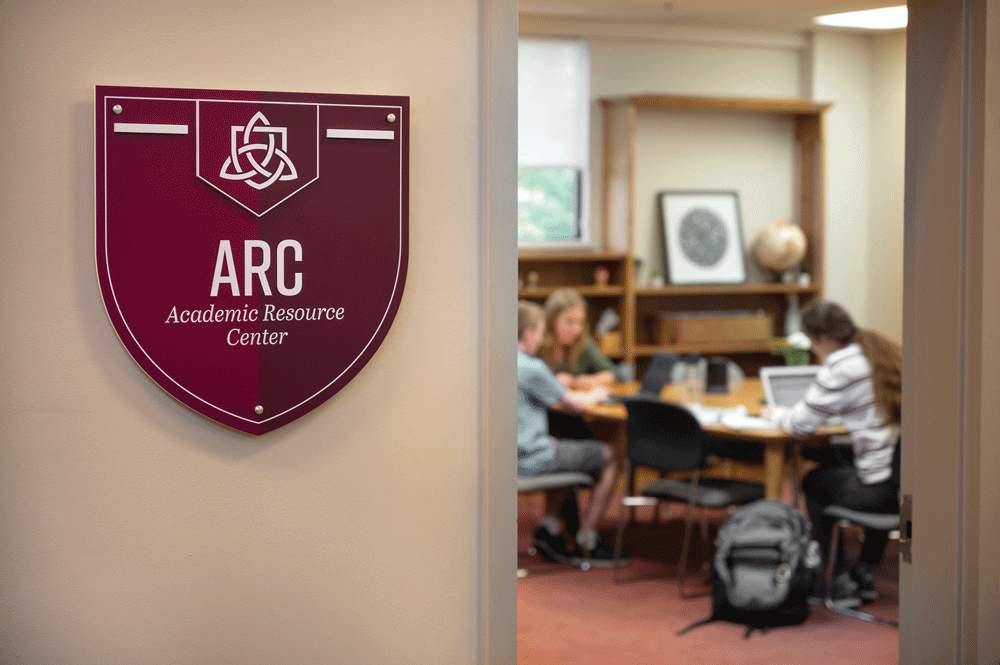 During the process of renovating, the Academic Resource Center (ARC) also found a new home. The ARC is now located on the library mezzanine, putting its staff, students, and tutors closer to the resources needed for each student's academic success.
---
New Furniture to Serve a Variety of Study Preferences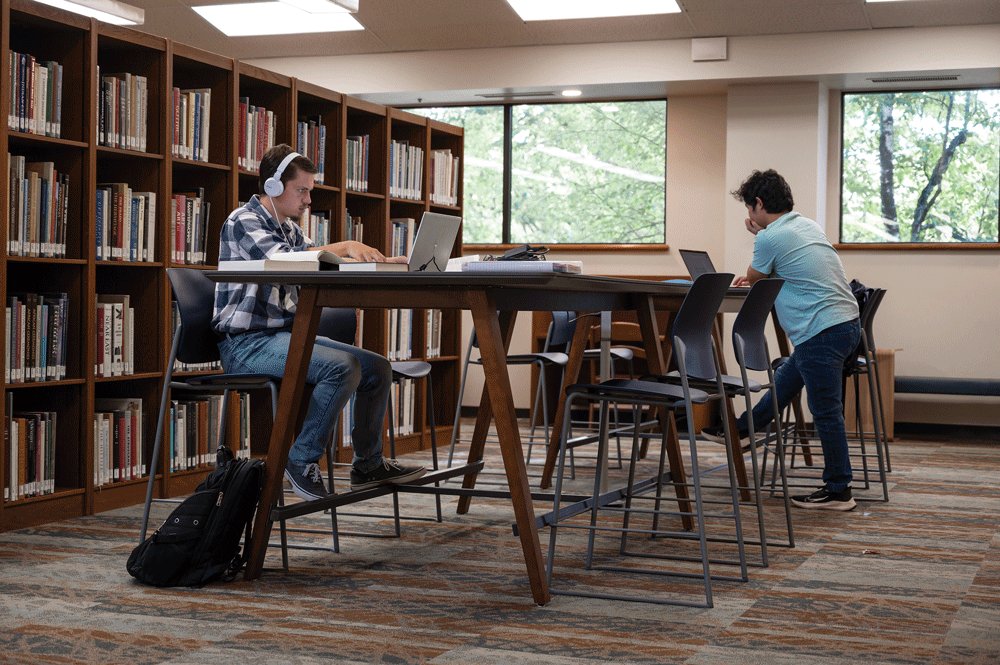 Tall tables for standing or barstool seating? Check. Tables for pairs and groups of students? Check. Individual study carrels? Check. Comfy chairs for kicking back with a stack of research material? We have that too.
---
A Clearly Identifiable Reference Desk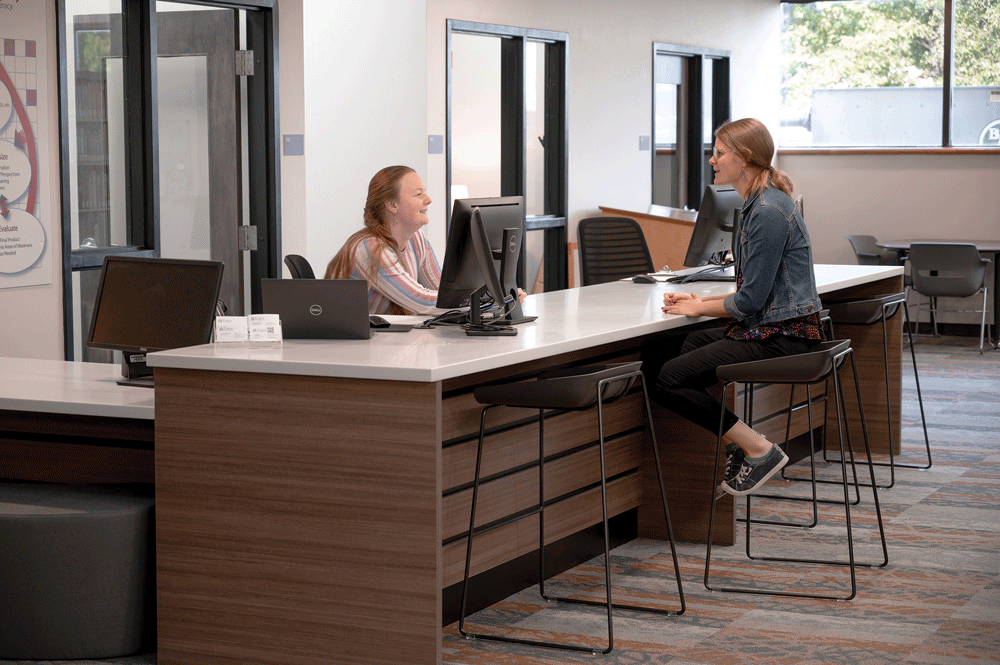 For the first time, the library has separate circulation and reference desks. The reference desk is tall and matched with several high chairs so that students can meet the reference librarian at eye level for either a quick question or a longer research session.
---
Mobile Whiteboards to Sketch Things Out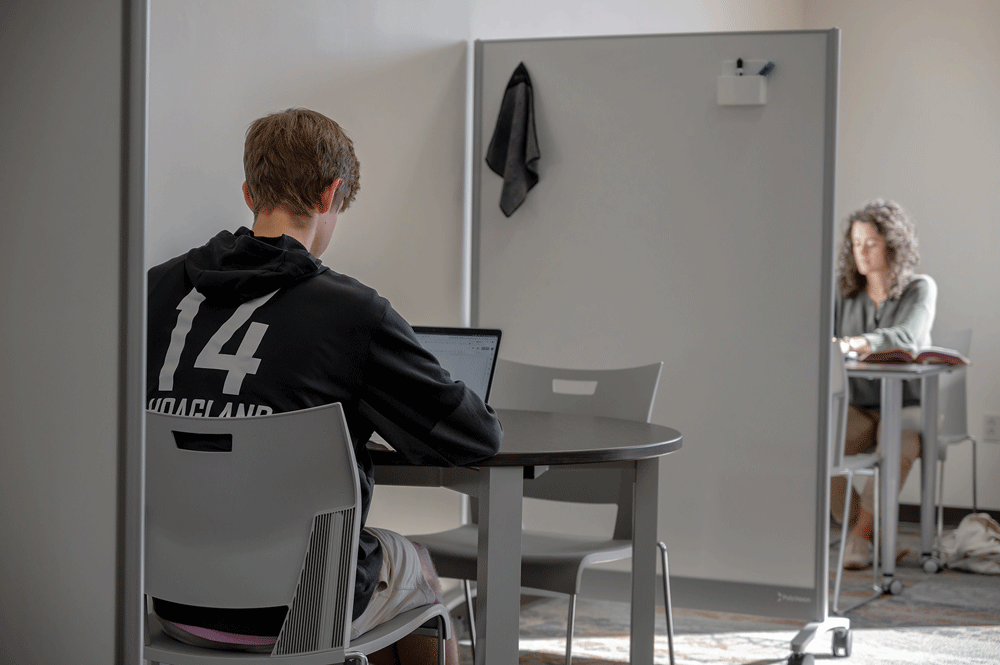 These mobile whiteboards are multifunctional, serving as space dividers as well as places to brainstorm, work out math problems, or practice Hebrew.