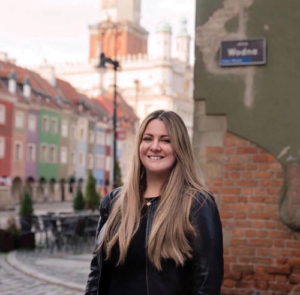 Yana Osipenko '20 has had a heart for evangelism since she was 16 years old. Growing up in a multicultural family uniquely prepared her to share the gospel in international contexts. She also has a knack for languages and can fluently speak Polish, Ukrainian, and Russian in addition to English.
Her missionary service began when she said "yes" to the opportunity to serve in Hungary for seven years. During that time, she became familiar with the people and culture of Poland through short-term trips. Poland is only 0.2% reached with the gospel, presenting a huge need for individuals who can bring the message of salvation to those who have never heard it. In order to better equip herself to teach the Bible, she decided to pursue a Bible degree at Cairn. Her sights were set on returning to Poland full-time, but the pandemic hit right before graduation and kept her stateside for several years.
Just recently, she was able to return to Poland, a transition she described as "moving right next door to the war." In Poland, she is able to serve both Polish people and Ukrainian refugees who are fleeing the war. Ukrainian herself, Yana is uniquely positioned to bring the gospel to those who share her family heritage and culture while also serving in the country that she has felt God calling her to since 2016.
While the three-year delay on returning to Poland was not a part of her plan, Yana says she can "look back and see the hand of God just orchestrating my steps as I waited."