Chara Fitch '25's artistic aspirations began at an early age with paper dolls. She and her sister Aletheia would make paper dolls and create elaborate stories for them. Two thousand dolls later, Chara decided to direct her artistic endeavors toward a more business-savvy route by establishing a greeting card business. She even took part in an art project her hometown created by painting a goose. Without a doubt, Chara has always had a passion for and interest in art.
As Chara began considering colleges and majors, however, she felt she needed to take the "practical" route: she'd pursue communications or English. But when Chara visited Cairn and sat in on an art class, she was surprised and delighted to discover that Cairn could provide her with an education in art that was full of practical opportunities and job prospects. She promptly enrolled in Cairn's BFA program and was accepted, launching her academic art career.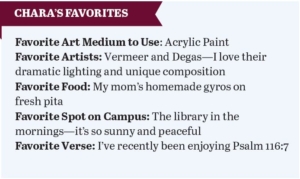 Recently Chara, alongside five other art students, received an exciting opportunity to display their artistic talents publicly. The Faith and Liberty Discovery Center (FLDC), situated in Center City Philadelphia, reached out to the Cairn visual arts department to commission six artists to create a mural for each of the Center's six core values: Faith, Liberty, Justice, Unity, Hope, and Love. "Anything but Love" Chara contentedly decided. In her desire to allow her peers to have their first choice, however, Chara was the last one left to choose—and Love was the only remaining option. Uncertain but determined, she began to consider how she wanted to represent Love. Her piece was going to be displayed in the middle of the "City of Brotherly Love," so Chara carefully considered how to faithfully depict the biblical idea of love, not a secular and culturally acceptable one.
Much of the inspiration for Chara's mural comes from John 15:13: "Greater love has no one than this, that someone lay down his life for his friends." Upon first glance, Chara's mural has two simple figures on it. Looking more closely, the viewer notices that one figure holds an umbrella made up of pieces of the figure's heart. The other individual is shielded by that umbrella, while at the same time is taking blocks out of himself to build up the other person. "A big part of the mural is that they're looking away from each other. So each of them is giving up themselves without knowing what the other one is doing for them," Chara commented.
Chara's mural is a simple, colorful piece, accessible to the everyday audience. She reasoned, "I wanted to do something that would make people stop and think 'Why did she do that?' or 'Why does that look like that?'" Her intentionality in creating a piece that displays the gospel—particularly the sacrificial love of Christ—made a lasting impact through the universal language of art.
Watch Chara explain more about this opportunity she had with her classmates: https://www.youtube.com/watch?v=bfemX-OEMMY&t