The 2022–23 academic year marks 10 years of the University offering dual enrollment—and doing it well. Dual enrollment was originally pioneered by the University of Connecticut in 1955 and has become an increasingly popular option for motivated high school students in recent decades. A growing number of students are graduating high school with a college transcript, allowing them to save time and money on the remainder of their undergraduate degree.
While dual enrollment is not unique to the University, the modalities offered and the distinct biblical worldview that is incorporated into every course—all at an industry-leading $75 per credit rate—prove the University to be an institution uniquely positioned to serve families who are looking for a truly biblical education.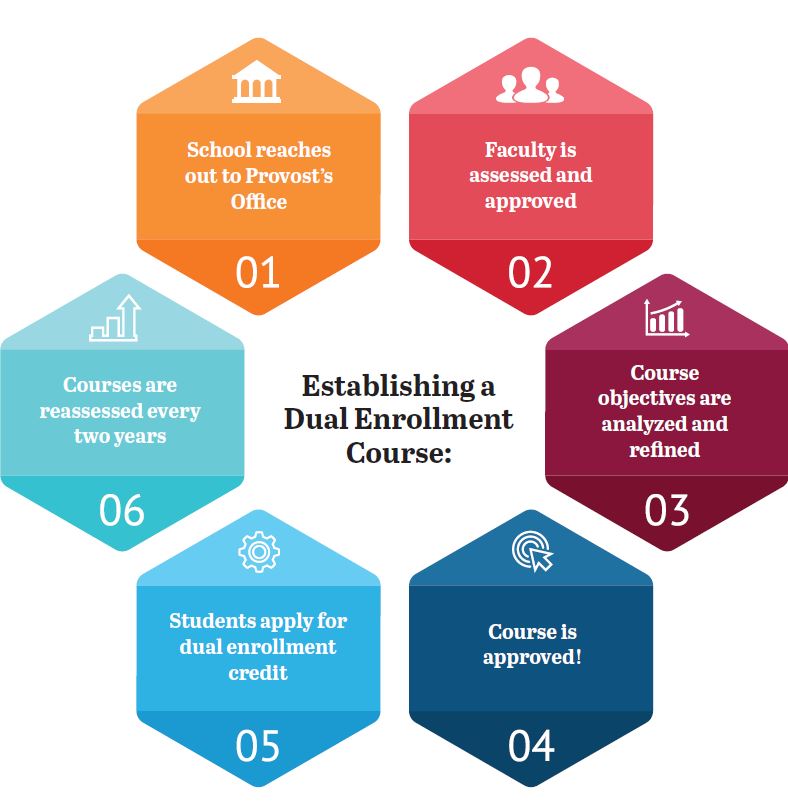 Where We Started: High School Classrooms
The University ventured into the dual enrollment space in 2012. President Williams created a partnership between Cairn University and Veritas Press Scholars Academy, an online homeschool resource for Christian families. This modality involves the University offering college credit to eligible students who are taking courses in their high school classroom. Unlike an AP course, which requires students to earn a high enough score on an exam to receive college credit, a dual enrollment course grants Cairn University credit to all students who successfully complete the course.

In order to ensure the quality of a course, all facets are evaluated. The faculty members must have a master's degree in the subject matter they are teaching, qualifying them to be adjunct faculty at the University level. The course curriculum and objectives are assessed and adjusted as necessary to meet Cairn's equivalent course objectives. And Cairn University's hallmark of biblical integration throughout the curriculum remains a distinguishing characteristic of all approved dual enrollment courses. This vetting process is repeated every two years to ensure the continuing quality of the course offerings.
Since the initial partnership with Veritas, the University has grown its partnerships to offer dual enrollment programs in 21 other schools. These schools are found both across the country and abroad in countries such as the Dominican Republic and The Philippines. This growth in partnerships has also led to a dramatic growth in enrollment, with 546 students participating in the 2022–2023 academic year.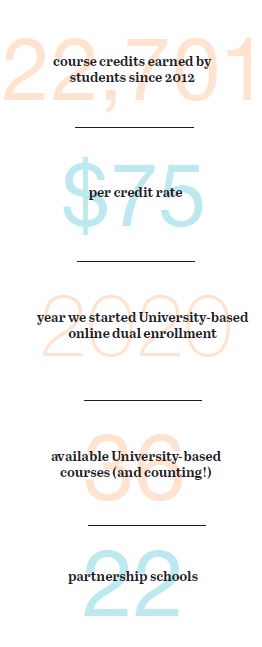 Where We've Been (and Where We're Going): On-Campus and Online Courses
Shortly after the successful launch of high school-based dual enrollment courses, the University began to invite high school students to study on the University's campus in Fall 2014. The process here is a bit simpler: High school students apply to the University as dual enrollment students, they are accepted, and they enroll in any one of the 30+ traditional undergraduate courses approved for dual enrollment learning. The University extended this direct learning environment into the online space when Cairn Online undergraduate programs launched in Fall 2020.
The benefit of both the on-campus and online dual enrollment modalities is that motivated high school students are directly integrated into the college environment. They meet the same standards and requirements expected of our full-time undergraduates, preparing them for full-time study both emotionally and academically. And whether the student elects to study in an on-campus course or an online one, they benefit from extensive faculty engagement throughout the semester. A growing number of homeschool families are turning to the University as a trustworthy source of high-quality and academically rigorous courses that uphold the authority of Scripture regardless of the discipline being studied.
The University's impact in virtual education will continue to expand this fall. Campus EDU is a virtual learning education platform that serves faith-based institutions. They have partnered with the Association of Christian Schools International (ACSI) and will be offering dual enrollment to ACSI-accredited schools beginning Fall 2023. Cairn University's courses will be offered as part of this online consortium, equipping Christian high schools across the country with the resources to offer dual enrollment education in a virtual classroom.
With 10 years of dual enrollment behind us, the University looks forward to continuing to offer a distinctly biblical education to students in high school and beyond.
---
Interested in Learning More?
Partner With Us
Cairn University is always looking for like-minded institutions to join us as dual enrollment partner schools. Accredited ACSI schools can reach out to provost@cairn.edu to start the conversation.
Refer a Student
Do you know students who would benefit from starting dual enrollment courses at Cairn? Refer them today by submitting their information at cairn.edu/refer.
Enroll Your Son or Daughter
Students who are in high school are eligible to enroll in dual enrollment courses at Cairn. You can learn more about our program and the courses offered at cairn.edu/dual-enrollment. Students can apply at cairn.edu/apply.