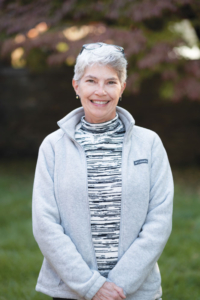 Dianne Fischl '17 believes that "keeping gratitude a secret helps no one." She's grateful for the education she received, so she chooses to support the University through monthly giving.
Dianne first heard (quite literally) of Cairn University through a radio advertisement. At the time, she was a hospital nurse nearing retirement who was looking to deepen her biblical knowledge. She called the 800 number provided in the commercial and committed to the Degree Completion Program just 30 minutes later.
Dianne was a bit intimidated to come back to school for her Bible degree—for good reason. Nursing school was a few decades ago when she wasn't even required to use a computer. To come back to school in 2005 meant she had to participate in what she refers to as "computer gymnastics." She credits the friendly and professional library staff for helping her come out the other side of the program as an Olympian, or at least a student who could use the computer lab to research and write a paper.
The Degree Completion Program was valuable for more than her trial-by-fire technology lessons. She loved the lectures and assigned readings that "enlightened, encouraged, and challenged" her. The program "strengthened [her] faith in Jesus Christ and provided evidence that helped [her] share [her] faith." Nostalgia keeps her from throwing away copies of many of her term papers with professors' feedback.
To give back to the University that gave so much to her, Dianne decided to be part of the automated monthly giving program. She prefers to give this way because it "gives the University a predictable source of revenue, and I don't have to remember to write a check."
Dianne knows that her dollar isn't just evidence of her gratitude but is an investment in what she wants to see in the world. She writes, "When I give to Cairn, I am helping to instill Christ-centered values in students through academics, athletics, and activities that promote character development. I am honored to have a hand in that effort."