Inside the Fall/Winter 2014 issue: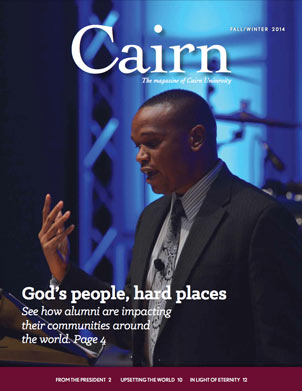 Feature Story:
Walking Different Paths: A Look into Cairn's Diverse Alumni
by Saya Lee, B.A.

On My Mind:
In Light of Eternity
by Paul T. Neal, M.A.
In Depth:
Upsetting the World
by James E. Dolezal, Ph.D.
by Todd J. Williams, Ph.D.
You do not have to look hard to see that our University community is committed to walking a different path. It is sometimes steep, sometimes long, and hard to navigate in the world in which we live. But we walk it still—because it is the right thing to do and because it is worth doing.
WEB EXCLUSIVE INTERVIEW: The Stillman family has a long history with Cairn University. Alumni Director Nate Wambold sat down with Ed Stillman and his father Bill to learn more about this long-standing and historical relationship.
The First Year Programs have shaped me as a leader. The community living forced me out of my comfort zone, and the smaller group setting made me more confident in who I am.