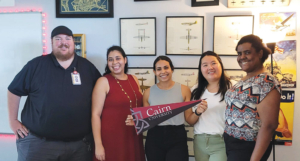 Steven Nicom '06 had wanted to be a teacher since the second grade. When he was looking for colleges, he didn't think that he wanted to study at a Christian school, but he felt God leading him to go to Cairn. After completing the elementary education program, he began his job search. He did not think he wanted to teach at a Christian school, but he ended up applying to 20 of them. In the midst of this job search, God put two men in his path within the same week that would direct him to a different Christian school in the Dominican Republic.
Steven found his home at Santiago Christian School. He started there in 2006 teaching mathematics and Bible. He is now in his 18th year on the faculty and is teaching US History and Bible.
As a teacher who loves his alma mater, Steven has gotten into the habit of encouraging students to attend Cairn as well. At least 15 of his students over the last 18 years have gone on to study at Cairn. Three of those students have also returned to SCS to teach. Cindi Pereyra '17, Karina Ciang '20, and Ruth Hernandez '21 have joined Steven on the faculty, using the biblical education that they also received from Cairn. Dalyse Rodriguez '15 is also a current teacher at SCS.
Steven never planned to study at a Christian university. He also never planned to teach in a Christian school—certainly not an international one for nearly 20 years. But he has seen God orchestrate each step in his life and in the lives of his students, and he's grateful for the role that Cairn has played in it.