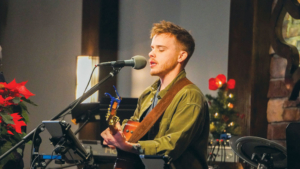 When Josh Wentz '19 was considering career paths after high school, he wanted to work in music production. He knew he wanted to go to Cairn, but since the School of Music did not offer a specific music production program, he decided that the worship and music program would be the next best fit. This program also allowed him to use elective courses to strengthen his other artistic interests in graphic design and photography.
Shortly after graduation, Josh spent time in Los Angeles and Nashville to pursue a professional music career. But instead of finding a career, he had a conversation that changed his course. In Nashville, he met a pastor who knew first-hand how dark the music industry can be. He encouraged Josh to move back home to see how God would use his gifts and abilities there.
Josh took his advice, and a couple years later he found himself with the opportunity to serve as the worship and digital media assistant at his home church, Calvary Chapel Central Bucks. Now he is able to "use his giftings more than [he] ever thought!" In this role, Josh leads worship for Sunday morning services and uses his graphic design and photography skills to create for the church. Plus, moving back to his hometown meant that he met his wife, whom he married in January 2023.
Reflecting on the past five years, Josh wrote, "In chasing my own will, I didn't see how the Lord was preparing me. My degree was God's provision in preparing me for full-time ministry."