[dropcap3]I[/dropcap3] impatiently sat on the cold table, my legs swinging, sitting silently staring at an MRI of my back. Just after completing my freshman year of college, I was 20 years old and listening to a surgeon tell me that I had herniated two discs in my back. He recommended I end my athletic career. However, I didn't want to give up. My enthusiasm for athletics and competition was a driving force that pushed me through recovery and helped me make a decision to at least attempt to make a comeback. After a summer of painful rehab I was able to return to the court and begin three more years of competing in volleyball and softball at PBU. Although the road back was challenging, I knew competing at PBU would be a rewarding and important aspect of my college experience, and I felt -and still feel – that it was worth the effort.
Other students share my enthusiasm for sports, and we appreciate our university's support as we use athletics to round out our college experience. PBU recently joined the Colonial States Athletic Conference (CSAC). This significant step not only gave us the chance to compete at a higher level, but also opened an opportunity for the University's athletes to be a witness to students attending secular schools in our region. This move has opened up the opportunity to put into action Dr. Williams' challenge to be "set apart but actively engaged."
The integration into CSAC has brought a new set of challenges for PBU's athletes. Our teams have not only embraced the opportunity to compete in this new, very competitive conference, but we are excited to represent our university, and our faith, with excellence. We have enjoyed competing with local athletes who may not have other interaction with Christians. Not only can we enjoy the benefits of athletics – learning teamwork, staying in shape, forging friendships, and more – but we can also impact other teams with a testimony as we compete.
Each season my team has taken ideas of what we most want to strive to reflect as a team. We create a mission statement for our team that highlights characteristics such as humility, patience, respect for authority, and a love for one another. This exercise results in built-in accountability as we seek to push one another, not only on the court or field, but in adhering to and displaying these characteristics, as iron sharpens iron.
From vitamin water to taebo, our culture is saturated in new and improved ways to a healthier life. Therefore, what a better way to engage a culture than through athletics? As we have competed we have received compliments from other universities concerning our positive attitudes or team unity during an athletic contest. My coach, Jade Brubaker, put it this way: "This season has been a learning process for our team. Not just on the court but off the court as well. We have been learning to use the sport of volleyball to honor God, love our teammates, and put in our best effort forward everyday. It is not easy, but the satisfaction and enjoyment that comes from completing a difficult task for the glory of God is what we are after."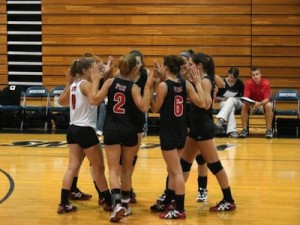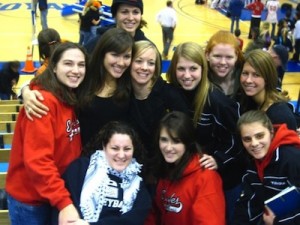 Recently, I competed in my last game at the Mason Activity Center. This experience caused me to reflect on my athletic career. I have discovered that loving one another is a cornerstone to a team. As a member of PBU athletics, each athlete becomes a part not only of a team, but of a family. This is an incredible dynamic and builds deep and lasting friendships, but every family has trials. It is during these trials that I have learned the importance of prayer. Additionally, after spending a summer working at a camp, I was challenged with the idea of serving one another. I came back to preseason in hopes that I could exemplify this quality to my team but knowing that it might threaten my practice and playing time. This idea is so foreign in athletics because it may take away the chance at an award or being set apart and above the rest of the team. It puts each athlete in a position to not be noticed but to showcase her teammates. Ironically, it was this season that I won the award for Most Valuable Player. No award has meant so much to me.
[framed_box]Betsy Ranck is a senior in the Elementary Education Program.  She has played softball and volleyball for the Crimson Eagles of PBU since her freshman year.  In October, she was voted MVP by her volleyball team for the 2009 season.
[/framed_box]