[dropcap3]"I[/dropcap3]t was horrible. Can't you just see it: an artist working in an office, filing papers all day? I loathed it – to my core, I loathed it," says Jonathan Hardesty about his first job after graduating from PBU. "I sat at my desk and thought, 'What would be the best job ever?' I started writing things out. I wanted to work for myself, to be home, not traveling. I wanted to do something I liked. I looked at the list and thought, how cool would it be to be able to draw beautiful things all day?"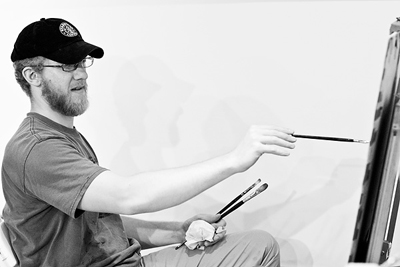 Jon went home and attempted a self-portrait. It wasn't good, but his wife, Marie, looked at it and encouraged him. "A lot of people doubted me. I'd barely picked up a pencil before that day, and I just decided to pursue art. I knew I had the guts to do it, but I didn't know if I was able."
Jon began by taking art lessons, but quickly found that Modern methods, taught at most universities, didn't give him the basics he needed. He began to post his progress on an artists' website. His daily attempts received critiques and praise from the artists who visited his blog. Just weeks after picking up a pencil for the first time, he was seeing progression in his work.
After doing some research, Jon found there was an underground revival of classical techniques and teaching methods that were popular prior to the 20th Century, a method now referred to as "Classical Atelier Training". Atelier training is like an apprenticeship with intensive mentoring from an artist over a period of years. The student works to learn the basics of representational art – perspective, line, shadow, light – and the artist only gives new information as the student is able to apply it. The method is not used broadly, and Jon and Marie moved to South Dakota so Jon could study under two European artists. "I worked for eight hours a day," says Jon. "You couldn't just make something look good; you had to make it perfect. You draw for two years before you even touch paints."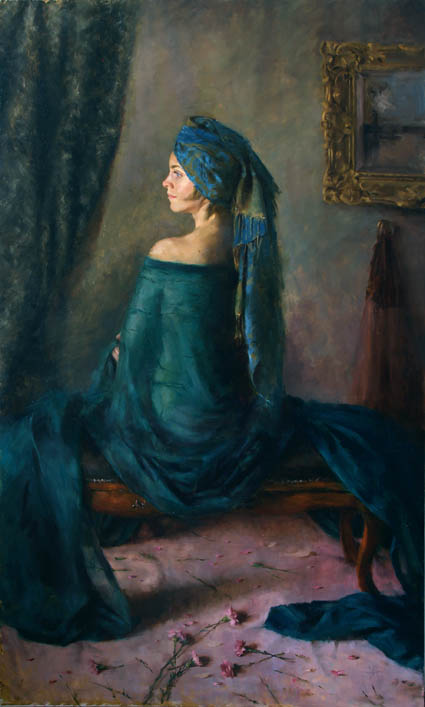 When he finished his training in South Dakota, Jon and Marie moved to Texas where he began to build his body of work for sale in galleries and take on students, using the atelier method. He began to get emails from people around the world, asking if he knew of an artist who worked near them. There rarely was. "I wondered if I could do something for these people. I got a group interested and decided to try out a workshop. I set up a forum on my website where they could post their own work, where they could interact. I took videos of myself doing the stuff and as they got to various stages, sent them those links." The workshop was a success, and a few months later, Jon created Classical Art Online (CAO) with the vision to use technology to make classical, one-on-one art training accessible to anyone who wanted it.
CAO has grown quickly. "My students come from all over the world, from Asia to Europe to North America. I have 20 students and about 12 on the waiting list. It's grown so large that I'm training one of my students to become a teacher as well."
"Art certainly isn't the usual outcome of a Bible education," says Jon. "I told my parents at the time that I went to PBU to learn about life – that's why I did the Bible degree. I could have chosen a different major, but it's a question of priorities for me. Art is not my priority. My pursuit of God is number one, my pursuit of my wife and family is number two. I knew PBU could prepare me for my priorities. The preparation came in the classroom with Dr. Master and Dr. Toews. It came in my friendships, which I still have. God used PBU in my life to prepare me to be a better man, a better husband, a better father. Some people go to college to get a job; I never looked at education in that way. College is a place to learn. I wanted to leave PBU and honor God with my life. I'd rather be a failure at earning money than a failure as a man of God."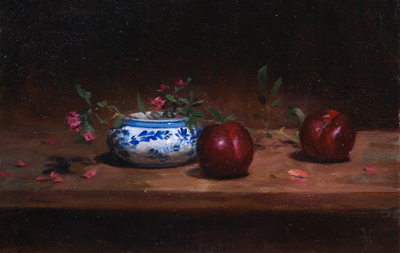 Jonathan calls believers to be involved in the arts. "You don't see good art in a church any more, you basically don't see any. The Church used to be the center of art in the world; artists captured beauty for God's glory. "What I learned at PBU goes to the core of why I make my art. Modern artists come from an egocentric perspective: they make art to please themselves and don't care if anyone else gets it. I say the opposite – the purpose of art is to glorify God and edify everyone. That guides everything I do."
Jon and Marie (Durman) x'01 Hardesty currently live in Dallas, Texas. While Jon trained in SD, Marie worked for the USD School of Medicine. She's currently the regional coordinator for a ministry called "Apartment Life." Jon and Marie are expecting their first child. Jonathan's work can be seen on www.jonathanhardesty.com and www.classicalartonline.com.
[framed_box]Carrie Givens, M.A., is a Communications Specialist and Adjunct Faculty member in the School of Arts and Sciences.  She graduated from PBU in 2003.
[/framed_box]