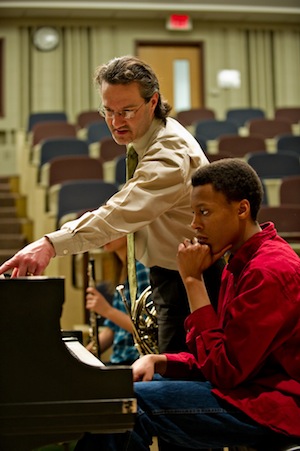 Joseph Caminiti, Assistant Professor in the School of Music and Performing Arts, was named Faculty Member of the Year in May 2010. Joseph came to Philadelphia from Ithaca, New York, where he received the M.M. degree in orchestral conducting from Ithaca College. He received the B.A. degree from Calvin College in composition.
At PBU, he teaches conducting, brass methods, chamber music, and private horn, and directs the orchestra and wind ensemble. He is described by his Dean as "an articulate, passionate, and creative instructor who motivates his students to strive for the highest levels of understanding and performance." His work is not limited to the School of Music and Performing Arts; through guest lecturing in non-music courses, Joseph has increased faculty interest and student participation in the performing arts.
Joseph invests himself in his students, both professionally and personally. He is sensitive to the pressures and problems students experience, and reaches out to help hurting students as well as challenge those whose attitudes and behaviors will not benefit their growth. Joseph has built relationships with faculty both within his School and across disciplines.
Off campus, Joseph organized and conducts the Solaris Ensemble, a professional string group, and also serves as guest conductor for area orchestras. He has served as guest lecturer in high schools, correctional facilities, and university conferences. He has also conducted benefit concerts to raise scholarship monies for young musicians. As a horn player, Joseph is a member of the Riverside Symphonia, and performs with other ensembles throughout the greater Philadelphia region. He further performs as a solo and chamber recitalist. He and his wife, Kirsten, reside in Abington, Pennsylvania.
[framed_box]Learn more about the School of Music and Performing Arts and its programs, ensembles, and concerts.
[/framed_box]