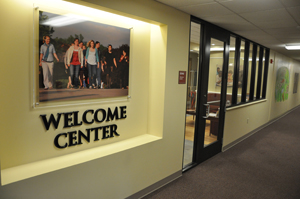 If you visited PBU's Langhorne campus this summer, the sight of construction workers, architects, and painters probably greeted you. Perhaps you saw furniture moving in and out, or scaffolding and dumpsters on the back side of a building. In the midst of a busy summer season, which included 10 weeks of graduate and undergraduate courses, two youth camps, and multiple groups using PBU's facilities for conferences, major renovations were completed on campus.
Over a four-year period, major renovations were accomplished on the three floors of the Education Building and in the Smith Administration Building. Both buildings have been in use since PBU moved to Langhorne over 30 years ago. Over $3 million was raised. Thank you for seeing us through this project!
Smith Administration Building
Educational Wing – Welcome Center
(Completed Summer 2009)
The new Admissions Welcome Center offers visiting future students and parents a central location to meet with Admissions and Financial Aid staff, faculty, and students. It provides an engaging and informative place for visitors to experience PBU for the first time.

Educational Wing – 3rd Floor (Completed Summer 2010)
The third floor was renovated to become new offices for the School of Bible and Ministry, smart classrooms, student organization offices, and computer labs.

Chatlos Chapel (Completed Summer 2010)
New chairs, new stage treatments and furniture, and needed aesthetic improvements have made this an inviting room for the coming years of concerts, chapels, and performances
Mason Activity Center
Fitness Center (Completed Summer 2010)
A wall was removed to make room for renovations to the facilities and new state-of-the-art strength and cardiovascular equipment purchased for student use.

THANK YOU!
It is through the gifts of PBU's friends and alumni that progress has been made on these campus renovations.  For more information about these and future renovations and building projects, contact University Advancement at advancement@pbu.edu or 866.728.0028
Along with managing the renovations, PBU's Campus Services staff follows a strategic plan of regular maintenance and remodeling needs each summer. This summer, fresh paint and new carpet were provided in areas that students and faculty use each day.

Smith Administration Building Educational Wing
– 2nd Floor
Office space was renovated for the School of Education, Department of Social Work, School of Business and Leadership, and Department of Christian Counseling.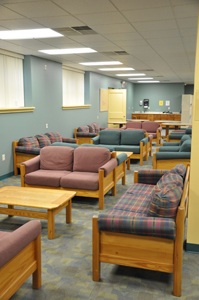 Smith Administration Building
– Career Center
Office space was created to launch expanded services to students and alumni seeking careers and ministry opportunities.
Smith Administration Building – Student Lounge
This multipurpose area, including computers for email access, comfortable seating, and a commuter kitchen, was renovated for the coming years of student use.