[dropcap3]S[/dropcap3]ome might believe that business cannot walk a different path. Business is necessary for a society to function well. The marketplace provides a variety of goods and services, and the distribution network to get them delivered anywhere in the world. Businesses create jobs. Business creates innovative new products and services. It is a major influencer in the world.
But what about all of those business scandals? What about the recent financial problems? Wayne Grudem in his book, Business for the Glory of God, argues, "…that many aspects of business activity are morally good in themselves, and that in themselves they bring glory to God – though they also have great potential for misuse and wrongdoing." So, our goal in the School of Business and Leadership is to glorify God through our work in the business world.
The School of Business and Leadership has three major objectives to help our students "Walk a Different Path." First is the development of an integrated biblical worldview. A worldview is the architecture we use to help us understand the world around us and answer life's big questions. The biblical worldview attempts to see the world as God created it, and man's position in that world. We work to develop a biblical worldview perspective in our students because it does not come automatically.
Key to a biblical worldview for the business person is the idea of integration. Our lives must not be compartmentalized. Take two great American businessmen for example: John D. Rockefeller and John Wanamaker. Rockefeller believed religion was the source for his success, but kept it confined to Sundays and was a ruthless businessman the rest of the week. Wanamaker, on the other hand, incorporated his religious beliefs into every aspect of his successful business career. He once suggested that his epitaph simply read, "Servant of God."
Our second objective is to have our students demonstrate ethical behavior and act with integrity. Our students have the opportunity to study not only God's Word and a profession, but to study how their chosen profession integrates into God's Word. Our undergraduate students are required to complete an internship during their senior year. At the end of the internship, the student's supervisor submits a performance evaluation on the intern. "Integrity," "honesty," and "strong work ethic" are words that these supervisors often use to describe our students.
Thirdly, our graduates must be well-prepared and professionally competent. They must understand how to do business, how to do it right, and how to analyze and solve complex problems. Our students learn the difference between short-term profit and long-term financial health. They learn how to maximize the organization's potential, as it relates to employees, customers, shareholders, stakeholders and the community. It is the integration of faith, learning, and doing.
The name of our School has two elements in it: business and leadership. Peter F. Drucker said, "The ultimate resource in economic development is people. It is people, not capital or raw aterials, that develop an economy." As a part of a biblical worldview, graduates of our programs learn how to handle the human side of business enterprise. As PBU launches the Master of Business Administration degree this fall, we are keeping in mind the objectives of the School of Business and Leadership. We want our M.B.A. degree to be about more than just numbers.
[framed_box]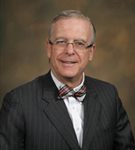 Ron Ferner is the Dean of the School of Business and Leadership.  He came to PBU in 1997, following a 35-year career with Campbell Soup Company.
[/framed_box]