[dropcap3]B[/dropcap3]oth inside and outside of the classroom, Philadelphia Biblical University is a community which is teaching me that the Christian walk is not going to be easy. Challenges and hard things are inevitable. They are going to occur and, generally, I will have no idea when they're coming. But I am learning that it is important to ask the difficult questions and discuss the complicated issues that our lives may bring and try to figure out how to respond as a believer. I've begun to learn how to embrace the challenges that life brings. God brings these hard things for a reason; He teaches and shapes us through them. And He brings joy in the midst.
I found myself facing one of those challenges this past summer in an internship for college age students who have an interest in ministry and a heart for those who do not know Jesus. I spent the summer in Dar es Salaam, located in eastern Tanzania on the coast of the Indian Ocean. Over 5 million inhabitants in this city represent three major culture groups. People from Islamic and Hindu cultures have settled in Dar es Salaam over the last few generations from South East Asia, mingling with the African culture already there. Going in, I had no idea what would happen or how difficult it would be – not physically, but emotionally and spiritually.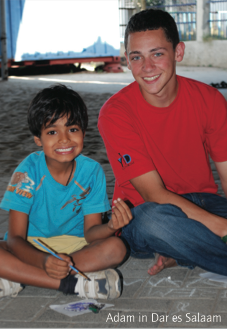 When I stepped into Tanzania, I immediately stepped out of my comfort zone and into one of the biggest challenges of my life so far. I began living with a family from India who practices Islam. It was an incredible joy living with this family, and I do not regret it one bit, but what a challenge it is to live in a home that is not your own, where you are not free to say what you please, wear what you like, and be who you are. In addition to the cultural challenges, I had to face a difficult reality: a great family, with three wonderful children, followed and prayed to a god who does not exist. Seeing this, I was saddened.
As the children went to class every Wednesday to study the Qur'an and had Arabic lessons every Saturday morning, I began to wonder why our Lord would create marvelous people, in His image, and allow them to follow a deceitful path. What a hard thing it was to wake up to the call to prayer in the early morning and to walk into schools and see the students finish up their morning prayers in the assembly room. I spent several weeks teaching English in religious schools, leading youth camps and clubs for kids, and telling narrations of God's Word. Over and over the same questions about God's will and purposes would come to my mind. Countless times, I was invited into family homes for dinner or asked to spend the day with a friend, but I still could not understand God's reasoning.
At PBU I've come to realize that challenges do not just come when you are in ministry, but can occur in everyday life. I remember one example like it was yesterday. I had signed up to take a two-week course during JTerm. I distinctly remember reviewing the syllabus the Sunday night before class. I had looked at it about 20 times, but I hoped that this time would be different. I was in complete shock over the amount of work required for those two weeks. I had signed up for the Pentateuch, and my original thought was "it's only five books of the Bible. It can't be too difficult." Well, I was wrong.
I recall going to class on Monday morning, sitting and listening to a great lecture on the book of Genesis and learning so much that I had not known. I left feeling pretty confident that I could pass the class, and do it well, until I realized all the reading and studying that had to be done after class. I had made it through day one, but I wasn't sure I could make it to the end of the second week. This was one of those hard times for me, but I knew that with prayer and the strength of the Lord I could make it through and receive the joy and satisfaction of completing this class. That was a week that tested me academically more than anything I could have ever mentally prepared for.
During my time so far at PBU, I am learning that life is not about simple situations. It's going to be difficult. But behind every difficult, hard, grueling situation is joy. I've learned that God wants me to rely on Him to succeed. Sometimes God is waiting to reveal the reason for the challenges right away, and others He may choose to reveal later in life. I still don't know when those times are coming or how tough they will be, or how much joy I'll receive in the end. I'm not sure what else lies on this path that I am on, but I trust that God will be with me and guide me every step of the way. It is my hope that each day I will live an honoring, faithful life. God will bring lots of hard times into my life. When they come, the choice will be mine. I can choose to take an easy path that I can see clearly or a path that will be hard: the path that God desires. I choose joy.
[framed_box]Adam Strobel is a sophomore in the Department of Social Work, planning to graduate in 2013. He serves as the Student Senate Parliamentarian and runs on PBU's Cross Country team.
[/framed_box]