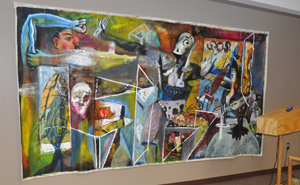 This fall, PBU hosted the Charis: Boundary Crossings art exhibit, which has been touring American colleges since 2009. The exhibit is cosponsored by the Council for Christian Colleges and Universities and The Nagel Institute of Calvin College, with major support from Walter and Darlene Hansen, The Calvin Center for Christian Scholarship, The Crowell Trust, John and Mary Loeks, and The Joan L. and Robert C. Gilkison Family Foundation.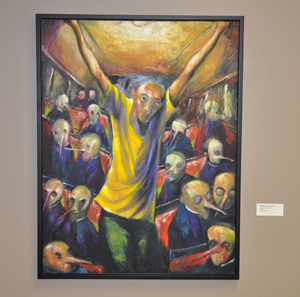 CHARIS: Boundary Crossings
In June of 2008, a group of artists from Asia and North America gathered in Indonesia to participate in an experiment in cross-cultural engagement. This exhibit is the result of that endeavor. The word charis comes from the Greek for "favor" or "grace" but is perhaps most accurately translated "goodwill." It was selected because the term makes us think of our shared heritage as Christians and our unity in the body of Christ because it belongs no more or less to any one group.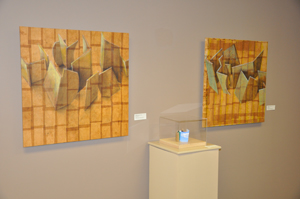 The Arts Initiative: Joan Gilkison
"If you limit yourself to living on the surface of things and do not delve into why things are made and where they came from, you've limited God's creation. If you only learn the basic subjects of education – computers, language, finance – you are missing God's beauty. God has made beauty; we see it throughout nature. Experiencing it in music, writing, literature, paintings – all the arts – adds to the completeness of His best art, people."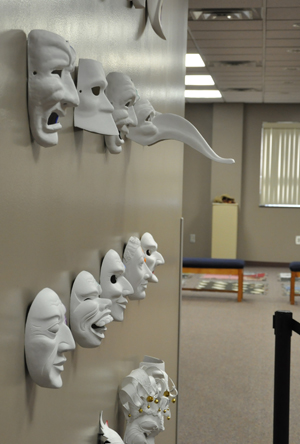 When Joan Gilkison's husband Bob, a former PBU board member, passed away a few years ago, Joan and her children set up a foundation that would support programs and fields he was passionate about. Bob grew up in New York City, going to art shows and museums with his grandfather. Those experiences developed in him a love for the arts. When Bob became involved at PBU, he felt that the University excelled at reaching out to a diverse group of students. He appreciated that PBU reached out to urban students and offered opportunities for them to receive higher education. He felt that a person's education was one thing that no one could take away – you can lose your job, but not what you've learned.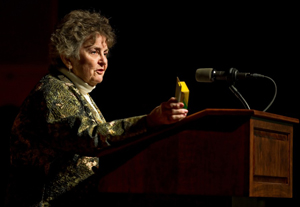 This interest in education and the arts led Joan and her children to focus some of their energies upon PBU. Joan feels that this generation of students is full of potential. "Everyone needs a little help. I've appreciated the help I received as a student, so I'm trying to give help. I believe that as a Christian I have a responsibility to take what has been given to me and turn around to help others. We have a scholarship fund at PBU, and every time a student receives the award I receive a letter. I enjoy knowing what they are interested in and passionate about. I'm blessed to have the ability to help students get their education and find jobs. I can help make the road a little easier for them."
[framed_box] To find out more about investing in the future of PBU students and special projects like the Arts Initiative, visit University Advancement online.
[/framed_box]