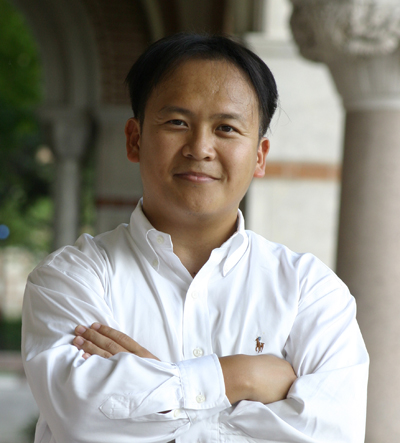 "God took a half-hearted decision I made to honor Him and turned it into the most important decision I've ever made in my life." Thus says Thomas Hong about choosing PBU as an undergrad student. "My time at PBU was, by no exaggeration, a life-changing experience," he goes on. "When I was first considering PBU as a college to go to, I wasn't even really a practicing musician. But my mom knew I needed the Lord in my life in more than a nominal way. Her biggest concern was a lack of discipline in my life. I was convinced to go to PBU and try music. Looking back, I'm overwhelmed with everything those years at PBU have meant for me. When I went in, I was undisciplined and wild, and I came out focused, determined and knowing who I was."
And who is that? Thomas Hong is a professional orchestra conductor, currently serving as the assistant conductor for the Pittsburgh Symphony Orchestra. His past appointments have included being the associate conductor for the Seattle Symphony, assistant conductor of Orchestre National de France, under the music director Kurt Masur, formerly of the New York Philharmonic, and also associate conductor of the Fort Worth Symphony Orchestra. The list of his accomplishments is impressive, but Thomas sees God's hand throughout his journey as a professional in classical music.
"God takes His time with me," Thomas says. "He knows what a stubborn mule I am and that I need long, sustainable training and discipline. I spent six years at PBU, and it wasn't easy. It was painful at times – I had to see myself for who I really was, which is very selfish and proud. I continue to be those things, but PBU was the beginning of coming to terms with them and realizing what it means to serve the Lord. I had a lot of great experiences, life-changing experiences, at PBU. Every year I learned so much about discipline in the Lord and fellowship with His people. After graduating I realized that my time at PBU had given me the tools and equipment to persevere in this profession."
After graduating with a Bachelor of Music from the Piano Performance Program and a Bachelor of Science in Bible, Thomas decided to pursue conducting. He went to Temple University to study choral conducting, and then transitioned into orchestral conducting. He attended The Curtis Institute for orchestral conducting and earned an artist diploma. He spent four years working in the Philadelphia area as a visiting assistant professor, a church musician, and a long-term substitute before deciding to return to school in 2006 to study instrumental conducting at Rice University in Houston, Texas. "In some ways it felt like I was going backward – going back to school after teaching a few years. But God blessed me there. He gave me the opportunity to meet my teacher, who was very supportive of me. Bigger doors began to open and I was invited to professional auditions for the first time."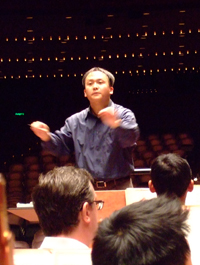 "During those years I was working in the Philadelphia area, I was not invited to a single professional audition. God chose to let me wait and struggle, in order to teach me about genuine faith and trust in Him. He wanted me to have that experience in my life. Now, when I am tasting a little success, I see that God has already given me a sober perspective of myself and the profession."
Being asked to audition for a large professional orchestra is not a simple accomplishment. There are typically over 150 applications submitted for an opening, and of those only a handful are asked to come and conduct the orchestra. "You have fifteen or twenty minutes to make an impression; and that time costs the orchestra thousands of dollars, because they are paying each musician there. Christ has allowed me to do what I've done. I look at the auditions I had and wonder how I had the audacity to take the risk. Then I see that God gave me the courage at the right time."
Now that he has settled at the Pittsburgh Symphony Orchestra, Thomas has had time to do a few other things, like guest conducting for the West Moreland Symphony and Boca Raton Philharmonic Orchestra, and, more importantly, marrying Rachel Ku in September 2010, whom he got to know through a Bible Study at The Curtis Institute. "My wife is a violist for the Philadelphia Orchestra. God provided for us in such a wonderful way with this position in Pittsburgh. We have been dating for six years, but we couldn't entertain the idea of getting married because I was running around all over the place. We couldn't start a marriage confidently under those circumstances. It's still not ideal, but at least now we're only across the state from each other, rather than the continent or the Atlantic. I'm growing very familiar with the Pennsylvania Turnpike."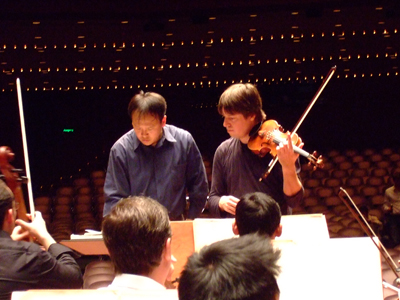 In his role as Assistant Conductor in Pittsburgh, Thomas conducts many of the orchestra's educational and community performances. The audiences for his concerts often include pre-school and school-aged children, university students, and other members of the local communities. "There are a lot of great opportunities to be an ambassador of music to the people in these areas. Even more so, though, I see myself as an ambassador of the Author of Music, who is Christ, who is God."
This perspective on his role began to be built during Thomas' time at PBU. "Artistically, musically, I learned from all my professors that I had to strive for excellence. As Christians, we don't have to be second-class in any way. I encountered that perspective first at PBU. My professors were a model for me. They performed, they taught, they made music for the Lord. That is my challenge now, every day. PBU also prepared me for this vocational path I've chosen. The conducting profession can be a very solitary one. Being a leader, whether in business, or in music, or anywhere else, is a position you have to face alone – but with God, with God, of course. I look at what He has blessed me with, and it's amazing, humbling. I can enjoy it and be grateful and continue to serve Him."
Learn more about the School of Music and Performing Arts.
[framed_box] Carrie Givens, M.A., has been a Communications Specialist at PBU since 2009 and an Adjunct Faculty member since 2008.
[/framed_box]