Academically Speaking
In September, Dr. Martha MacCullough, Distinguished Professor in the Center for University Studies, published "A Constructive, Interactive Learning," a chapter in Faith-Based Education That Constructs: A Creative Dialogue Between Constructivism and Faith-Based Education, edited by Heekap Lee.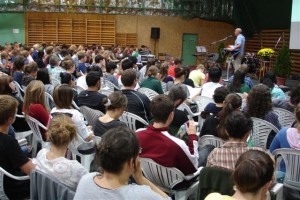 Mr. Tom Allen, Associate Professor in the School of Bible and Ministry, spoke in Budapest, Hungary, at the Association of Christian Schools International Youth Conference for Europe in September. 260 students and 40 leaders represented over 20 different language groups and countries from Western Europe, the Middle East, and Central Asia. Mr. Allen's topic was "To Live is Christ: The Joy of Servant Leadership."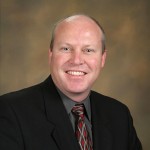 Dr. Gary Schnittjer, Professor in the School of Bible and Ministry, served as a keynote and parallel session speaker at Ocean City Tabernacle's September Pastor's Conference. His sessions were on Facebook and Film and Culture, and he preached from the Old Testament narratives. His Facebook session is available online at www.scriptureworkshop.com/ film/facebook.html. Dr. Schnittjer also presented a paper, "What's Up with Saul?" at the Evangelical Theological Society annual meeting in November.
Dr. Sheryl Vasso, Chair, Master of Science in Education Program, with Cammy Tidwell, recently launched a new website, www.wordsofworth.com, as a nonprofit ministry for speaking to women.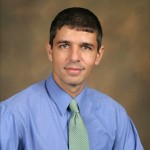 In September, Assistant Professor in the School of Education Mr. Christopher Palladino shared with the faculty and staff at Esperanza Academy Charter High School in Philadelphia during their orientation week. His message was entitled "With Great Power, Comes Great Responsibility."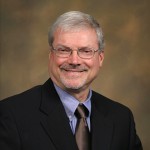 Don Cheyney, Associate Professor and Chair, Graduate Programs in Bible and Ministry, defended his dissertation in November, earning an Ed.D. in Educational Studies from Talbot School of Theology.
Other News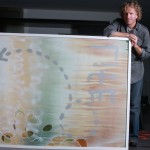 For the fall semester, PBU displayed art from The Psalms Project by Steve Spann in partnership with White Stone Gallery. This series of paintings is a visual exploration of the book of Psalms. Each of the paintings represents one verse of a Psalm. The paintings are meant to create a dialogue about the human condition.
Members of PBU-SIFE's leadership team, Gwen Rapp, Brandon Stone, and Rebecca Field, were each asked to attend International and National SIFE events as guests of major companies, in recognition for their work on specific projects through PBU-SIFE.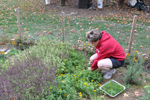 The PBU Community Garden held its first harvest in October, gathering and storing herbs for use in the Furman Dining Commons throughout the winter. The garden is a student-led project, overseen by Dr. Paula Gossard, Associate Professor in the School of Arts and Sciences, and Mr. Scott DeLair, Food Services Manager.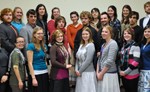 The School of Arts and Sciences presented an adaptation of Jane Austen's Pride and Prejudice in November, directed by Ms. Kay Wright, Associate Professor. A large group of students, staff, faculty, and alumni were involved in the performance and production of this play.
Service
Noah Prickett, Vice-President of PBU-SIFE, led a team of SIFE members and other student volunteers to host Your Money Counts, an event designed to educate students about money management. Over 70 attended, and presenters included alumni Andelynn Robb '08 and Jeff McElhaney '08 as well as current students Julie Schultz and Kristen Lyszczasz.