Academically Speaking

In October, Ms. Susan Childers, Faculty, Graduate Christian Counseling Program, presented at the Southern Association for Counselor Education and Supervision Annual Conference in Williamsburg, VA. Susan, along with colleague Ardelle Dickinson, spoke on the topics Exploring Introversion/Extroversion and Job Task Satisfaction for Online Counselor Educators and Being A Counselor Education Ph.D. Distance Student.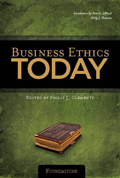 Mr. Ron Ferner, Dean, School of Business and Leadership, co-authored a chapter with Dr. Philip Ryken in Business Ethics Today: Foundation, published by the Center for Christian Business Ethics. The book, coming out of the Center's first conference last year, takes a foundational look at business ethics through a biblical perspective. The second annual conference, to be held on June 10-11 at the Union League of Philadelphia, is entitled Business Ethics and the 8th Commandment. Mr. Ferner will be both a presenter and a co-author.
PBU opened its first cohort for the Master of Science in Education in Sao Paulo, Brazil, in January 2011. This program consists of a three-year delivery of the M.S. in Education degree program using a cohort approach in which ten or more students study together at a host school. Four courses are offered at times throughout the year based upon the host school's schedule. This program can be offered at campuses around the world by agreement with PBU. The Sao Paulo cohort is made up of 12 Brazilian and North American students from four different schools in Brazil.
Dr. Debbie Lynn Wolfe, Chair, Music Education Program, is presenting workshops at the National Association of Music Educators Northeast Division Conference, March 30-April 2, in Baltimore, MD; and at the Pennsylvania Music Educators Conference, April 14-16, in Hershey, PA.

In December, Dr. Sheryl Vasso, Chair, M.S. in Education Program published Word Wise with Cammy Tidwell, her partner in their new speaking ministry, Words of Worth.

Service
On January 17, 2011, nine students, faculty, and staff from PBU teamed up with Bristol Borough Community Partnership to serve the Bristol, PA, community in the 5th annual MLK Day of Service. As part of this event, the team distributed bags to residents that will be filled and collected for local food banks. Students also prepped and painted a room at a school in Bristol.

Mrs. Addie Loveless, Receptionist, and Ms. Sue Loveless, Events Coordinator, returned to Boone, NC, in November, for the third year to help in the processing of shoeboxes as a part of Operation Christmas Child. Sue and Addie have organized the gathering of shoeboxes at PBU for over five years. The boxes they helped process this year will be distributed in Zimbabwe, Uganda, Chad, and Ukraine.
Both of the above news items were completed through involvement with PBU's University Ministry Center.
Mission Trips
In January, four teams went out from PBU to serve around the globe. More information about the work these teams did can be found in the Feature Story of this issue.

Andy Drake, Campus Services and Head Baseball Coach, and Mr. Jan Haas, Senior Vice President, Finance and Administration and Assistant Baseball Coach, together led a team of PBU baseball players to Panama: Austin Arseneau, Matt Betts, Dean Diernbach, Marques Duprey, Chad Hollinger, Shawn Moraca, Jon Sanville, Nick Schnittjer.

Blair Benjamin, Internet Technology Specialist, led a team of 14 PBU students along with a number of recent graduates and a team of nurses to Kenya: Peter Hays, Christa Ciotta, Mary Burdett, Jennifer Rosol, Jodie Prosser, Rachel Conway, Brittni Gross, Lydia Hart, Wayne Peiffer, Christian Espindola, Jules Hull, Jesse Mir, Joelle Petrycki, Avery Martin.

Matt McAlack, Director, Youth Ministries Program; Michele McAlack, University Ministry Center; and Larry Schmalbach, Associate Professor, Degree Completion Program, led a team of students to New Orleans: Andrew Hess, Andrea Croucher, Chelsea Troyer, Holly Terracciano, Cynthia Salgado, Veronica Wray, Krisann Shane, Anne Schlonecker, Bethany McCormick, Susan Pavuk, Kasha Armagost, Sarah Tavares, Katie Podlasinski, Seth Bryan, Jeremy McAlack.

Baron King, Director of Counseling Services, led a team of students to the Southern Philippines: Justin Angle, Seth Antes, Stephen Casey, Sarah Hunter, Ashlyn Jones, Lillian Ostoich, Jennifer Reifsnyder, Sarah Towne, Caleb Way, Rachel Spalding.
[framed_box]To learn more about ongoing news and events, visit the PBU website.
[/framed_box]