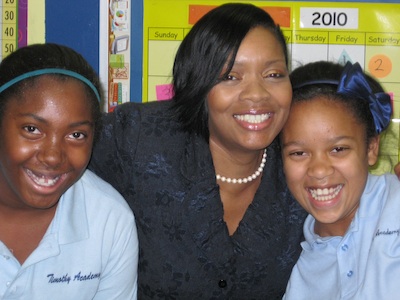 [dropcap3]"T[/dropcap3]he whole journey was a leap of faith. It was nobody but God that made a way for me to do it," says Gwendolyn Hinton-Freeman about her studies at PBU. "But I believed it was necessary; there was a need – not just for me, but for my school. In order to be the best principal, teacher, mentor, and educator that Timothy Academy needed, returning to school was not optional. I had no doubt that God would open the door. He promised to supply all my needs according to His riches in glory. I stood on His Word, and He made a way."
Gwen was teaching second grade at Timothy Academy in Philadelphia when her principal and mentor left to pursue other goals. She had often assisted him in his work. "I believe he sought my assistance, not so much because of what I knew, but because I was a diligent worker who was malleable and available." When he left, he assured Gwen that she could do the job. Gwen demurred. Another principal was hired from among the staff, who only agreed to the position if Gwen would assist her. When that principal left as well, the school board asked Gwen to take the position, but she felt she didn't really meet the qualifications for the job. "They encouraged me to take the position, but I knew what I didn't know. If I was going to be an effective leader, I needed the tools that an education would provide."
Gwen understood that God had gifted her as a teacher and as an administrator, but felt that to use those gifts for His glory, she needed to cultivate them. That led her to PBU's Master of Science in Educational Leadership and Administration program. "When I reflect on my PBU experience, I believe what I received is worth more than it cost. I should still be paying for my education! My instructors were knowledgeable men and women of integrity who were available, interactive, proactive, fair, and enthusiastic. The courses were challenging, stimulating, relevant, and practical. I learned so much and enjoyed every moment."
Going back to school for her master's degree and principal certification, however, was not without its challenges. "As a single mother with a college-aged daughter, there were many times when I could not register for courses because of my daughter's educational expenses; paying for her degree was my top priority. What should have a two-year trip was a five-year journey. I refused to get discouraged, to give up, or to worry. Instead, I was determined to finish and continued to trust God for His provision."
One thing Gwen didn't expect from her PBU education was the impact the Bible courses would have on her. "Let me tell you, those are the best courses I've ever taken," she says. "My life is not the same because of the Bible courses. They made me think. Much of the doctrine I held as truth was challenged. The courses were hard, not so much because of the course requirements, but because of what learning the truth of God's Word required of me." Gwen had grown up as a pastor's kid and taught Sunday school for over twenty years, but studying scripture and its implications for every aspect of her life as she studied for her professional degree was a new experience. Gwen found that her PBU education helped her to see clearly how to pursue her career, knowing God was pleased by that pursuit.
During her studies at PBU and since her graduation, Gwen continued as principal at Timothy Academy. As she did so, another need came to her attention. "I was seeing so much frustration among teachers, students, and parents, who felt no matter how hard they tried to help students, they were not seeing the fruit of their labors. We collaborated as a staff and did everything we thought would ensure student success but found that it was not enough. As an inner-city school, we were finding that many of the students have special academic needs. I felt helpless. When teachers came to me, I didn't know what to tell them. As their leader, I felt ill-equipped." Gwen wanted to help both the children she served and the teachers she led. Once again, she realized that she had a heart for something but needed to cultivate skills to be effective in that area. So she returned to PBU to earn certification in Special Education. "It's not enough to love children; we need to educate them. It is my belief that every child can learn, but I also believe that it's my job to seek effective ways to teach them."
Gwen hopes to finish her Special Education certification this summer. "My hope and desire is not only that I will get my certification but that my staff would be inspired to do the same. The current trend in education is to improve and differentiate instruction through various reform efforts initiated to meet the demands of the No Child Left Behind Act of 2001 and the Individuals with Disabilities Education Act of 2004. I want Timothy Academy to be in the forefront of the educational community, meeting the needs of all the diverse learners in our classrooms. That's why I'm a PBU-er for life."
[info]Learn more about the School of Education and the opportunities available for study in Teacher Education, Educational Leadership and Administration, and Special Education on the PBU website.
[/info]
[framed_box]Carrie Givens, M.A., has been a Communications Specialist at PBU since 2009 and an adjunct faculty member in the School of Arts and Sciences since 2008.
[/framed_box]