"I came of age spiritually and theologically at PBU," says Reverend Alan R. Crippen II of his time as a student. "In my era evangelicals were just beginning to leave their religious ghetto and reengage American culture, society, and politics. At PBU, I read Francis Schaeffer who challenged me to consider the full implications of Jesus Christ's Lordship over all of life. The profound idea that hit me as a young student was that Christ is King. I reasoned that if Christ was King of creation, then he must have something to say about every aspect of culture, including art and music; architecture and design; literature and drama; science and technology; commerce and economics; work and leisure; and even politics and law. The kingship of Jesus Christ is after all fundamentally a political idea. Christ is not only my Sovereign, but he is the Sovereign of the world. This idea took deep root in my soul and mind while I was a student at PBU."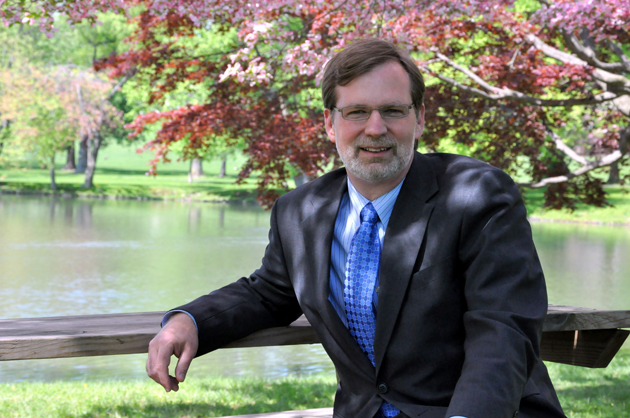 For Alan, the idea grew into a passion to see biblically principled leaders in the public arena which led to his current role as the founder and president of the John Jay Institute. Recently relocated to Philadelphia, Pennsylvania, from Colorado Springs, Colorado, the Institute is the only faith-based, intercollegiate organization in America that is exclusively dedicated to preparing principled leaders for public service.
As He does for each of us, God brought specific experiences and events into Alan's life which served to shape and guide him.  While a student at PBU, Alan was given opportunities to participate in political events, including a local campaign visit by Ronald Reagan in 1980 and the National Association of Evangelicals Federal Seminar in Washington, D.C.  Alan may not have realized it at the time, but God was using the experiences to call him to a vocation in public service.  After graduating from PBU, Alan became an officer in the United States Army Field Artillery, stationed in West Germany. "My fellow service members and I were part of a massive military build-up that was intended to bring the Soviet Empire to its knees. I was assigned to the Pershing II missile system, a newly fielded theater nuclear weapon. The seriousness of the situation forced me to grapple with the ethics of war and especially the apocalyptic horror of nuclear war. My education from PBU provided a solid foundation for exploring these pressing moral questions."
Alan left the Army and went on to further theological study at Westminster Seminary in Philadelphia. "I wanted more understanding of theology and ethics to better grapple with the ethical vacuum of contemporary American culture." Over the course of the following years, Alan was ordained, served on staff and as adjunct faculty at PBU, and worked in public policy at Focus on the Family in Colorado Springs and then at the Family Research Council in Washington, D.C.
"My experiences at Focus on the Family and later at the Family Research Council led me to think more seriously about American culture, society, and politics. I came to believe that Christians needed intentional strategies and organizations designed to permeate the leadership ranks of American culture. Furthermore, this kind of work would take years, perhaps a generation and more. My calling is in politics, so I wanted to do what I could to raise up young men and women for such a time as this."
While at the Family Research Council, Alan founded and directed the Witherspoon Fellowship, a leadership development program designed to recruit gifted young people from leading universities and to form them spiritually and intellectually to be leaders in the real-time rough and tumble of political service.  His experiences over nine years with the program inspired his vision for the John Jay Institute. "The Institute's governing board recently directed our relocation to Philadelphia because they are serious about cultural engagement. There is no better place in the world to explore American ideals and institutions than Philadelphia, the Metropolis of the American Founding. My vision is to see John Jay Institute alumni operating in the centers of American culture. I want to see them networked together and working amid the political leadership of our society within the next 20 to 30 years."
Alan sees what he does as the outgrowth of his PBU education. "I think that the fundamental and pressing question of our culture is: What does it mean to be human? As a people of 'the Book,' we have the answer to that question. Life is to be lived Coram Deo (in the face of God). What better place to understand and explore this question than a biblical university. I'm a clergyman called to serve God in the public square. It is my biblical education at PBU that grounded and established my worldview; that informs me in my study, teaching, and preaching; that directs me in my family life; that compels me in my calling to commend the Christian Faith in all of its ramifications for political life to emerging young leaders."
Rev. Alan R. Crippen II '83 is the president and founder of the John Jay Institute. His wife of 30 years and mother of their five children is Michelle Buzby Crippen '84. They recently relocated to Bala-Cynwyd, PA, with the Institute.
Carrie Givens, M.A., has been a Communications Specialist at PBU since 2009 and an adjunct faculty member since 2008. She can be reached at cgivens@pbu.edu.