One of the commencement awards is the Alumni Recognition Award given by the Office of Alumni Relations to a son or daughter of a PBU Alumnus/a.
In order to be considered for this award, the process begins with a recommendation and statement from the student's advisor.  Recommendations are made by faculty advisors and student life, reviewed and voted on by the alumni staff, and approved by the President's Cabinet.
This award is presented to graduating students who have demonstrated a heart of Christian character, ministry service, and campus involvement during their years at PBU.
In May 2011, graduating seniors Megan Garven and Matthew Wilkinson received the award.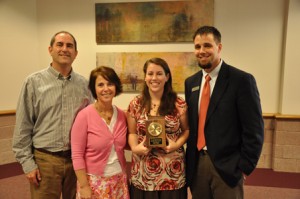 Megan Garven, daughter of Cam '86 and Mary Ellen '86 Garven, graduated cum laude with a B.S. in Bible and a B.S. in Education.  Her advisor, Ann C. Rivera, Director of Student Teaching and Placement, made the following comments in her recommendation: "As a dual-certification major (K-6 Elementary Education and N-12 Special Education), Megan's commitment to lifelong learning, to educating children, and to differentiated instruction is clearly evidenced, not only in her GPA, but also in her community and church ministry choices throughout her University career.  Passionate about learning best practices, Megan has consistently worked as a tutor in area public and private schools in both urban and suburban settings, as well as serving as a teacher and leader in children's ministries at her local church and in the city.  On campus, Megan has been a scholar athlete on both women's soccer and softball teams, and has demonstrated her organizational and leadership skills as the Editor-in-Chief of the 2008-2011 Milestone, the University Yearbook.
"Megan has a heart for missions; over the last ten years, she has participated first as an assistant, and then as a leader on mission teams in the United State, including Philadelphia, New Orleans, and New Mexico/Arizona (Navajo Nation), as well as overseas, including Peru, Mexico, and Brazil. In continuing her commitment to differentiate instruction, Megan completed Urban Practicum in Philadelphia last May, and has recently returned from a student teaching placement at Santiago Christian School in the Dominican Republic, where she has been offered a teaching position for Fall 2011."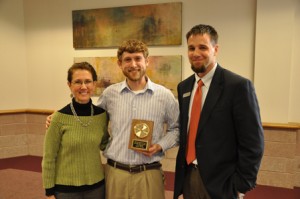 Matthew Wilkinson, son of David '85 (deceased) and Rhonda Wilkinson, graduated with a B.S. in Bible and a B.S. in Education. His advisor, Chris Palladino, Assistant Professor in the School of Education, made the following comments in his recommendation: "I am a faculty member of the School of Education and serve as the Director of Social Studies Education  at PBU. It was in this capacity that I met Matt in the fall semester of 2006, while he was enrolled in my Foundations of Education course. I was immediately impressed with his thoughtfulness and introspection. He engaged in many of our discussions, listening to his classmates and considering the author's point before forming and stating his own.  This made him a respected member of the class and a valued asset to the learning community.  Furthermore, he attended many of the added discussions in the evening that semester as he sought the development of his own philosophy of education and learning.
"Matt's contributions to the PBU and local communities extent beyond the classroom as well. He served as a Resident Assistant for several semesters, guiding young men in their transition into university life. He served as an actor in several of the musicals and drama presentations produced by the University. Matt has also been active in a church in the heart of Philadelphia for years, engaging the local community.
"This spring, I served as Matt's primary supervisor during student teaching. I have observed him student teaching on multiple occasions in many settings and have been impressed by his use of quotation interpretations, primary resources, and the arts. He embraced the challenge of teaching in the inner city and has blossomed in this experience.  His cooperating teacher speaks highly of his professionalism, willingness to be part of the school community, his leadership inside and outside of the classroom, and his genuine care for his students. I thoroughly enjoyed watching Matt teach and interact with his students.  His enthusiasm for the lesson was contagious. Matt will make a difference in the lives of the students and faculty he works with. His teaching is more than just a job. Because of this, he will be an outstanding ambassador for PBU."