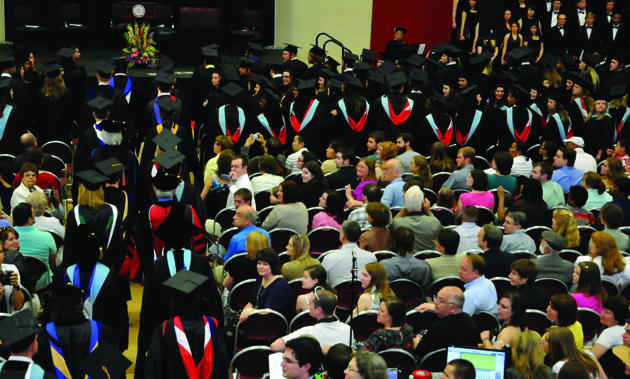 [dropcap3]P[/dropcap3]hiladelphia Biblical University is a sending place. That is an important thing to remember. And every commencement ceremony reminds us of that. With over eleven thousand alumni all over the world and in nearly every profession, the quiet reach of the University is extensive and significant. Twice each year, we send another class to take up their places in their families, churches, communities, and vocations. We hand over their degrees and diplomas for the successful completion of their courses of study and welcome them to a new relationship with their alma mater. PBU has many alumni who have achieved positions of influence; who have attained a level of notoriety; and who have acquired professional, financial, and popular successes. PBU also has many alumni who live quiet lives, serve behind the scenes, and experience a modest life by modest means. The issue is not so much what they do but rather how and why they do it. The point in educating students to serve Christ in the church, society, and the world is that they do so for reasons that are greater than their own self interests, and for glory that belongs to God and not themselves.
If we are a sending place then we have a moral obligation to send the graduates out prepared. It is necessary to train students, teach them what they need to know, develop their skills, strengthen their abilities, and sharpen their gifts. At PBU we take educating students in this way seriously. We expect them to be well educated and professionally competent. But this is not enough, not now, not ever. It is also necessary to challenge students, stretch them, guide them, encourage them, and inspire them to see their lives as being part of something greater. President Woodrow Wilson gave a speech at Princeton University in 1896 when he was president of that institution stating, "If [education] give them no vision of the true God, it has given them no certain motive to practice the wise lessons they learned." And a vision of the true God leads to a belief that His purposes and glory are the things for which we live and work. Sacrifice and service are noble things. They make a difference in this world, but their eternal value is determined by the motive that drives them and the posture and attitude with which they are executed. In higher education we need a vehicle that allows us to speak these things into the lives of students. We need a way to hold before them this vision that goes beyond the classroom and beyond their activities and co-curricular involvements. There must be a way to sustain an institutional voice, to communicate to the community of students, faculty, and staff that as an institution we are committed to this view of life and learning. In this way, all the experiences and relationships that are serving to guide, encourage, and inspire have a systemic coherence and presence and carry the weight of the intentionality of the greater institution. In essence, there must be a vehicle for building and cultivating an ethos that establishes the expectations that what is being taught and learned serves a higher purpose. At a place like PBU we have such a vehicle and three times each week we utilize it.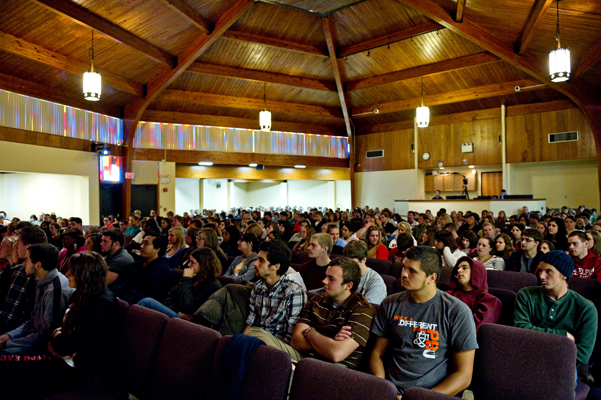 Chapel is, and always has been, an integral part of the PBU experience. It is our time to gather together for prayer, worship, and instruction. It serves to knit us together as a university community. Students pray, read Scripture together, and listen. There are guest speakers and lecturers, faculty speakers, prayer services, and student-led programs. It is a diverse schedule serving a single purpose. Each year I speak in chapel a dozen or so times. I thoroughly enjoy being able to challenge and encourage the students in this way and consider it a great privilege to do so. The students are respectful, attentive, and teachable, which makes standing in front of them a pleasure. This spring semester in chapel I delivered a series of messages on the importance of a right and high view of God. The increasingly secularized days in which we live have relegated God and Scripture to the margins. Even the great ideas about God, the world, human character, and sacrificial virtuous living that have stood the test of time and endured for centuries have been pushed to the edges. However, keeping central things central and remembering what really matters are essential to our walking faithfully in this world. And chapel is an excellent time for all of us to remember what matters most and what purpose our lives and work serve. I began the series by echoing the Psalmist's words, "Who is like the Lord?" The resounding answer is that there is none like God. There is a real need today to regain respect, reverence, and humility before the Lord of all creation, by whom all things were made and who has authority over all of life. To live and work for God's eternal glory begins with a posture of submission and humility to who He is and in response to His divine authority. There were also messages speaking the biblical truth that God loves us, cares for us, and intervenes in this world and in our lives according to His good and perfect will; that He is not silent but has spoken to us through His Word and Jesus, who is the Word made flesh. And the series ended by recalling the explicit teaching of the Bible that God is to be glorified always, that His glory is the end of all our efforts and endeavors, and that one day He will be exalted and His glory proclaimed as every knee bows and every tongue confesses.