"When I come in to work every day and see the students – so bright, with so much potential –  I want to know they are getting a quality education, along with the best behavioral support care, so that, through our actions, our loving and caring spirits, though I can't say a word about the Lord, the families and children may come to know Him. That's my purpose in being here, and has been since day one." So Dr. Nancy Egan, who was appointed CEO of Vitalistic Therapeutic Charter School in Bethlehem, PA, in June 2011, describes her job.
Vitalistic (VTCS) is a Kindergarten-3rd grade therapeutic charter school and non-profit organization. Using a unique educational model which blends academics, behavioral support, and therapy throughout the school day, the teachers, certified in elementary education and special education; educational assistants, trained in therapeutic intervention; and various other therapeutic staff work with students who are diagnosed with developmental delays or mental health issues.
After a decade of interaction with the school in various roles, Nancy was asked to step in as the Interim Director and CEO of the organization following a loss of funding, a failed licensing inspection, and the removal of the former director. "After much reflection and prayer, I agreed because I believed that this is what the Lord had prepared me for over the course of my adult life."
Nancy's journey started when she attended Philadelphia College of Bible at 18th and Arch for one year in the 1970s, all she and her family could afford. After a year of study, she dropped out and continued her undergraduate education over the course of the next twenty years, one class at a time. "I was the business manager of a large dental practice, not liking what I was doing.  I knew I needed a graduate degree to work as a professional in the counseling field." After she earned her baccalaureate degree, Nancy was ready to go to graduate school to study psychology.
"I had just had major surgery; I was recovering from a very painful divorce. I had always been interested in psychology, but I also knew I needed help with my own issues, before I could truly be an effective counselor. I'd been accepted into other programs and seminaries when I heard about PBU's Master of Science in Christian Counseling program. I looked it up immediately and felt like I was going home. I went to the campus, met the professors, and knew it was where the Lord wanted me to be."
Nancy completed the Master of Science in Christian Counseling program in 12 months of intense study.  "The time I spent at PBU helped me to heal from what had happened in my own life, and also prepared me for the work that was ahead, even the doctoral education I decided to pursue several years later." While in the program, Nancy had a conversation with the chair of the graduate education program at the time. "She wasn't my professor, but we had a conversation in her office one day. Even though the courses, my relationships with my professors, my interaction with my classmates were all integral to my learning experience at PBU, the brief conversation I had with her may have had the most impact.  She had so many insights about the future of education in America, as well as being a Christian woman in the professional world. What I learned from her in that conversation prepared me to be in education – which was something I never expected."
In May 2010, Nancy stepped into the role of Interim CEO knowing there was a lot of work to do. "We had staff members who were losing jobs and taking pay cuts.  Last December, we thought we might have to close our doors. There was a period of 4 weeks where we could not pay the staff, but they came in voluntarily. Several of the staff members are Christians, so, I asked the principal if I could call a prayer meeting. Following the state law, we were allowed to have religious activity in the building after students were gone for the day. Six people gathered; we prayed and we believed that God had a purpose for this school. We prayed that He would receive the glory, whether or not the school would stay open. After the Christmas break, things began to move ahead in a more positive direction, and we started a new academic year in July."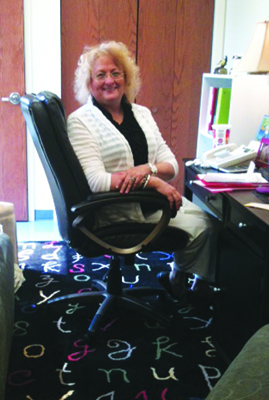 There is a desperate need for a school like VTCS in the Lehigh Valley area. Chartered for 120 students, the school serves some of the neediest children in the region. Over 90% of the student population lives on or below the poverty line. Most of the students live in center city Allentown and Bethlehem. Many have witnessed horrific crime and domestic violence in their own homes and neighborhoods. A high percentage of the student body has suffered from some form of abuse, and the majority of students enrolled present with symptoms of Post-Traumatic Stress Disorder.
"Having the background I do in the therapeutic area helps me to look at a situation and know what's going on very quickly. I have a team of mental health professionals who work on the behavioral support side of the program. All of the students have developmental delays and/or mental health problems and do not function well in a 'traditional' classroom setting. Our classrooms are limited to 12 students with a minimum of 2 adults in each room. In addition to the academic component of the program, we use expressive arts as a "therapeutic tool," including dance/movement, music, art, drum circles, drama, and character-building.  Since most of our students live in a center-city environment, we decided to have them plant a peace garden, which combines science curriculum with a therapeutic activity, allowing them to get their hands dirty while planting flowers and vegetables they have chosen for the project."
Nancy is hopeful about VTCS' future. "I look back on the twenty years I worked in business while getting my undergraduate degree and see how God uses everything, every tiny thing, as building blocks to get you to where He wants you to be and teach you what He wants you to learn. I can relate to those who struggle to get an education because they want one or believe God has called them to do it.  He doesn't always drop money or scholarships into your lap, but He gives you the strength to finish."
Since graduating from PBU, Nancy has earned a Master of Divinity and a Doctor of Ministry in Counseling from Trinity Graduate School. Currently she's pursuing a Certificate in Strategic Organizational Leadership from Villanova University. "I believe in lifelong education. But, because some of us choose to be educated in Christian universities and seminaries, we may be looked upon as under-qualified or having received inferior training. Our faith demands a response; God has called us to be strong, intelligent, and professional – excellent in everything we do. Ultimately, we are working for Him!"
[framed_box]Carrie Givens, M.A., has been a Communications Specialist at PBU since 2009 and an adjunct faculty member in the School of Arts and Sciences since 2008. 
[/framed_box]