Martha E. MacCullough, Ed.D.
Distinguished Professor Emeritus, Center for University Studies
Dr. Martha MacCullough has served the Cairn University community since 1980. In the past 32 years, she has become a pillar of the institution, providing wisdom and leadership to both her students and colleagues.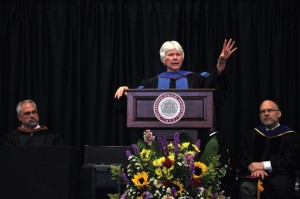 From 1980 to 1983, Dr. MacCullough worked in Cairn's Department of Christian Education where she served as Acting Chair until the Department of Teacher Education was formed in 1984. From 1984 to 2002, Dr. MacCullough served as the Chair of the Department of Teacher Education and in 2002 she assumed the role of Dean of the School of Education. At the request of the University's President, Dr. MacCullough developed programs in teacher education that would be certified, first by ACSI in 1985 and later by the State in 1987.
Throughout the years, she saw the size and scope of programs expand both domestically and internationally, including programs in Early Childhood, Elementary and Middle School Education, Health and Physical Education, TESOL, Secondary Education (English, Mathematics, Social Studies), and Special Education and K-12 Principalship. In 2008, Marti was granted the rank of Distinguished Professor, a recognition she carried with her when she joined the Center for University Studies in 2010. Her most recent teaching has focused on Philosophy of Education, Theories of Learning, and Pedagogy.
In addition to teaching, Marti is a respected author and speaker. She has written numerous articles as well as a chapter for a Foundations of Education text, "Instructional Philosophy" and a chapter for a text on Faith Based Constructivist Teaching, "Interactive-Constructive Learning." She is also the author of the monograph, "Developing a Worldview Approach to Biblical Integration" which has been translated into five different languages and is used by educators worldwide.
While at Cairn, Marti played women's basketball for four years and later coached the team for 13 years. As a player, she set the record for career average points per game at 24, a record that still stands today. The NCCAA twice selected Marti as Coach of the Year (1987, 1993) and honored her with a Meritorious Service Award in 1997. Marti is a member of the Athletic Hall of Honor at Cairn and was inducted into the NCCAA Hall of Fame in 2004.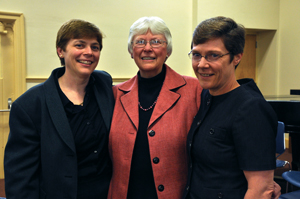 A true scholar, Marti earned her Ed.D. from Temple University and her M.A. from Wheaton College Graduate School; however, her post-secondary education began at Cairn as she received her B.S. in Bible degree in 1962. Before returning to Cairn in 1980, Marti worked at Lancaster Bible College where she developed a teacher preparation program for the institution. With her retirement from Cairn this summer, the University's administration honored Marti by conferring upon her the rank of Distinguished Professor Emeritus. When asked about her personal and professional goals, Marti replied that her goal has always been and will remain, "to be the best person I can be for God's glory."
While a student at Cairn, Marti met her late husband, Don. The couple was blessed to serve the University together for 23 years. Marti has two daughters, Sheryl and Debbie.
Dr. C. Richard Beach and Mrs. Paula Beach
Professor, Chair, Health and Physical Education Program and Associate Professor
Dick and Paula Beach began their days with the University in 1974. They served until 1980, and then returned in 1997 and 2000, respectively.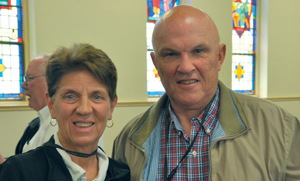 Dick is a Professor in the School of Education and has served as the Chair of the Health and Physical Education program since 1997. He has been a propelling force in helping the School of Education build its use of technology and teaching students about the opportunities it brings in education. Previously, he served as the Director of Athletics from 1997-2006. He has coached Men's Tennis, Men's Basketball, and B
Paula is an Associate Professor in the School of Education where she began the Kidsport program in 2001, providing Physical Education to local home schooling communities. Paula is actively involved in the Pennsylvania State Association for Health, Physical Education, Recreation and Dance (PSAHPERD), from whom she received the HERitage Award in 2011 and an honor in 2012 for her involvement in the organization over the years. Paula has coached Field Hockey, Women's Basketball, and Softball.
Together Dick and Paula organized and directed the Crimson Eagle Summer Sports Camps from 2000-2009.
Through their service over the years, Dick and Paula Beach have had a lasting impact in the University's development of athletic and educational programs and have established a foundation upon which future programs and opportunities can be built.