[one_third]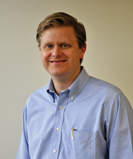 Dr. Jonathan Master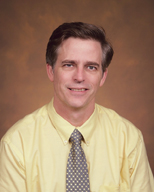 Dr. Scott Pickard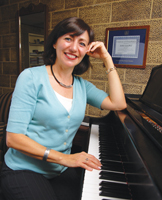 Dr. Debbie Lynn Wolf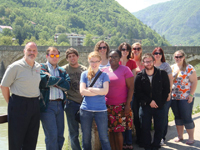 Bosnia Team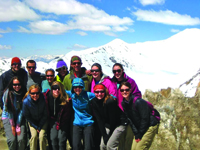 Kashmir Team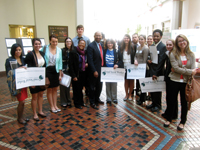 Social Work Students
with Mayor Nutter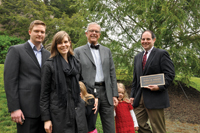 Ferner Family with Dr. Williams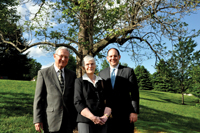 Dr. Robert and Mrs. Carole Wenger with Dr. Williams
[/one_third]
[two_third_last]
ACADEMICALLY SPEAKING
Adjunct professors in the School of Music and Performing Arts, Steven Condy and Robin Massie are serving a second year as Vocal Program Directors at the MasterWorks Summer Music Festival, a Christian classical music program sponsored by the Christian Performing Arts Fellowship.
Jonathan L. Master, Dean, School of Bible and Ministry, defended his dissertation in April, earning a Ph.D. in Historical Theology from the University of Aberdeen.
Scott Pickard, Assistant Professor in the School of Arts and Sciences, defended his dissertation in April, earning a Ph.D. in History from Kansas State University.
Dr. Debbie Lynn Wolf presented two workshops at the PA Music Educators Conference in Lancaster PA, in April: Fool-proof Recipes for Performance Assessments in the General Music Classroom with (Michelle Fella Przybylowski, MMEd. NBCT); and Successful Cooperating Teacher Relationships: The Student Teacher Perspective with Kim Councill, Ph.D.
Dr. Victor Jacobs, Associate Professor in the School of Bible and Ministry, presented a paper at Lancaster Theological Seminary titled "The Doctrine of Creation: A Theological and Cosmological Analysis as a Model for Biblical Exegesis."
SERVICE
In May, Lisa Kuzma, Part-Time Faculty in the Department of Christian Counseling, led a team of Counseling and Social Work students to Bosnia. The team included Harry Mikula, Bekah Lyle, Bethany McCormick, Veronica Wray, Susan Velez, Brendan Zerbe, John Sherk, Aimee Hager, and adjunct faculty member, Chuck Arnold.
In May, Laura Behnke, Assistant Director of Athletics and Baron King, Director of Oasis Counseling Center, led a group of 12 students from 4 universities to the Kashmir region of Northern India, to serve with the humanitarian aid group, Beyond Tears Worldwide. The team included students Adam Jalovick, Ali Stickler, Jarrett Bradley, Heather Douglas, Joanna Cross, Sarah White, and Trisha Guertler.
OTHER NEWS
In March, Dr. Juliet Campbell-Farrell and students from her Social Policy course, Kristine Maxwell, Larry Gill, Giovanni Antoine, Haley Weber, Sam Hunter, Lizz Stine, Danae Wheeler, Steph Dinovi, Rachael Colvin, Jenna Dascoli, Daisy Cocar, Amara Mills, and Laura Johnson, joined about 800 other Social Workers in Harrisburg, PA, to participate in Legislative Advocacy Day. They participated in the lobby for Senate Bill 922, which exists to create practice protection for all Social Workers and licensure at the Bachelor's level in Pennsylvania. The group was able to interact with local representatives to the legislature, Frank Farry and Tommy Tomlinson, as well as Philadelphia Mayor Michael Nutter.
On Friday, April 20, a group of 17 alumni shared a meal together at McCormick and Schmick's Seafood Restaurant in Faneuil Hall, Boston, MA. During the gathering, Dr. Todd J. Williams shared about the vision for the University in the next century along with discussing some of the strategic opportunities that exist with respect to First Year programs. Even more than the raw clams that they enjoyed from one of the street vendors, Dr. Williams and Jamie Gleason enjoyed getting to see so many familiar faces.
In early April, students elected representatives for class leadership and for Student Senate leadership. The new Student Senate Cabinet is Greg Cawood, President; Alex Mitchell, Vice President; Kathleen Meacham, Treasurer; and Becca VanMeerbeke, Secretary.
The University was recognized for its campus sustainability efforts by Renewal, the national student-led creation care organization. The school was listed among 60 Christian colleges and universities in Renewal's Green Awakenings Report 2011. The report identifies the assets and barriers to creation care on Christian campuses.
Wes Rowles, Senior Advancement Officer, retired this summer after serving at Cairn since August 1999. His primary responsibilities have included raising funds for the University by contacting foundations and corporations in addition to alumni and friends. He has handled the donor relations portion of the University's Endowed Scholarship program. Wes' behind-the-scenes influence will continue to be enjoyed by students – he was instrumental in developing the partnerships that led to the Eagle's Nest Café and has chaired the committee that runs the Golf Classic, which supports the Scholarship Fund.
This spring, two trees were planted to honor individuals who have served the institution. The trees were carefully chosen and dedicated at the end of the semester. The Ferner family and friends dedicated a hemlock in memory of Doris M. Ferner, a friend and advocate of the University and its students. The Board of Trustees dedicated an oak in honor of Dr. Robert E. and Carole L. Wenger for their faithful and humble service to the University over more than 25 years.
[/two_third_last]