[dropcap3]H[/dropcap3]ave you ever noticed how often stones show up in our common vocabulary? Sticks and stones may break our bones. We live a stone's throw away. A rolling stone gathers no moss. And now PBU has changed its name to "Cairn." In a previous article Dr. Toews showed how the Old Testament frequently used stones as teaching tools. Here we will examine how Peter used stones as an analogy of the New Testament believers' relationship to Christ and our privileged position of coming to Him and offering Him our worship as a response to His grace.
Peter starts his letter by explaining that salvation is caused by God's grace and challenges his readers to live holy lives in response to that grace. As we come to chapter 2:4, Peter desires to show them their value on earth as a corporate witness representing the people of God in a dark and fallen world. They needed to be the light of the world. The church desperately needs to hear this today. Undoubtedly, Peter had in mind the Old Testament priesthood and temple that God instituted as His method of worship. Peter desired to show these struggling Christians their continuity with Old Testament believers. God has always had on earth a corporate believing community whose purpose was to glorify Him through acts of love and worship and service. It is here that Peter uses a metaphor from the world of "stones."
As you come to him, a living stone rejected by men but in the sight of God chosen and precious, you yourselves like living stones are being built up as a spiritual house, to be a holy priesthood, to offer spiritual sacrifices acceptable to God through Jesus Christ. (1Pet 2:4-5 ESV)
Three things stand out in this passage. First, we came to Christ as a living stone. Second, we are being built together as living stones. Finally, we are to worship God as priests and living stones. Let's take a look at this in more detail.
By God's grace we came to Christ as a living stone
This is where it all begins. We came to Jesus the Lord. We came to Him because we saw His beauty and value as a living stone. Peter notes that the world rejected Him but God appraises Him as having the highest worth. So what caused us to see light and come to Him? How did we learn to value him like God did? Surely Peter was not emphasizing our intelligence in coming to Him. No, it is all God's grace. He opened our eyes. He enabled us to see Jesus for who He truly is, the pearl of great price. He caused the light of the gospel to shine in our hearts. Charles Wesley knew quite well it was God's grace that brought him to Christ, the living stone, when he penned, "And can it be that I should gain an interest in the Savior's blood?"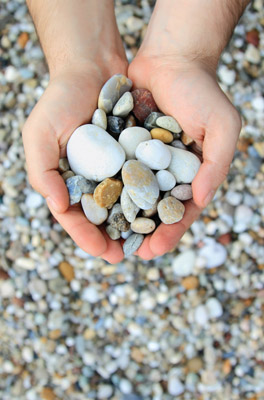 We are being built together as living stones
Here Peter changes the metaphor of stones. We came to Christ because we valued Him as a living stone. But note, those who come to Christ become "living stones." No moss gathers on these stones. We are immediately built into the living temple of God on this earth. We are a holy temple, a spiritual house. God dwells in His people. Through the Holy Spirit, He inhabits and reveals himself to a fallen world. God takes His temple seriously. Paul wrote "Do you not know that you are God's temple and that God's Spirit dwells in you? If anyone destroys God's temple, God will destroy him. For God's temple is holy, and you are that temple" (1 Cor. 3:16-17 ESV). The "you" in this verse is plural: God dwells in you all. We must take that seriously and not be agents of demolition in our churches. So what should we do?
We are to worship God as priests and living stones
Peter again slightly changes the metaphor. We are not only stones of the temple, we are priests of the temple. What do New Testament priests do? They don't offer animal sacrifices; they offer spiritual sacrifices. What are they? Let's briefly look at three.
First, each day we surrender and live for Christ as a response to His grace, we are offering ourselves as living sacrifices. "I appeal to you therefore, brothers, by the mercies of God, to present your bodies as a living sacrifice, holy and acceptable to God, which is your spiritual worship" (Rom. 12:1 ESV).
Second, when we use money and resources generously for Christ and His cause we are offering up sacrifices of worship, well-pleasing to God. "I have received full payment, and more. I am well supplied, having received from Epaphroditus the gifts you sent, a fragrant offering, a sacrifice acceptable and pleasing to God" (Phi. 4:18 ESV).
Finally, we offer a sacrifice of praise to God when we publicly bear witness to Christ and his gospel. "Through Him then let us continually offer up a sacrifice of praise to God, that is, the fruit of lips that acknowledge His name" (Heb. 13:15 ESV). The word translated "acknowledge" in this context has the idea of a "public confession." It is our bearing witness to Christ and confessing our allegiance to Him.
As a fellow stone, bearing witness to the only Great Stone, I ask this: how, then, as stones, are you living? As a response to God's grace, are you a "surrendered stone," a "sacrificial giving stone," and a "stone of witness for Christ"?
[framed_box]
Tom Allen is an Associate Professor in the School of Divinity. He has taught at Cairn since 1992. He can be reached by emailing tallen@cairn.edu.
[/framed_box]