[one_third]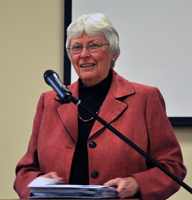 Dr. Marti MacCullough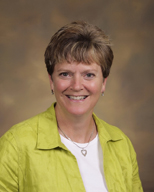 Dr. Paula Gossard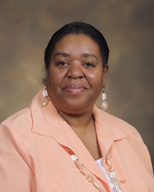 Dr. Janet Tyler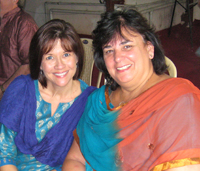 Cammy Tidwell and Dr. Sheryl Vasso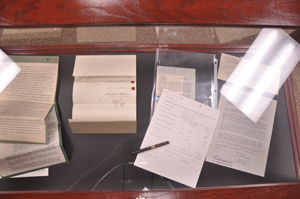 Grace Livingston Hill Exhibit

New partnership with Veritas Press Scholars Academy
[/one_third]
[two_third_last]
ACADEMICALLY SPEAKING
Distinguished Professor Emeritus, Dr. Martha MacCullough, conducted a three-part, six-hour webinar on "Best Practices in Bible Teaching" for the Association of Christian Schools International. In addition, Dr. MacCullough's monograph, "Developing a Worldview Approach to Biblical Integration," is being translated into Spanish, Indonesian, and Chinese. It is already available in its entirety in Portuguese and a portion of it is available in Russian.
Dr. Scott Watson, Adjunct Faculty in the School of Music, and Dr. Kimberly McCord, of Illinois State University are writing a course for Technology for Music Education (TI:ME) on using technology in music education for exceptional students. The course will become a TI:ME Level 2 course and be a model for other universities to base an offering on the topic. Dr. Watson was also commissioned by the Derry Township and Hollidaysburg Area School Districts to write a piece, Regal Fanfare and March, for their 6th Grade bands to perform in May 2013.
Laura Saloiye, Lead Readers' Services Librarian was elected a as President of the Southeastern Pennsylvania Theological Library Association (SEPTLA) in May. She took up her responsibilities in the organization this summer.
Dr. Debbie Lynn Wolf, Professor in the School of Music, was involved in three conferences held in Thessaloniki, Greece in July. She presented a research paper, "A Cross-cultural Examination of Pitch-matching Accuracy in Children from Hong Kong, the Dominican Republic, and the USA" at the ISME Research Commission, an invitation-only intensive research seminar; presented, "What parents want every music educator to know about teaching students with special needs" at the International Society for Music Educators World Conference, an international forum for all music educators; and participated in the discussions on singing development at the International Conference for Music Perception and Cognition, a conference for music educators, music psychologists, and music researchers.
Dr. Paula Gossard, Associate Professor in the School of Education, spoke at the American Scientific Affiliation Annual Meeting at Point Loma Nazarene University in San Diego, CA. The talk was titled If they do it, it's propaganda; if we do it, it's education, as a part of the presentation, she shared a lesson plan she had used in Dr. Gary Schnittjer's Film and Culture course contrasting the effects of propaganda based on a viewer's worldview presuppositions using the films Inherit the Wind and Expelled.
Kile Smith, Adjunct Faculty in the School of Music, was appointed Composer in Residence for the Cathedral of St. Paul, Boston for 2012-2013, and has completed a commission for a new work for mixed choir, The Chambered Nautilus (text by Oliver Wendell Holmes Sr.), in celebration of their 100th Anniversary as the Episcopal Cathedral. In addition, he has been commissioned for a new work for string orchestra by the Philadelphia Sinfonia, Songs of Pilgrimage, and for a new work for Orchestra 2001. Both of the pieces will be performed in Spring 2013.
Dr. Jason VanBilliard, Dean, and Stephen Vallette, Assistant Professor, both in the School of Liberal Arts and Sciences, participated with the Educational Testing Service in the Advanced Placement Exam readings in Kansas City, MO in June. Mr. Vallette graded the AP Statistics Exam and Dr. VanBilliard read the AP Calculus Exam. The work was accompanied by many faculty development activities.
Benjamin Harding, Associate Professor in the School of Music, was one of several featured conductors at the Fanwood Choral Festival in Fanwood, NJ, in May. He was on faculty at the Csehy Summer School of Music in Houghton, NY, in piano and choral conducting. He played chamber music and was able to honor Dr. Samuel Hsu in a memorial concert at Csehy.
Janet Tyler, Associate Professor in the Department of Social Work, defended her dissertation in September, earning a Ph.D. in Social and Community Services from Capella University.
Dr. Sheryl Vasso, Professor in the School of Education, with Cammy Tidwell, spoke at the Diamond Jubilee Pastors and Women's Conference at the Hindustan Bible Institute (HBI) in Chennai, India in August. They taught 1000 pastors of five different language groups, 250 village women (from several states in India), and 100 seminary students and faculty of HBI.
Ruth Naomi Floyd, Adjunct Faculty, School of Music, was a Guest Artist and Lecturer at The Barnes Foundation in August, sharing music and photographic images from her body of work, "The Veil Series," which was displayed at Cairn last year. Images from the series have been included in the Christians in the Visual Arts SEEN Journal and in Unveiled Purpose Magazine. Ms. Floyd's photographic art is included in the historic international exhibition, "ART + FAITH" touring in Europe and the United States. In August, Ms. Floyd was the guest artist at the historic Bethany Baptist Church in Newark, NJ. With her quartet, she led the morning jazz worship service with African- Spirituals, hymns, gospel songs, and original compositions.
SERVICE
Alison Kikendall, University Nurse, and her family served with Fellowship of Christian Athletes (FCA) in San Pedro, Sula, Honduras for 8 days, sharing the gospel by using soccer as a platform. Alison also volunteered as a nurse for the FCA Kutztown camp for a week.
OTHER NEWS
The University is opening a new museum gallery this fall in the Masland Library. The first exhibit will showcase the life and work of Grace Livingston Hill (1865-1947), who as a single mother wrote Christian novels in order to support herself, her two daughters, and mother. Hill is known for her prolific career as a fiction writer, having published 79 books in her lifetime and her legacy continues to this day with her works being reprinted. The collection features a variety of first edition pieces, reproductions of cover art, contracts, letters, and personal pieces that tell the story of a woman who found a way to use her gift for writing to glorify God and support her family.
NEW ACADEMIC OPPORTUNITIES
In recent years, there has been a concerted focus at Cairn of developing new programs and academic opportunities using our existing faculty, resources, and infrastructure. We are excited to share a few of them with you.
Starting this fall, the University is offering four new Bachelor of Arts degree programs. The School of Liberal Arts and Sciences will offer a B.A. in English, B.A. in History, and a B.A. in Liberal Arts. The School of Music will offer a B.A. in Music. Students in these B.A. pro­grams will be prepared to work in a variety of professional fields as well as go on to graduate studies in related fields. B.A. students will also complete 30 credits of biblical and theological course work, as all Cairn undergraduates do.
Additionally, Cairn University is pleased to announce that it has an exclusive dual-enrollment program with Veritas Press Scholars Academy (VPSA) beginning this fall. The partnership gives junior and senior VPSA Diploma students the opportunity to earn credit from both VPSA and Cairn University for selected online courses.
Veritas Press specializes in high quality award-winning classical Christian education curriculum for homeschooling families. Thousands of registrants use Veritas curriculum from grammar school through secondary school years. VPSA introduced the Diploma Program with the purpose of assisting like-minded, Christ-centered families in equipping them to fulfill their educational goals.
[/two_third_last]