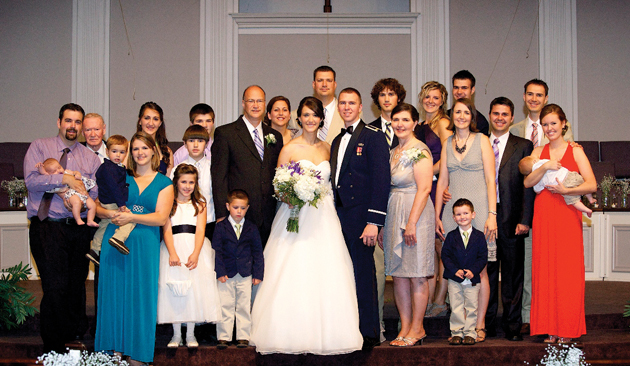 [dropcap3]M[/dropcap3]any who have studied at Cairn know the Morrison family. For the past 15 years, the children of Rev. Harold '78 and Robin (Palmer) x'78 Morrison have been a near-constant presence at the University. But the story of the Morrison family's heritage at Cairn begins earlier, when Harold and Robin met as freshmen in the fall of 1974.
"The most valuable experience in our time as students was to be surrounded by administrators, faculty, and fellow students who loved the Lord more than they loved themselves. There was anexcitement on campus about how the Lord was directing lives and frequent reports of dynamic ministries along with ministry opportunities. Whatever the class, we were provided with a consistent biblical worldview. It wasn't called that then, but that is what we received. Back then we simply recognized it as the truth of the Word of God. The integration of biblical truth into every discipline provided a consistent dynamic that kept all subjects interesting."
Harold and Robin's experiences as students epitomize the Center City era of the school's history. They participated in student ministries and music groups, walked throughout the city of Philadelphia, and enjoyed sitting on the benches at Independence Hall. They ate at the Ice Cream Company on Spruce Street and, of course, Dragon Pizza across from Alumni Hall on Arch Street. While Harold's parents were able to provide for his education financially, Robin trusted God for the money to go to school every single semester. Through anonymous gifts and hard work, God continued to affirm that He wanted her there and would provide. "My faith grew during those years, and this became a foundation that God would build on regularly reminding me of His faithfulness as we raised our family. Every time we sing our university hymn, 'Great Is Thy Faithfulness,' wonderful memories fill our hearts."
Following their studies, the Lord led the Morrisons onto new paths. Harold continued his studies at Dallas Theological Seminary and served in various pastorates. Eventually they relocated to Fayetteville, North Carolina, where they served in church ministry at Church of the Open Door and at a Christian school in various roles.
"Cairn prepared us by providing a biblical foundation which showed us that what we believe matters because it determines how we behave. We learned that our doctrine directs our desires and decisions. We were well-equipped not only for ministry but for life. We were able to pass on the preparation for life we received to our children, who have followed us to faith in Christ, a love for local church ministry, and an intense desire to wholeheartedly serve the Lord in their daily lives and work. Seven of our ten children have followed us to PCB, PBU, and now Cairn."
After using public schooling, home schooling, and Christian schooling for their children as they raised them, Harold and Robin had to consider college options. "Cairn seemed the perfect continuation for their education. We knew that the University's biblical foundation would corroborate all that we had attempted to infuse into their spirits, and we wanted them to be challenged and prepared to fully dedicate their lives and careers to the cause of Christ, even as we had been encouraged to do."
Their most recent family photo, taken in June 2012 at their daughter's wedding, is representative of the family heritage at Cairn. The photo includes eleven Cairn alumni and one current student: Harold and Robin; Harold Jr '02 and Heather (Gueli) '02; Rachel (Morrison) Curley '03; Caleb '04 and Ashley (Kerr) '06; Sarah (Morrison) '06 and Matthew '05/G'09 Wilt; Joshua '10; Rebekah (Morrison) Langston '12; and Daniel (current student). Also included in the picture are Harold's father, Franklin Morrison; Rachel's husband, Marc; Joshua's wife, Janelle; Harold and Robin's three children still at home, Hannah, a high school senior; Isaac, eighth grade, and Elijah, fifth grade; as well as six grandchildren.
Harold and Robin say that one of the great appeals of Cairn is the intimacy of the campus and the ministry opportunities that are offered. Many of their children have also been involved in Cairn's athletic programs, playing soccer, baseball, and volleyball. "The NCAA III level has been perfect because it is competitive but not controlling. In other words, they have been able to be fully involved in intercollegiate athletics without it controlling their lives. It even remains possible to play more than one sport at Cairn."
In addition to studying Bible, Harold and Robin's children have pursued studies in Health and Physical Education, Elementary Education, and Business. "Not only have our children shared a uniquely rewarding childhood as part of our large family, they now also share the common heritage of a Cairn University educational experience," Harold and Robin say. "Family reunions double as Cairn reunions."
"We have been thrilled with the education, encouragement to godliness, and direction that our children have received at PCB, PBU and Cairn. Whatever the name has been, the quality has only increased, and the commitment to the inerrant Word of God has never wavered. We remain more committed than ever to Cairn University, our family's university." Harold jokes, "The only problem now is that I need to purchase a new wardrobe bearing the name Cairn. I guess we'll need to visit the bookstore at Homecoming this year to take care of that."
[framed_box]
Carrie Givens, M.A. has been a Communications Specialist at Cairn since 2009 and an adjunct faculty member since 2008. She can be reached at cgivens@cairn.edu
[/framed_box]